April 1, 2021 (Every week)
Feeling challenged by remote learning and life limits? Help is here! Each Thursday from 5-5:30 pm, come tap into the wisdom of experts from SOAR, the Wellness Center, Advising, and/or ResLife.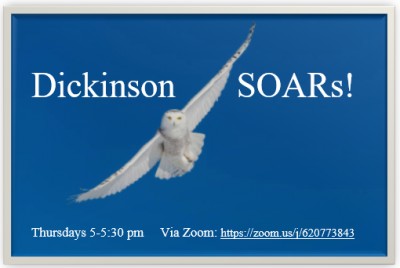 Remote learning during a pandemic can raise a lot of questions about how best to navigate the college experience...
How can I stay engaged and motivated?
When (and how) should I start preparing for exams?
What should I do when I'm feeling too stressed to be productive?
Are there tools to help me manage my time, block out distractions, and stay on top of my work?
What resources are out there to help me balance all my obligations with my social-emotional wellness?
To get answers to questions such as these -- and any others that you'd like to pose -- present them to learning specialists from SOAR (Strategies, Organization, and Achievement Resources), as well as "campus navigation experts" from either the Wellness Center, Advising, or ResLife. We're here for you! 5 p.m. on Thursdays on Zoom.
Further information