Student Mentors and Interest Groups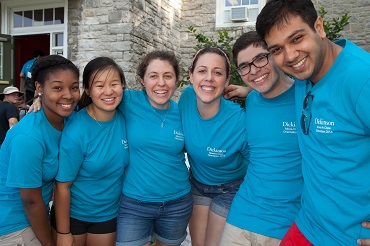 First-year students at Dickinson are offered support through the many faculty, staff and upper-level students who are available to help with the transition into the college environment. Mentors serve as an excellent resource for students as they begin navigating their way through college life. Both faculty and student mentors strive to promote intellectual, social and personal development during the entire first year at Dickinson.
First-Year Mentors
The first-year mentor program provides an opportunity for upper-level students to help new students experience a positive transition to college. The mentors consist of 42 upper-level students who are assigned to one First-year Interest Group (FIG) and act as a guide through new student Orientation and throughout the first year of college. Mentors offer peer insight into academic and social life at college and help introduce students to activities and events on campus.
First-Year Interest Groups (FIGs)
A FIG is made up of one first-year mentor and approximately 10 to 20 new students who select into the interest group. Groups meet regularly throughout the academic year and are based on a specific interest, passion or identity that helps build small communities for new students as they begin their college experience. Students who participate in a Pre-Orientation Adventure will be assigned to that particular FIG.
Prior to their arrival, first-year students are asked to identify and select specific interests from a list of FIGs, inclusing the following:
Art and Design
Campus Activities and Leadership
Community Service
Computers, Gaming and Technology
Creative Writing and Journalism
Entrepreneurship
Fitness
Food From Farm to Table
Gender and Sexuality
Global Perspectives
Music
Outing Experiences
Politics and Law
Pop Culture
Religion and Spirituality
Science and Society
Social Justice
Sustainable Development and Green Technology
Theatre and Dance
First-Year Coordinators
First-year experience coordinators are six student leaders who are primarily involved in the planning and execution of first-year experience programming as well the coordination of the FIGs and mentors. The coordinators design and run mentor training, Orientation and Extended Orientation programs. This group of student leaders meets weekly throughout the school year with the director of new student programs to maintain the quality of the Orientation experience for first-year students.