Schedule of Events
Spring 2018
Faculty Research Lunches
12:00-1:00 p.m.
Join us and learn about exciting research by Dickinson Faculty and Staff in an informal setting. Lunch is provided and RSVP to wgrc@dickinson.edu is requested. Cosponsored by the WGRC and the Women's, Gender and Sexuality Studies Department.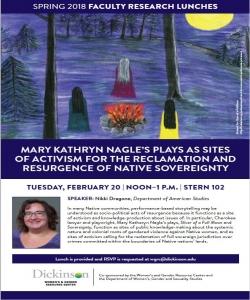 Prof. Nikki Dragone, American Studies
Tuesday, February 20
Stern 102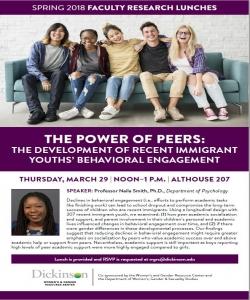 Prof. Naila Smith, Psychology
Thursday, March 29
NOTE CHANGE IN LOCATION: Althouse 106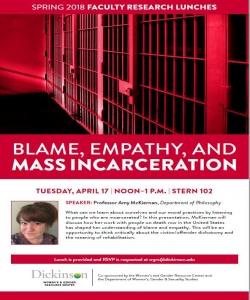 Prof. Amy McKiernan, Philosophy
Tuesday, April 17
Stern 102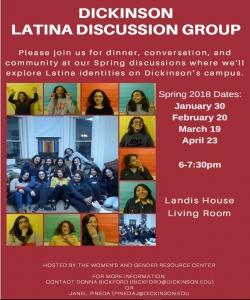 Latina Discussion Group
Tuesday, January 30
Tuesday, February 20
Monday, March 19
Monday, April 23
6:00-7:30 p.m.
Landis House Living Room
Please join us for conversation and community. In partnership with student facilitators, the WGRC hosts a monthly Latina discussion group at Landis House. All Latina students are welcome to this space to share thoughts and experiences. Food will be provided. Please contact Donna Bickford or Janel Pineda with any questions.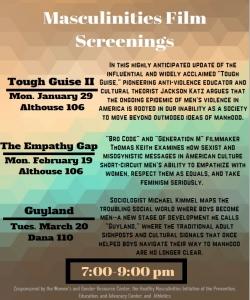 Film Screening Series: Contemporary Masculinities
Tough Guise II
Monday, January 29
7:00-9:00 p.m.
Althouse 106
In this highly anticipated update of the influential and widely acclaimed "Tough Guise," pioneering anti-violence educator and cultural theorist Jackson Katz argues that the ongoing epidemic of men's violence in America is rooted in our inability as a society to move beyond outmoded ideas of manhood.
The Empathy Gap
February 19
7:00-9:00 p.m.
Althouse 106
"Bro Code" and "Generation M" filmmaker Thomas Keith examines how sexist and misogynistic messages in American culture short-circuit men's ability to empathize with women, respect them as equals, and take feminism seriously.
Guyland
Tuesday, March 20
7:00-9:00 p.m.
Dana 110
Sociologist Michael Kimmel maps the troubling social world where boys become men--a new stage of development he calls "Guyland," where the traditional adult signposts and cultural signals that once helped boys navigate their way to manhood are no longer clear.
Cosponsored by the Women's and Gender Resource Center, the Healthy Masculinities Initiative of the Prevention, Education, and Advocacy Center, and Athletics.
Title IX, Athletics, and Equity
Dr. Ellen Staurowsky
Thursday, February 8, 2018
Allison Hall
7:30-9:00 p.m.
Dr. Staurowsky, Center for Sports Management at Drexel University, is an internationally-recognized expert on Title IX. She is co-author of the book, College Athletes for Hire: The Evolution and Legacy of the NCAA Amateur Myth, editor of the forthcoming Women in Sport: Continuing a Journey of Liberation and Celebration, among other influential publications. Dr. Staurowsky will discuss the history of Title IX, its application to athletics, and its ongoing importance to achieving equity in athletics. Cosponsored by Athletics and the Women's and Gender Resource Center.
Love Your Body Week February 12-16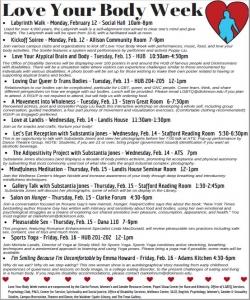 Labyrinth Walk
Monday, February 12
10:00 a.m. – 8:00 p.m.
12:00 Labyrinth Walk facilitated by Donna Hughes, Center for Service, Spirituality and Social Justice
Social Hall
Used for over 4,000 years, the Labyrinth walk is a self-alignment tool aimed to clear one's mind and give insight. The Labyrinth walk will be open from 10-8, with a facilitated walk at noon.
Kickoff Soirée
Monday, February 12
7:00 – 9:00 p.m.
Allison Community Room
Join various campus clubs and organizations to kick off Love Your Body Week with performances, music, food, and love your body activities. The Soirée features a spoken word performance by performer and activist Poppy Liu.
Love Your Atypical Brain and Body
Tuesday, February 13
10:30 a.m.--4:30 p.m.
In and around the HUB
The Office of Disability Services will be displaying over 100 posters in and around the HUB of famous people and Dickinsonians with disabilities. There will be a simulation table where visitors can experience challenges similar to those encountered by individuals with various disabilities. A photo booth will be set up for those wishing to make their own poster related to having or supporting atypical brains and bodies.
Loving Our Queer & Trans Bodies: interactive lunch dialogue and discussion
Tuesday, February 13
12:00-1:00 p.m.
HUB Side Rooms 204-205
Relationships to our bodies can be complicated, particular for LGBT, queer, and GNC people. Come learn, think, and share different perspectives on how we engage with our bodies. Lunch will be provided. Please email LGBTQ@dickinson.edu if you plan to attend. A RSVP is not required to attend, but will help us with ordering food.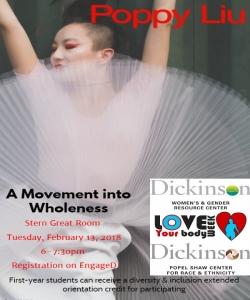 A Movement into Wholeness
Tuesday, February 13
6:00-7:30 p.m.
Stern Great Room
Renowned actress, poet and storyteller Poppy Liu leads this interactive workshop on developing a whole self, including group conversation, guided meditation, a four part journey of movement and visualization exercises. (Comfortable clothing recommended!)
Love at Landis
Wednesday, February 14
11:30-1:30 PM
Landis House
Join us for snacks and crafts. Nurture your body!
Let's Eat Reception with Substantia Jones
Wednesday, February 14
5:30-6:30 p.m.
Stafford Reading Room
This is an opportunity to talk with Substantia Jones and view her photographs before her 7:00 talk at ATS. NOTE: Students, if you are 21 or over, bring proper (government issued) identification if you want an alcoholic beverage. Special pop-up performance by Dance Theatre Group.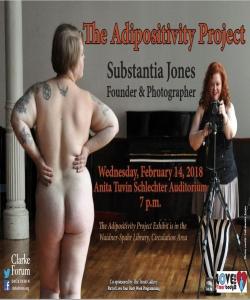 The Adipositivity Project with Substantia Jones
Wednesday, February 14
7:00 p.m.
ATS Auditorium
Substantia Jones discusses (and displays) a decade of body politics activism, promoting fat acceptance and physical autonomy by subverting that most commonly used tool of what she calls the angst industrial complex: photography.
Mindfulness meditation
Thursday, February 15
12:00-1:00 p.m.
Landis House Seminar Room
Join the Wellness Center's Megan Nesbitt and increase awareness of your body through deep breathing and introductory mindfulness techniques.
Gallery Talk with Substantia Jones
Thursday, February 15
1:30-2:45 p.m.
Stafford Reading Room
Substantia Jones will discuss her photographs, some of which will be on display in the Library.
Salon on Hunger
Thursday, February 15
4:30-6:00
Clarke Forum
Join a conversation focused on Roxane Gay's new memoir, Hunger. HarperCollins says this about the book: "New York Times bestselling author Roxane Gay has written with intimacy and sensitivity about food and bodies, using her own emotional and psychological struggles as a means of exploring our shared anxieties over pleasure, consumption, appearance, and health." You must register at clarkeforum@dickinson.edu. Copies of the book are on reserve at the library (1-week checkout) and a few free copies are available for the first student registrants.
Pleasurable Sex
Thursday, February 15
7:00-9:00 p.m.
Dana 110
This program, featuring Romance Enhancement Specialist Linda MacDonald, will review pleasurable sex practices including safe sex, consent, use of toys and much more.
Sports Yoga
Friday, February 16
12:00-1:00 p.m.
HUB 201-202
Join Michele Landis, Director of Yoga at Simply Well, for Sports Yoga. Sports Yoga combines active stretching, breathing techniques and a westernized approach to learning and using Yoga poses. Each class is designed to safely increase flexibility, improve mental focus/relaxation and increase strength. With a regular practice of Sports Yoga all activities, including athletics, become easier. Please bring a yoga mat if possible; some mats will be available.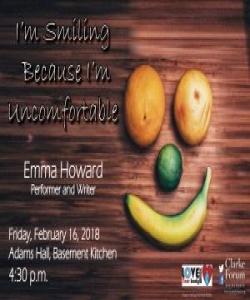 I'm Smiling Because I'm Uncomfortable
Emma Howard, performer and writer
Friday, February 16
4:30-6:00 p.m.
Adams Hall, Basement Kitchen
Why do we eat? Why do we stop eating? This one woman show is an autobiographical story traveling from early childhood experiences of queerness and lessons on body image, to a college eating disorder, to the present challenges of eating and living in a human body. If you require disability accommodations, please contact clarkeforum@dickinson.edu.
Love Your Body Week events are cosponsored by the Clarke Forum, Women's and Gender Resource Center, Popel Shaw Center for Race and Ethnicity, Office of LGBTQ Services, Psychology Club, PALS, Center for Service, Spirituality and Social Justice, Office of Disability Services, Wellness Center, SLCE, English, Psychology, Women's, Gender & Sexuality Studies, Campus Recreation, Theatre and Dance, Waidner-Spahr Library and The Trout Gallery.
* * * * * * * *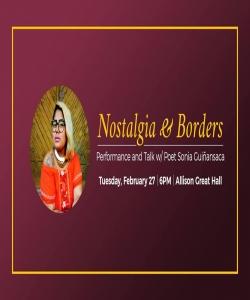 Sonia Guinansaca
Tuesday, February 27
6:00 p.m.
Allison Great Hall
Guiñansaca will perform and read from her latest chapbook, Nostalgia and Borders, which touches upon migration and growing up undocumented. This will accompany a small talk on border discourse and queer bodies in the United States under this new presidency. Sonia Guiñansaca is a Queer Migrant Poet , Cultural Organizer, and Activist from Harlem by way of Ecuador. A VONA/Voices alumni, Guiñansaca has performed at El Museo Del Barrio, The Nuyorican Poets Cafe, the NY Poetry Festival, Galleria de La Raza, The Met, and featured on NBC, PBS, Latina Magazine, Pen American, and the Poetry Foundation to name a few. She has presented keynotes, workshops, panels at universities throughout the country. She has been named as 1 of 10 Up and Coming Latinx Poets You Need to Know by Remezcla, as well as one of 13 Coolest Queers on the Internet by Teen Vogue, the 2017/2018 Artist in Residence at NYU's Hemispheric Institute of Performance and Politics, and recently announced as 1 of 4 U.S.A Future Leaders Delegates for the British Council. She has emerged as a national leader in the undocumented/migrant artistic and political communities. Co-founded and helped build some of the largest undocumented organizations in the country, coordinating and participating in groundbreaking civil disobedience actions in the immigrant rights movement. She has also founded some of the first creative artistic projects by and for undocumented writers/artists. Leading cultural work as the Managing Director at CultureStrike.Details coming soon about this Latinx poet's visit. Cosponsored by the Office of LGBTQ Services and the WGRC.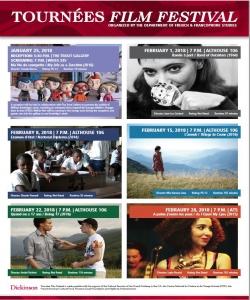 Film Screening: A peine j'ouvre les yeux/As I open my eyes
Wednesday, February 28
7:00 p.m.
ATS Auditorium
Fresh out of high school, eighteen-year-old Farah is butting heads with her mother over her all-night, beer-fueled outings with a new boyfriend and her refusal to enroll at medical school so she can pursue her dream of singing in a band. All this would be chalked up to growing pains if the setting were not Tunisia in the last months of the Ben Ali dictatorship and Farah's irrepressible thirst for life and justice did not come out in politically charged concerts that draw the attention of the country's notoriously corrupt authorities. As such, Leyla Bouzid's powerful debut feature is not only a striking portrait of a young woman on the cusp of adulthood, but a deeply insightful, complex look at life under a repressive political regime, with its compromises, commitments, and corrosive effects on personal relationships. While the film does not directly refer to the events of the Tunisian revolution of December 2010, Farah clearly embodies the spirit of youthful revolt that drove the Arab Spring. As portrayed by beginner Baya Medhaffar, who performs her own vocals in several riveting concert sequences, Farah is utterly relatable, a fragile but seemingly unbreakable young woman as eager for fun as she is committed to honesty. Co-sponsored by French and Francophone Studies and the WGRC, as part of the Tournées Film Festival. Tournées Film Festival is made possible with the support of the Cultural Services of the French Embassy in the U.S., the Centre National du Cinéma et de l'Image Animée (CNC), the French American Cultural Fund, Florence Gould Foundation and Highbrow Entertainment.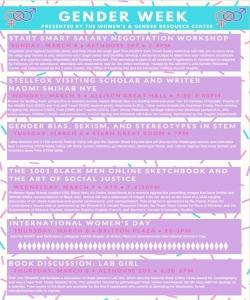 Gender Week 2018 March 4-8
Start Smart Salary Negotiation Workshop
Sunday, March 4
2:00-4:00 p.m.
Althouse 207
Negotiate your highest possible salary and help close the wage gap! The AAUW's Start Smart Salary workshop will help you to:
- Learn what the wage gap means to you
- Determine your target salary & benefits
- Develop a personal budget to determine your minimum acceptable salary
- Practice salary negotiation skill-building exercises
This workshop is open to all students! Registration in Handshake is required by February 25 for attendance; attendees are expected to stay for the entire workshop. Hosted by the Women's and Gender Resource Center and cosponsored by the Career Center, the Office of Financial Aid and the Dickinson College AAUW chapter.
Stellfox Visiting Scholar and Writer Naomi Shihab Nye
Monday, March 5
7:30-9:30 p.m.
Allison Great Hall
Known for lending fresh perspective to ordinary events, Naomi Shihab Nye is a leading American poet. Her 19 Varieties of Gazelle: Poems of the Middle East (2002) and You and Yours (2005) explore poetic responses to 9/11. Other works include the Voertman Poetry Prize-winning Hugging the Jukebox (1982), Fuel (1998) and Transfer (2011). Nye, whose Palestinian heritage informs her American perspective, also writes essays, children's fiction and translations. A book signing and reception will follow her reading. Sponsored by the English Department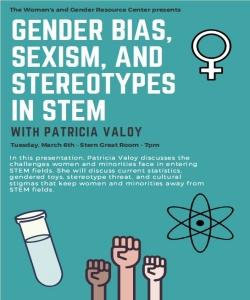 Gender Bias, Sexism, and Stereotypes in STEM
Tuesday, March 6
7:00 p.m.
Stern Great Room
Latina feminist and STEM activist Patricia Valoy will give the Gender Week Keynote and will discuss the challenges women and minorities face in entering STEM fields. Valoy will share current statistics, gendered toys, stereotype threat, and cultural stigmas that keep women and minorities away from STEM fields.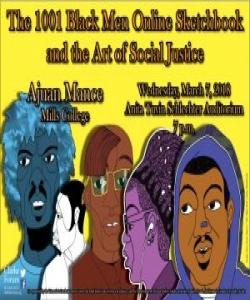 The 1001 Black Men Online Sketchbook and the Art of Social Justice
Wednesday, March 7
7:00-8:30 p.m.
ATS Auditorium
Professor Ajuan Mance created 1001 Black Men: An Online Sketchbook as a reaction against the controlling images that have limited and defined media representations of Black men. Mance will use a slideshow of images from her series as the basis of a wide-ranging discussion of art, Black maleness and gender performance, and representation. This program is sponsored by the Clarke Forum for Contemporary Issues and co-sponsored by the Women's & Gender Resource Center; the Popel Shaw Center for Race & Ethnicity; and the Departments of Africana Studies; American Studies; English; French; and Women's, Gender & Sexuality Studies.
International Women's Day
Thursday March 8
12:00-1:00 p.m.
Britton Plaza
(Rain Location: Stern Great Room)
Join the WGRC and Dickinson's collegiate AAUW chapter on Britton Plaza to commemorate International Women's Day.
Book Discussion: Lab Girl
Thursday, March 8
4:30-6:00 p.m.
Althouse 201
Prof. Jen Schaefer will facilitate a discussion of Hope Jahren's Lab Girl, which won the National Book Critics Circle Award for Autobiography and was a New York Times Notable Book. This powerful memoir by geobiologist Hope Jahren interweaves her life story with her journey as a scientist. Free copies of the book are available for the first 9 registrants who commit to attending the discussion. Email wgrc@dickinson.edu to register. Snacks provided.
* * * * * * * *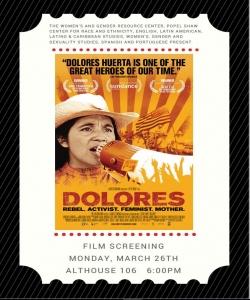 Film Screening: Dolores
Monday, March 26
6:00 p.m.
Althouse 106
Dolores Huerta is among the most important, yet least known, activists in American history. An equal partner in co-founding the first farm workers unions with Cesar Chavez, her enormous contributions have gone largely unrecognized. Dolores tirelessly led the fight for racial and labor justice alongside Chavez, becoming one of the most defiant feminists of the twentieth century—and she continues the fight to this day, at 87. With intimate and unprecedented access to this intensely private mother to eleven, the film reveals the raw, personal stakes involved in committing one's life to social change. Cosponsored by the WGRC; Popel Shaw Center for Race & Ethnicity; English; Latin American, Latino & Caribbean Studies; Women's, Gender and Sexuality Studies; and Spanish and Portuguese.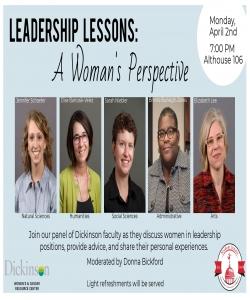 Leadership Lessons: A Woman's Perspective
Monday, April 2
7:00 p.m.
Althouse 106
Join our panel of Dickinson faculty as they discuss women in leadership positions, provide advice and share their personal experiences. Panelists include: Vice President Bronte' Burleigh-Jones (Finance and Administration); Professor Jennifer Schaefer (Math and Computer Science); Professor Sarah Niebler (Political Science); Professor Elizabeth Lee (Art and Art History/WGSS); and Professor Elise Bartosik-Velez (LALC, Spanish and Portuguese). Moderator: Donna M. Bickford, Director, Women's & Gender Resource Center and faculty in Women's, Gender and Sexuality Studies. Cosponsored by Student Senate and the WGRC.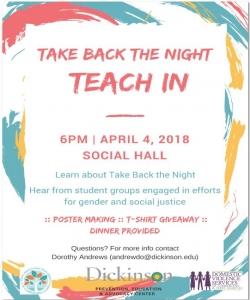 Teach In for Take Back the Night
Wednesday, April 4
6:30 p.m.
Social Hall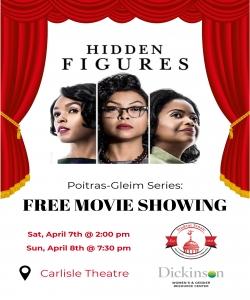 Film Screening: Hidden Figures
Saturday, April 7 at 2:00 p.m.
Sunday, April 8 at 7:30 p.m.
Carlisle Theater
Join Student Senate and the WGRC for a screening of Hidden Figures (2016), which highlights the work of a team of female African-American mathematicians at NASA during the early years of the U.S. space program. Cosponsored by Student Senate and the WGRC.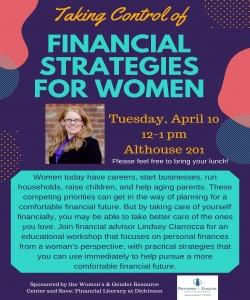 Taking Control: Financial Strategies for Women
With Financial Advisor Lindsey Ciarrocca
Tuesday, April 10
12:00-1:00 p.m.
Women today have careers, start businesses, run households, raise children, and help aging parents. These competing priorities can get in the way of planning for a comfortable financial future. But by taking care of yourself financially, you may be able to take better care of the ones you love. Join us for an educational workshop that focuses on personal finances from a woman's perspective, with practical strategies that you can use immediately to help pursue a more comfortable financial future.Cosponsored by the WGRC and Save: Financial Literacy at Dickinson. Please feel free to bring your lunch.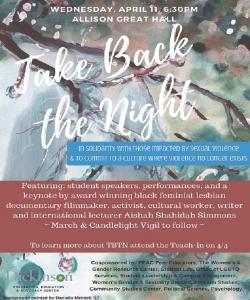 Take Back the Night
Wednesday, April 11
6:30 p.m.
Allison Great Hall
Take Back the Night is an evening in which survivors of sexual assault reclaim their bodies. It is a time where allies and survivors come together to empower one another and show solidarity surrounding efforts to end sexual violence against all persons. The evening includes student performances, student speakers, as well as a march and vigil from Allison Hall to Old West. Our keynote speaker is Aishah Shahidah Simmons an award winning black feminist lesbian documentary filmmaker, activist, cultural worker, writer and international lecturer. Cosponsored by the Prevention, Education and Advocacy Center and the WGRC.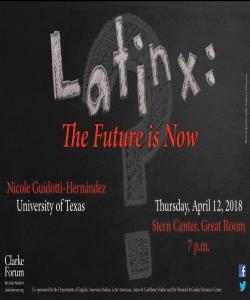 Latinx: The Future is Now
Thursday, April 12
7:00 p.m.
Stern Center, Great Room
Nicole Guidotti-Hernández charts out the histories of how we went from using Mexican American and Puerto Rican to Chicano and Nuyorican and then to the latest iterations, Latina/o and now Latinx. While millennials are leading the charge with the Latinx conversation, Guidotti-Hernández argues their boomer intellectual forerunners are often outright resistant to the use of Latina/o let alone Latinx, indicating the futurist potential and political necessity of the term. This program is sponsored by the Clarke Forum for Contemporary Issues and co-sponsored by the Departments of English and American Studies, and the Women's & Gender Resource Center. It is also part of the Clarke Forum's semester theme, Citizen/Refugee.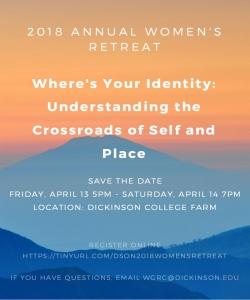 Annual Women's Retreat: Where's Your Identity: Understanding the Crossroads of Self and Place
Friday evening April 13-Saturday evening April 14
College Farm
All female-identifying and gender non-binary Dickinson students, faculty, staff and administrators are welcome to Dickinson's annual student-organized and facilitated annual women's retreat! The program includes inspiring discussions, workshops, a bonfire, and all meals. Transportation is available. Please register
by Monday, April 2, 2018. If you have questions, email wgrc@dickinson.edu.
Book Discussion: Dear Ijeawele, or A Feminist Manifesto in Fifteen Suggestions by Chimamanda Ngozi Adichie
Friday, April 27
12:00-1:00 p.m.
HUB side rooms 204-205
A few years ago, Chimamanda Ngozi Adichie received a letter from a dear friend from childhood, asking her how to raise her baby girl as a feminist. Dear Ijeawele is Adichie's letter of response. Here are fifteen invaluable suggestions--compelling, direct, wryly funny, and perceptive--for how to empower a daughter to become a strong, independent woman. It will start a new and urgently needed conversation about what it really means to be a woman today. Register in Totara. A copy of the book will be ordered for employees registered prior to Wednesday, February 28, 2018. Cosponsored by Human Resources, the WGRC and the President's Commission for Women, Gender and Sexuality.
See our Fall 2017 Event schedule here.