Schedule of Events
Note: The Office of Equity and Inclusivity (Asbell Center, Center for Spirituality and Social Justice, Office of LGBTQ Services, Popel Shaw Center for Race and Ethnicity, and the Women's and Gender Resource Center) has selected a programming theme for the 2021-2022 academic year: Criminal (In)Justice. Watch for specially designated programming on this topic.
Spring 2022 Faculty Research Lunches
12:00-1:00 p.m
Join us and learn about exciting research by Dickinson faculty and staff, followed by time for Q&A. Lunch is provided. Cosponsored by the WGRC and Women's, Gender and Sexuality Studies.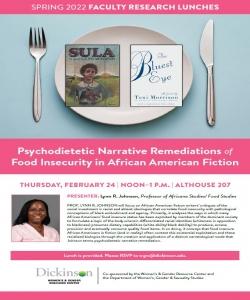 Thursday, February 24, Prof. Lynn Johnson (Africana Studies/Food Studies), Althouse 207
Psychodietetic Narrative Remediations of Food Insecurity in African American Fiction

This presentation focuses on African American fiction writers' critiques of the social investment in racist and ableist ideologies that correlate food insecurity with pathological conceptions of black embodiment and agency. Primarily, it analyzes the ways in which many African Americans' food insecure status has been exploited by members of the dominant society to formulate a logic of the body wherein differentiated racial identities (whiteness in opposition to blackness) presumes dietary capabilities (white ability/black debility) to produce, access, provision and eventually consume quality food items. In so doing, it conveys that food insecure African Americans in fiction (and in reality) often contest this existential exploitation and these racialized biologics through the creation and application of a distinct narratological mode that I term psychodietetic narrative remediation.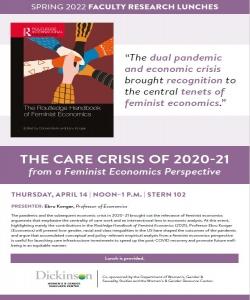 CANCELLED: Unfortunately Prof. Kongar's talk had to be cancelled because of an extended faculty meeting. Thursday, April 14, Prof. Ebru Kongar (Economics), Stern 102
LOVE YOUR BODY WEEK
February 7-11
LYBW Kickoff Soiree
Monday, February 7
7:00-8:30 p.m.
HUB Social Hall C/W
The Kick-Off Soirée is a celebration to inaugurate LYBW 2022. Various clubs and organizations will be gathered to promote and engage in body positive activities and performances and share information about LYBW events. Tables featuring a range of activities will be available and attendees will be able to move freely between groups and activities promoting messages aligned with Love Your Body Week. Organized by Psychology Club/Psi Chi.
Loving Our Queer and Trans Bodies
Tuesday, February 8
Noon-1:00 p.m.
Landis House Living Room
A discussion event for queer and trans people to come together and celebrate the diversity of our bodies. We will be exploring the many ways trans and queer people connect with their bodies through guided discussion and exercises. Our focus will be on building positive consensus and personal experience of our bodies and representation. Organized by the Office of LGBTQ Services.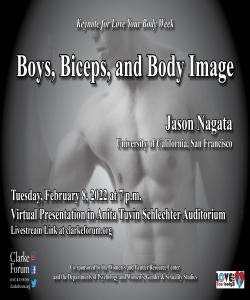 LYBW Keynote: Boys, Biceps, and Body Image
Tuesday, February 8
7:00-8:30 p.m.
VIrtual Presentation at ATS
Eating disorders are under-recognized and under-researched in boys and men. In this presentation, Prof. Jason Nagata (UC-San Francisco) will review state-of-the-art research on gender differences in the presentation of eating disorders in adolescents and young adults. In particular, he will highlight characteristics of muscle-enhancing behaviors and disordered eating behaviors in adolescent boys and young men. He will present two case examples, discuss the epidemiology of muscle-enhancing and disordered eating behaviors in the US, identify medical complications of eating disorders in boys and men, discuss current treatment guidelines, and identify future areas of research. Sponsored by the Clarke Forum and cosponsored by the WGRC and the departments of psychology and women's, gender & sexuality studies.
Let's Eat Reception
Immediately following the Keynote Lecture.
HUB Social Hall

The Psychology Club/Psi Chi invites you to a reception where we can come togehter to informally discuss topics related to LYBW and the keynote lecture. Food will be provided. Sponsored by the Psychology Club/Psi Chi and the Psychology Department.
DTG Open Class
Tuesday, February 8
5:00-6:30 p.m.
Social Hall West

This class will be led by DTG and will include stretching, strengthening, and connecting through movement in an inclusive and welcoming environment! No dance experience necessary. Organized by Dance Theatre Group.
Decolonizing Yoga Workshop
Wednesday, February 9
5:00-6:00 p.m.
Zoom

The Office of LGBTQ Services invites you to engage in a humbling discussion about the origins of yoga and its subsequent gentrification, and commodification, and how to decolonize the practice. Shasita Paudel (Pride Coordinator, Office of LGBTQ Services) will be leading us in a short yoga session following our discussion. This event asks us to acknowledge and respect the history and religious significance of yoga while providing a way for folks to take care of their body in today's highly sedentary world! Find the Zoom link on EngageD.
Happy Body Hour
Thursday, February 10
5:00-6:30 p.m.
The Site Dance Studio, 25-27 W High

Led by Professor Erin Crawley-Woods, our Happy Body Hour will incorporate Thai Bodywork and a variety of self-care techniques. Come in comfortable clothing and ready to relax. Organized by Dance Theatre Group.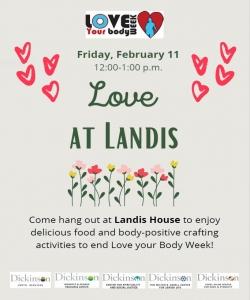 Love at Landis
Friday, February 11
12:00-1:00 p.m.
Landis House (Office of Equity and Inclusivity)
Come hang out at Landis to enjoy delicious food and crafting activities.
Varsity Athletics:
Men's Basketball against Gettysburg
Tuesday, February 7
7:00 p.m.
Women's Basketball against Muhlenberg
Thursday, February 10
6:00 p.m.
Men's Basketball against Haverford
Thursday, February 10
8:00 p.m.
Men's and Women's Squash against Denison
Friday, February 11
5:45 p.m.
***********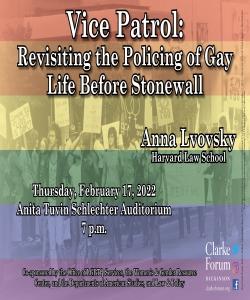 Vice Patrol: Revisiting the Policing of Gay Life Before Stonewall
(rescheduled from fall semester)
Thursday, February 17
7:00 p.m.
Virtual Presentation via Zoom in ATS
In the mid-twentieth century, gay life flourished in American cities even as the state repression of queer communities reached its peak. Prof. Anna Lvovsky (Harvard Law School) examines the tactics used to criminalize and suppress gay life from the 1930s through the 1960s, and the often-surprising debates those campaigns inspired in court—debates over not just the law's treatment of queer people, but also the limits of ethical policing, the authority of experts, and the nature of sexual difference itself. This program is sponsored by the Clarke Forum for Contemporary Issues and co-sponsored by the Office of LGBTQ Services, the Women's and Gender Resource Center, the Department of American Studies and the Law & Policy Program. An OEI Criminal (In)Justice Program.
GENDER WEEK
March 7-11
ALL GENDER WEEK EVENTS ARE ON ZOOM. LINKS ON ENGAGED.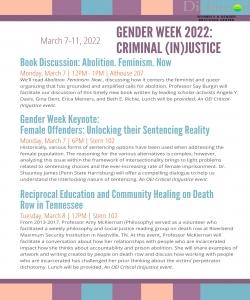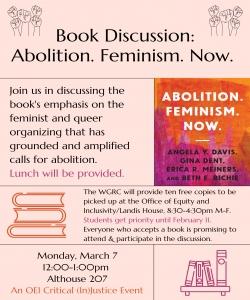 Book Discussion: Abolition. Feminism. Now.
Monday, March 7
12:00-1:00 p.m.
MOVED TO ZOOM. Link on EngageD.
We'll read Abolition. Feminism. Now., discussing how it centers the feminist and queer organizing that has grounded and amplified calls for abolition. Professor Say Burgin will facilitate our discussion of this timely new book written by leading scholar-activists Angela Y. Davis, Gina Dent, Erica Meiners, and Beth E. Richie. Lunch will be provided.
Free copies of the book are available for faculty, staff and students. They may be picked up at the Office of Equity and Inclusivity/Landis House between 8:30-4:30, M-F. Everyone who accepts a book is promising to attend and participate in the discussion. An OEI Critical (In)justice event.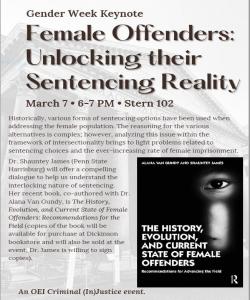 Gender Week Keynote: Female Offenders: Unlocking their Sentencing Reality
Monday, March 7
6:00 p.m.
MOVED TO ZOOM. Link on EngageD.
Historically, various forms of sentencing options have been used when addressing the female population. The reasoning for the various alternatives is complex; however, analyzing this issue within the framework of intersectionality brings to light problems related to sentencing choices and the ever-increasing rate of female imprisonment. Dr. Shauntey James (Penn State Harrisburg) will offer a compelling dialogue to help us understand the interlocking nature of sentencing. Dr. James received her Ph.D. from Western Michigan University in 2000 in sociology with an emphasis in criminology, criminal justice, and feminist theory. She received her J.D. in 2014 from Thomas Cooley Law School. Her teaching experience has enabled her to present on the local, state, and national levels. One of her most distinguished honors was being an Oxford Round Table Delegate. Just recently, she was featured on Good Day PA and launched a book co-authored with Dr. Alana Van Gundy entitled The History, Evolution, and Current State of Female Offenders: Recommendations for Advancing the Field. Copies of the book are available in the Bookstore. An OEI Criminal (In)Justice event.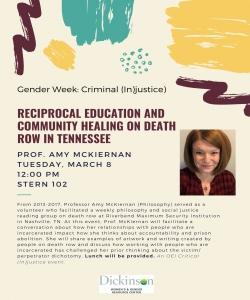 Reciprocal Education and Community Healing on Death Row in Tennessee
Tuesday, March 8
12:00 pm
MOVED TO ZOOM. Link on EngageD.
From 2013-2017, Professor Amy McKiernan (Philosophy) served as a volunteer who facilitated a weekly philosophy and social justice reading group on death row at Riverbend Maximum Security Institution in Nashville, TN. At this event, Prof. McKiernan will facilitate a conversation about how her relationships with people who are incarcerated impact how she thinks about accountability and prison abolition. She will share examples of artwork and writing created by people on death row and discuss how working with people who are incarcerated has challenged her prior thinking about the victim/ perpetrator dichotomy. Lunch will be provided. An OEI Critical (In)justice event.

*********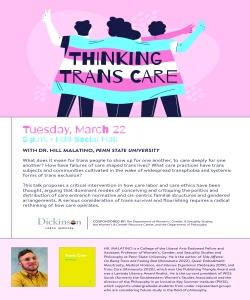 Thinking Trans Care
Tuesday, March 22
Talk, Social Hall, 5:00-6:30 p.m.
Di(ne)alogue Dinner, Landis House, 6:45-8:00 p.m.
What does it mean for trans people to show up for one another, to care deeply for one another? How have failures of care shaped trans lives? What care practices have trans subjects and communities cultivated in the wake of widespread transphobia and systemic forms of trans exclusion? This talk proposes a critical intervention in how care labor and care ethics have been thought, arguing that dominant modes of conceiving and critiquing the politics and distribution of care entrench normative and cis-centric familial structures and gendered arrangements. A serious consideration of trans survival and flourishing requires a radical rethinking of how care operates. Hil Malatino is a College of the Liberal Arts Endowed Fellow and Assistant Professor of Women's, Gender, and Sexuality Studies and Philosophy at Penn State University. He is the author of Side Affects: On Being Trans and Feeling Bad (Minnesota 2022), Queer Embodiment: Monstrosity, Medical Violence, and Intersex Experience (Nebraska 2019), and Trans Care (Minnesota 2020), which won the Publishing Triangle Award and was a Lambda Literary Award finalist. He is the current president of WGS South (formerly the Southeastern Women's Studies Association) and the director of the Philosophy in an Inclusive Key Summer Institute (PIKSI), which supports undergraduate students from under-represented groups who are considering future study in the field of philosophy. Sponsored by the Office of LGBTQ Services and cosponsored by Women's, Gender and Sexuality Studies, Philosophy, and the Women's and Gender Resource Center.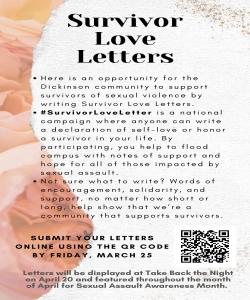 Suvivor Love Letters
Deadline to submit: Friday, March 25

Here is an opportunity for the Dickinson community to support survivors of sexual and gender-based violence by writing survivor love letters. Letters will be displayed at Take Back the Night on April 20 and featured throughout the month of April for Sexual Assault Awareness Month.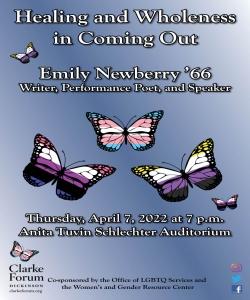 Pride Week Keynote: Healing and Wholeness in Coming Out
Thursday, April 7
7:00 p.m.
ATS
Coming out as a person whose gender identity does not conform to society's expectations can be traumatic. In this presentation, Emily Newberry '66, Writer, Performance Poet and Speaker, explores how she was affected by trauma growing up, and how she found a path to healing and becoming whole. Her path has included being an activist for trans rights, fighting to end trans discrimination, and leading conversations about how to be a part of positive change. This program is sponsored by the Clarke Forum for Contemporary Issues and co-sponsored by the Office of LGBTQ Services and the Women's & Gender Resource Center.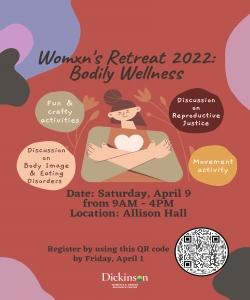 CANCELLED: Womxn's Retreat: Bodily Wellness
Saturday, April 9
9:00 a.m. - 4:00 p.m.
Allison Community Room
Unfortunately, the Womxn's Retreat was cancelled due to low registration.
Registration is now open for this year's Womxn's Retreat, which will be held Saturday, April 9 from 9:00 a.m.-4:00 p.m., in Allison Community Room. The retreat is open to any female-identified or gender non-binary faculty, staff, administrator, or student. Breakfast and lunch will be provided. We ask students to commit to attend the entire retreat; faculty and staff may attend as they choose. The student facilitators of this year's retreat (Nhi Ly '22 and Carter Gallahue '24) have arranged a variety of activities, including a facilitated discussion on reproductive justice, an expressive arts activity, facilitated discussion about healthy body image, and a movement activity.
Please register by Friday, April 1, so we can arrange food and activity materials. If you have any questions, please don't hesitate to contact me.
Take Back the Night
Wednesday, April 20
7:30-8:30 p.m.
Allison Great Hall
April is Sexual Assault Awareness Month. Take Back the Night honors all who are impacted by sexual, relationship, and gender-based violence and is an opportunity for our entire community to recommit to building a culture where sexual and interpersonal violence no longer exists. Student speakers will share their stories and experiences and Llami Gutierrez '09 will be our keynote speaker. For many years, Llami was the executive director of The Amara Legal Center, which provides free legal representation to sex trafficking survivors in the DC metropolitan area. She is currently prosecutes sex crimes with the Maryland D.A.s office. After the speakers, student members of the planning committee will lead a short march to end at Britton Plaza where Rabbi Marley Weiner will lead a candlelight vigil. Advocates from the YWCA of Carlisle and Cumberland Counties and Domestic Violence Services of Cumberland and Perry Counties will be present to provide support if needed.
See our Fall 2021 events.