Student Mail Room Information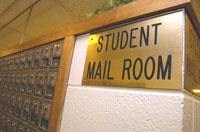 Located in the Holland Union Building (HUB), Lower Level. All incoming mail for students, intra-office mail, notification of packages, is handled at this location.
Addressing Mail:
Please remember that it is very important that you address all of your incoming mail/packages correctly. Information on addressing mail correctly can be found on the *Receiving and Sending Mail* page.
Names/Nicknames:
If you use a nickname or use something other than your given name, please notify the mail room supervisor, otherwise your mail could be delayed.
Student Packages:
Package space is limited so we ask that you schedule your packages to be delivered no more than 2 weeks prior to your arrival on-campus.
Mail Privacy:
To ensure your privacy, the Student Mailroom will not release or share your personal mailbox information (HUB numbers) with anyone; therefore, your must provide your address to anyone who may be sending you mail or packages. Also, for your security, never give your mailbox combination to your friends or classmates. By doing this you put yourself at risk for practical jokes and the possibility of lost mail.
Unidentified Mail:
Your mail and packages are very important to us, and we take every step to identify the receiver of the mail/packages. If we are unable to do this we will return the item to sender. If a return address is not provided, the item will go to a "dead letter" bin.
Contact Us
Phone: (717)245-1298
Email:
ulshz@dickinson.edu
Fax: (717)254-8877 Attn: Zair Ulsh
FAS Mail Center Hours:
Monday - Friday
9 am - 4:30 pm.
Phone: 717 245-1210

Student Mailroom Hours:
Monday - Friday
9 am – 6 pm.
Saturday
10 am – 2 pm
Phone: 717 245-1298

Package Pickup:
Monday - Friday
10 am - 6 pm
Saturday
12 noon - 2 pm
Phone: 717 245-1973

All Offices CLOSED on Sundays
Hours may vary during exams, breaks, and holidays