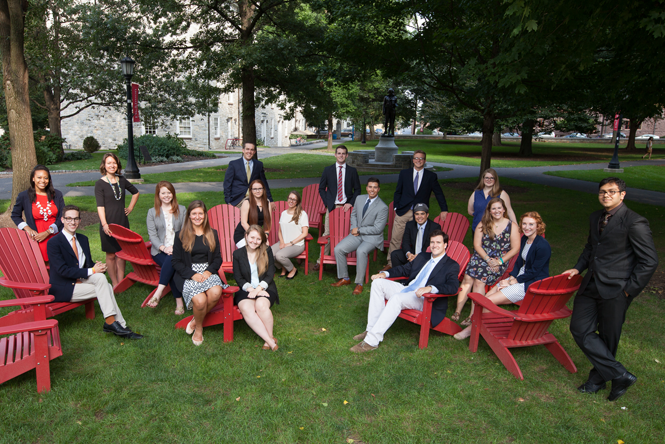 Dickinson's admissions student interviewers are a highly select group of students known for being engaged, responsible members of the campus community. They are trusted with this unique opportunity to help shape the future of the Dickinson community through the admissions process by interviewing prospective students and contributing to their applications.

From varsity athletes to Ultimate Frisbee players, a cappella singers to College Farm volunteers, Texans to Californians to native Pennsylvanians, political science and international studies majors to creative writing and French minors, these students represent all facets of the very multifaceted Dickinson community.

We invite you to meet these model Dickinsonians, learn more about their experiences and read about their most distinct Dickinson moments.
Alexandra Bennett '15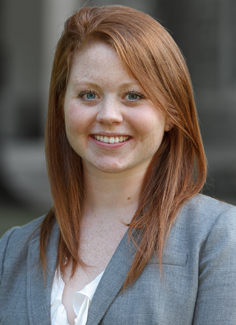 Hometown: Carlisle, PA
Major: Psychology
Activities: Liberty Caps Tour Guide, Pi Beta Phi, tutor at the local middle school, First-Year Mentor, International Orientation Assistant, and Global Ambassador for the Danish Institute for Study Abroad (DIS)
Dickinson challenges me to think differently and to act boldly. It is this kind of liberal arts education and global perspective that drew me to Dickinson. I just returned from a semester abroad in Copenhagen, Denmark and this was truly one of the best opportunities Dickinson has offered me thus far. My time on campus prepared me to apply the various skill sets and analytical thinking I have learned in the Dickinson classroom to a larger, more global setting. In turn, I am looking forward to incorporating new perspectives I gained while abroad once I return to campus for my senior year.
With tremendous help from the Career Center, I just completed a summer internship at the Lab School of Washington in D.C. The Lab School is a phenomenal institution for students with learning disabilities and differences that implements an art-infused curriculum and project-based lessons. I served as a Group Leader, working alongside the students' teachers and crafting lesson plans. This was an opportunity for me to visualize in the practical world the way that Dickinson connects the dots in an interdisciplinary manner. This educational approach involved the creation of major art projects which incorporated history, social studies, math, geography, music, philosophy, religion, team-building skills, and art, while addressing the strengths, weaknesses, and unique learning needs of each student.
These experiences, among countless others, are the opportunities and memories that characterize, for me, a Dickinson education.
---
Claire Brawdy '16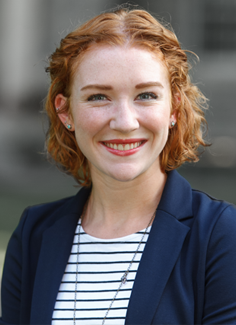 Hometown: Eden, New York
Major: History
Activities: Varsity Cross Country, Indoor & Outdoor Track, The Dickinsonian (college newspaper), Writing Tutor and Writing Associate at the Norman M. Eberly Writing Center
Since coming to Dickinson, I haven't regretted a single moment. Dickinson has allowed me to grow as a student, an athlete, and most importantly, as a person. I have been given the amazing opportunity to choose an area of study that fits me best, engage with professors who are clearly passionate about their work, and most importantly, explore other related (or completely random) interests. Dickinson not only encourages, but expects students to think beyond their main course of study, and I can certainly say that this makes for better, well-rounded graduates. The liberal arts education is invaluable, and I know it will pay off tenfold in the years to come
As an athlete, I have achieved goals that I never thought were possible, and have forged friendships that will last a lifetime. The support network that I have found with my team is unlike any I have seen at other schools, and I consider myself extremely fortunate and honored to be part of this fantastic program. What I love most about participating in a Division III sports program is the flexibility. Coaches realize that academics come first, and are very understanding when it comes to activities that may conflict with practices or matches.
All of my experiences at Dickinson thus far have helped to shape the person I am today. As a first year, I was unsure of both myself and what I wanted to do with my life. Today, as an incoming junior, I have developed the confidence in both myself and my abilities to take on whatever life throws at me, because Dickinson recognized potential in me when they accepted me as a student. I couldn't be more grateful for the opportunities I have been given as a result of that recognition!
I could go on and on about my experiences at Dickinson, it truly has been the greatest second home I could ever hope for! I am always willing to answer any questions you may have. Please feel free to contact me at brawdyc@dickinson.edu
---
Charles Cable '15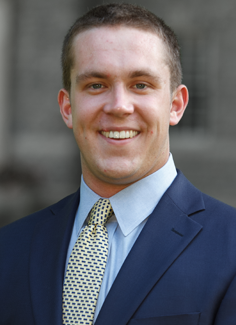 Hometown: Geneva, IL
Major: International Business and Management
Activities: Liberty Cap Society, Men's Club Lacrosse, Ski and Snowboard Club, Sigma Alpha Epsilon, College Republicans, Alpha Lambda Delta
Enrolling in Dickinson from the western suburbs of Chicago presented an exciting opportunity to branch out of the Midwest and experience four years in a different region of the country. After setting foot on campus the first day, I was immediately immersed in a new culture with students from around the United States and world. The relationships I have with my friends, professors, and faculty have helped me grow and prosper as a well-rounded Dickinsonian.
This past fall, I was fortunate enough to study abroad in Bologna, Italy, one of the many prestigious abroad programs Dickinson offers. As an IBNM major, I was able to enroll in business courses with a distinct focus on the international community. If my peers and I were not studying the history of the European economy, we were traveling to Italian corporations to sit down with the management teams discussing their efficiency and profitability of daily operations. Bologna, Italy will forever hold a special place in my heart because of the incredibly transformative and enlightening experience I was able to have while studying there.
I stay active on campus by participating in many clubs and organizations. You can find me sinking putts on the golf course, beating my friends in squash, raining 3's during intermural basketball, shredding the local ski slopes, and most importantly, studying in the library.
I am more than happy to answer any questions that you have about Dickinson. Please do not hesitate to contact me at cablec@dickinson.edu.
---
Rogelio Cerezo '15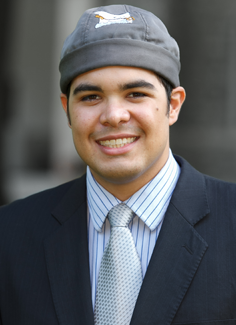 Hometown: Panama City, Panama
Major: Political Science, Security Studies (certificate) & Economics (minor)
Activities: Student Senate, Dickinson College Democrats, Order of the Scroll & Key, Political Science Majors Committee, Alpha Lambda Delta, Pi Sigma Alpha, Dickinson Christian Fellowship and Community Service and Religious Life Student Leader
The path from a Panamanian high school to Dickinson College has been a journey considered odd or improbable by many people. I grew up in an environment that celebrated diversity and that embraced the idea of being a global citizen. It was Dickinson's focus on "engaging the world" that made me feel a strong connection to campus and its history. After three years of attending Dickinson, I'm proud to say it has become a home away from home.
As part of Dickinson's focus of "engaging the world", I have been able to explore many opportunities for academic and practical study. As a political science major, I have studied with professors that are leading experts in international affairs, which is my area of interest within my major. In addition, in the spring of 2014, I studied off campus at The Washington Center, where I took a course on the "U.S., Asia and the World" taught by a distinguished U.S. diplomat, Dr. Shelton Williams. I also had the opportunity to intern for the Department of Defense in a civilian capacity to support cooperation between the United States and countries in the Western Hemisphere. Other amazing internships I have participated in have been with the Pacific Council on International Policy and the Los Angeles Area Chamber of Commerce!
On campus, I am also involved in organizations such as the Student Senate and the Dickinson College Democrats, where I have been able to serve the campus and the local community. I look forward to meeting you and please feel free to reach out to me if you have any questions!
---
Michael DeVivo '15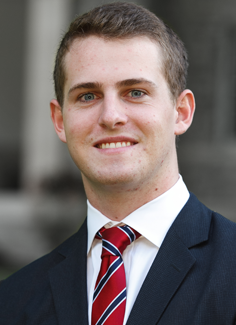 Hometown: Ridgefield, CT
Majors: International Business and Management & German
Activities: Member of the Varsity Baseball Team, Triton, German Club
Choosing the academic institution to pursue a degree is one of the most difficult, yet empowering, decisions of a young adult's life. When I first began to look at Dickinson as a legitimate place to spend the next 4 years of my life, the three most important aspects for me were baseball, academics and studying abroad. Dickinson was not originally my first choice, but the second I visited the campus and toured the facilities, I could tell it was the perfect fit for me. I bought in quickly to the concept of the Dickinson community and realized that Dickinson offered everything that I needed, and more, in regards to higher education.
I was fortunate enough to be able to study abroad in Bremen, Germany for the Fall of 2013, complete the Internship Notation Program in two consecutive summers, and also play baseball in the very competitive Centennial Conference, all while pursuing a double major
In regards to my extracurricular activities, being a member of the baseball team has consumed a lot of my time throughout my 3 years at Dickinson, but Dickinson has helped me learn to balance academics, baseball, and other extracurricular activities increasingly each year. Dickinson has prepared me for the next step in life better than I could have ever imagined, and now as my academic career is coming to a close, I look back and realize that no other academic institution could have prepared me this well.
---
Leanna Diggs '15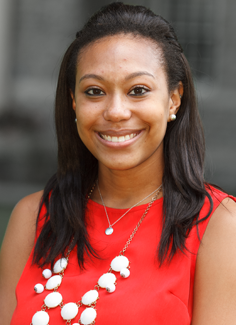 Hometown: Silver Spring, MD
Academic Interests: Political Science, Law & Policy
Activities: Student Senate, Pi Beta Phi, Liberty Cap Society, Political Science Majors Committee
Dickinson has provided me with a unique experience that has shaped who I am today. From the history and the traditions of the school, to the strong bonds forged between students and faculty, I am so grateful for the memories and experiences I have had thus far.
Aside from the phenomenal professors and challenging (but interesting) courses, my peers have had a significant impact on my learning experiences. Coming from different high schools, cultures and backgrounds and being at different stages in life, I have found that I have learned the most from the multiple perspectives of my peers. At Dickinson, you are surrounded by outstanding and talented young adults who encourage you to pursue your interests and to be passionate about a cause. The leadership on this campus is inspiring and motivates me to contribute as much as I can to the Dickinson community.
The faculty and students create a nurturing, supportive and unique community that has given me the courage to step outside of my comfort zone and become more confident in my leadership abilities. The friends I have made are like family. And the educational experiences I have received are incredibly impactful on how I view the world around me. I am proud to be a Dickinsonian.
---
Krista Dionne '15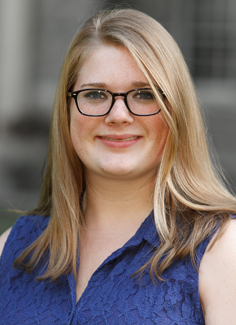 Hometown: East Granby, Connecticut
Major: Neuroscience; Spanish minor
Activities: Writing Center Tutor, Resident Advisor/Housing and Apartment Manager, Neuroscience Club, Teaching Assistant
As a Neuroscience major, I have had a lot of opportunities both on campus and off campus. I have been a teaching assistant for several classes and I did an internship at a university near my hometown and published an academic paper in a peer-reviewed journal. I am interested in pursuing the field of medicine and I had the opportunity to work at an academic community hospital doing clinical research and shadowing. Through the Spanish department at Dickinson, I was able to act as a Spanish interpreter at a local medical clinic.
I love being able to call Dickinson home. The friends and professors I have met here have allowed me to grow academically and as a person. I studied abroad in Malaga, Spain and was able to take classes in Art History and Women & Gender Studies, subjects that greatly interest me but are outside of my discipline. Dickinsonians are an amazing type of people who I have encountered all over the world and I truly love being a part of this community. I am looking forward to spending my senior year getting to know even more members of this community and embracing the opportunities that come my way.
---
Colin Farrell '15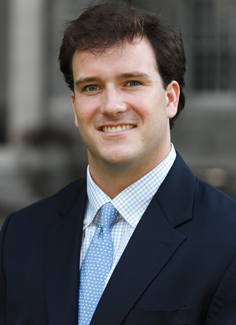 Hometown: Newtown Square, PA
Academic Interests: Political Science, Economics
Activities: Men's Lacrosse
My Dickinson College experience has been a unique one. Unlike many Dickinson students I have the privilege of being a student athlete. I am a member of the nationally ranked Men's Lacrosse team, which has made my experience at Dickinson really special. Being a student athlete has taught me a lot about how to balance school, athletics, and a social life but it has also given me an opportunity to represent my school in a unique way. By being a student athlete I have become passionate about being a Red Devil both on and off the field.
Dickinson has also become a second home for me. I have had the great opportunity to attend college with both of my siblings. My brother Justin (Class of 2013, Football) and my sister Caitlin (Class of 2017, Field Hockey) are also Red Devils. So I guess you can say this has become a family business for us. The three of us have had very different experiences at Dickinson and have loved it for many different reasons. Our intention was never to attend the same college but what we found is that we could all be at the same place and still experience it in many different ways. Ways that have made our time here very special. I think this speaks volumes of what Dickinson has to offer and how each student can have their own unique experience here.
I would be happy to share my story or answer any questions you may have so please do not hesitate to contact me at Farrellc@dickinson.edu.
---
Aaron Hock '15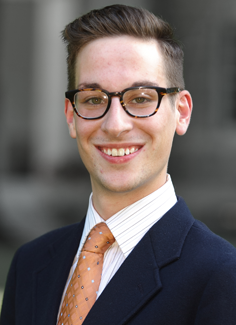 Hometown: Wrightsville, PA
Major: American Studies, Music Minor
Activities: Liberty Cap Society Intern, American Studies Majors' Committee, Student Stories Blogger, Collegium Musicum, College Choir, Crescendevils a Cappella Group, Music Society, Service Trip Participant, Pre-Orientation Assistant
My experience at Dickinson has been marked by opportunities that I had never considered before going to college. Over the past three years, I have grown stupendously as a person, as an intellectual, as a musician, as a world-traveler, as an advocate, and as a leader.
In the fall of 2013 I spent four months studying abroad in Norwich, England with 30 other Dickinson students and two Dickinson professors. There I had the opportunity to (almost ironically) take courses in American Studies while surrounded by British students and faculty. What this provided was a diversified perspective on themes that pervaded my studies back at Dickinson. In a class on American Violence I was listening to opinions from students for whom violence was much less imminent of a threat. This academic experience, coupled with my experience navigating unfamiliar cultures and places, broadened the ways I think about "American culture", and increased my appreciation for the close-knit liberal arts education I am receiving at Dickinson.
Another highlight of my time at Dickinson was my internship at the Woodruff Arts Center in Atlanta, Georgia this past summer. Through serendipitous networking I learned that the Vice President for Advancement at the Woodruff is a Dickinson College alum who also majored in American Studies. Through impactful work as an Advancement Intern I solidified my desire to work in and among the arts in order to diversify audiences and increase access to education in art, music, theater, and dance. My passion for the arts has thrived at Dickinson through voice lessons with a renowned opera singer, participation in Dickinson's newest a cappella group, involvement with our choir and Collegium, and frequent attendance at plays, concerts, and gallery openings. I look forward to refocusing my passion for the arts in my American Studies thesis this year.
If you have any questions about what it means to be a Dickinsonian, feel free to email me at hocka@dickinson.edu.
---
Reed Milbrath '15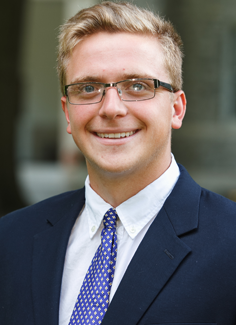 Hometown: Dickerson, Md.
Academic Interests: Political Science, Security Studies, Religion
Activities: Men's Soccer
As a political science major, security studies certificate participant and a religion minor, my opportunities to learn and explore new subjects is endless. As a result, my time at Dickinson has been nothing short of amazing. From taking a 3-D sculpture class to soccer practices and games, I always find myself trying new things. In addition, I have been fortunate enough to meet and develop friendships with spectacular people. Whether it is my friends or professors who have offered counsel and guidance, all have encouraged me to take advantage of what Dickinson has to offer.
I am more than happy to answer any questions that you have about Dickinson. Please do not hesitate to contact me at millbratt@dickinson.edu.
---
Danette Moore '15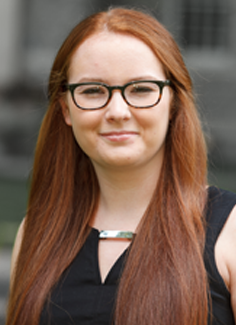 Hometown: Lebanon, PA
Major: International Studies, German
Activities: Liberty Cap Tour Guide Society, Tritons, President of Women's Club Soccer, Finance Committee, German Club, Sport Club Council
As cliché as it sounds, I knew Dickinson was the college for me the second I stepped on campus. There was something about the squirrels and those red adirondack chairs that first drew me in, and after a full tour of campus my heart was set. One of the biggest decisions I have ever made was to applying Early Decision I to Dickinson, but I have never second guessed myself. Dickinson has afforded me some of the greatest opportunities of my life including work experience, an internship with a Dickinson alumnus, and my personal favorite an entire year abroad in Bremen, Germany.
While going abroad for a year meant leaving behind my club team, my family, my friends and even Sunday brunch in the Caf, I knew this experience would change my life. I was able to travel to over 30 cities in 10 different countries, gain language competency and confidence, and best of all, made memories that will last me a life time. There aren't many colleges out there that as a double major you can go abroad for a semester much less a year, but that is one of the many reasons I chose Dickinson. Dickinson's global mindset and desire for you to experience the world encourages students to go abroad and it is an experience to not miss out on.
I absolutely love to talk about my time abroad, or any of my involvement on campus, please feel free to reach out to me at mooreda@dickinson.edu, I would be happy to answer any of your questions.
---
Thomas Morris '16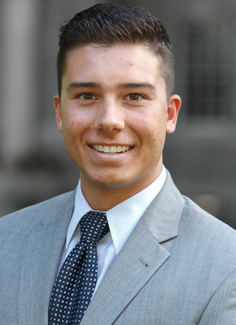 Hometown: Madison, CT
Major: Political Science, Economics
Activities: Liberty Cap Society Tour Guide, Liberty Cap Society Executive Board, Men's Indoor and Outdoor Track and Field
Every fall when I pack up my car to move back to Dickinson, it feels like I am moving back home. Over the past three years, Dickinson has allowed me to grow and thrive as a student, a peer, and a friend.
The ability to take a range of classes across multiple disciplines led me to my true passion for Political Science, Economics, and most importantly the intersection of the two. These combined interests, realized in financial advising, have been the focus of my summer internships at UBS Wealth Management in Manhattan.
At Dickinson, academic interests are encouraged to extend not just beyond the classroom but internationally. I studied abroad in Bologna, Italy for the fall semester, 2013. Dickinson's incredible program was an amazing life changing experience on a cultural, personal, culinary, and academic level. The Dickinson community fosters an environment where everyone can be the best version of themselves. I am grateful for my Dickinson experience and know that it was always be a special place to call home.
---
Carly Putman '15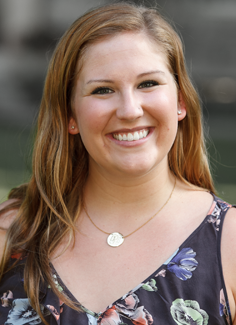 Hometown: Birmingham, Alabama
Major: Latin American, Latino and Caribbean Studies Minors: Spanish, Portuguese and Brazilian Studies, Religion
Activities: Liberty Cap Society, Tritons, Global Ambassador (CIEE São Paulo, Brazil Liberal Arts) Delta Nu (Philanthropy Chair), Panhelenic Council
As a senior in high school beginning the daunting college search process, I knew I was looking for a small liberal arts school with a strong international focus and many study abroad opportunities. Little did I know, I was describing Dickinson College to a "T." From the moment I stepped on campus as a prospective student, I knew Dickinson was a great fit for me. One of the things that stood out most to me at Dickinson, and that continues to impress me today, is that students don't ask if you're planning to study abroad, but rather when and where.
I came to Dickinson with an interest in Latin America, but have further developed my passion for the region over the last three years. I have learned about the diversity of a region I love so much not only in the classroom, but through independent research and travel and, of course, my time studying abroad. Through Dickinson's Center for Global Study and Engagement, I had the wonderful opportunity to spend my entire junior year studying, living, and learning in three incredible cities: São Paulo, Brazil; Cuenca, Ecuador and Mendoza, Argentina. It was an incredible year in which I learned a lot about Latin America and about myself.
One of the things I love most about Dickinson is I am continually provided with opportunities to get out of my comfort zone, broaden my perspectives and to challenge myself on a daily basis.
From the incredible professors and academics to the truly amazing Admissions staff I have had the privilege to work with for three years, Dickinson has become a place of comfort and welcomed challenges for me throughout my college career.
---
Lexie Raczka '15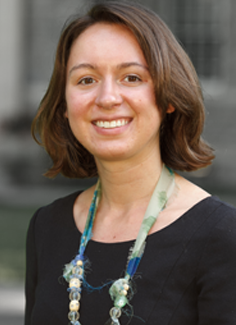 Hometown: Mansfield, MA
Majors: Environmental Science & Studio Art
Activities: Students Interested in Sustainable Agriculture (SISA), Dickinson College Farm, Center for Sustainable Living (Treehouse), Liberty Cap Society
I've always been somewhat of a perfectionist, and my college search process was no different. After visiting over twenty schools all throughout the East Coast I decided to put "all of my eggs in one basket," and submit one college application; Early Decision to Dickinson. Nearly four years after applying I can safely say that Dickinson has been the perfect school for me.
People not familiar with Dickinson are often puzzled by the combination of my majors. I love that in the Dickinson community majoring in two completely different disciplines is celebrated and viewed as a way of preparing me for life rather than a set career.
My favorite thing about my Dickinson experience is that the college practices what it preaches. The intersection between my classes, extra-curricular activities, and the campus in general reinforces what I am learning about and reaffirms my passions. Over the past three years I have developed a passion for food systems, and have become particularly interested in food accessibility. This interest spans much farther than the walls of a classroom. I've worked at the College Farm, interned with Dining Services to improve sustainable practices, and partnered with local farmers who have significant roles in the local community. My time at Dickinson has helped prepare me for related experiences off campus as well. I spent the spring 2014 semester in Copenhagen, Denmark where I took a plethora of classes related to my interests, ranging from a class on climate change that traveled to Greenland to courses on food systems in Europe and the world at large and the sustainability of the New Nordic food craze. This past summer I completed an internship at the Liberty Prairie Foundation in Illinois where I participated in planning and running numerous projects and programs related to sustainable agriculture, food systems, and food accessibility in Greater Chicago.
Dickinson has helped provide my passions with a purpose and made me discover the true meaning of community. I am happy to answer any questions that you may have about Dickinson. You can contact me at raczkaa@dickinson.edu
---
Asir Saeed '16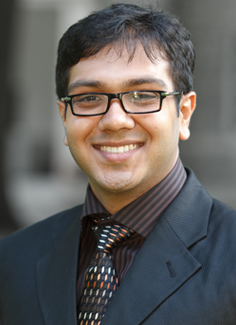 Hometown: Dhaka, Bangladesh
Major: Computer Science Minor: Japanese
Activities: First Year Experience Coordinator, Student Leader in Office of Religious Life, Service Trip Leader in Office of Community Service, Research Assistant in Dept. of Computer Science, Mentor in L.E.A.D, Treasurer for the Dickinson College Muslim Student Association (MSA), Norman M. Eberly Writing Center Tutor
Study Abroad: Japan Summer Program and Nagoya, Japan in Spring 2015
Coming to Dickinson College all the way from Bangladesh has been quite an experience. When I look back at the person I was when I climbed up to the steps of Old West two years ago, I honestly cannot recognize him. Dickinson has given me a deep respect for the liberal arts, a strong sense of responsibility towards my community and a feeling of belonging that I never had before.
Since my high school education had mostly been mono disciplinary, I rarely had the opportunity to explore other fields of study. Naturally, when I came to Dickinson and started my first-year seminar which was quite different from my usual tastes, it was a wonderful surprise to find out that I had affinity for other fields as well. I found a passion in languages, history, sociology and sustainability issues.
Dickinson's liberal arts approach has made me realize that every problem is multi-faceted. Moreover, it gave me the ability to analyze a problem from different lenses and engage in a high level of discourse. And not just in class. Soon it was not uncommon for me to discuss social issues with friends while sitting on Morgan field, enjoying the sun.
---
Kaitlin Soriano '15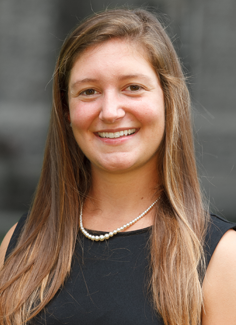 Hometown: Bethlehem, PA
Major: Environmental Science
Minor: Religion
Activities: College Farm Student Farmer, Pi Beta Phi (Chapter President), Liberty Cap Society, Theta Alpha Kappa Religion and Theology Honor Society
As a native of Pennsylvania, I haven't traveled too far to find myself discovering my passions at Dickinson College. I have always been attracted to outdoor activities for stress-free and exciting experiences such as running and hiking. Since my first year at Dickinson I have been employed as a student farmer on the College Farm and this opportunity has only fueled my passion to work with and support the sustainable food movement. My work on the College Farm has also tied into my major, Environmental Science, as I have had the chance to apply what I am learning in the classroom to a real world setting. The ES department will also be supporting my independent research project on Ethnobotany that I plan to conduct on the College Farm for my senior year. My minor, Religious Studies, has also tied nicely into the experiences with my major especially through a course titled Buddhism and the Environment which I had the opportunity to take. My major and minor are wonderful examples of how diverse yet integrated a liberal arts education can be for students. Dickinson has also provided me with the opportunity to travel abroad to Genoa, Italy on a 5-week language immersion summer program, which resulted in a life changing and unforgettable experience! From the outdoors to across world in Italy, Dickinson has allowed me to grow not only as a student, but also as a globally minded individual.
---
Mical Tawney '15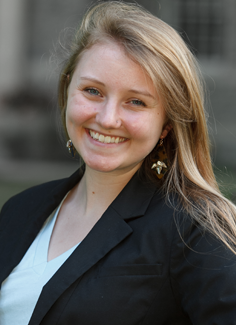 Hometown: Charlottesville, Virginia
Major: History and Italian Studies
Activities: Housing and Apartments Manager, History Majors Committee, PanHellenic Council, & Liberty Cap Society
Dickinson, over the past three years, has challenged me in so many different ways. This was exactly what I was looking for in a college campus: a place that would not only challenge me academically and socially but also a place that would allow me to grow and to become a better person. As my years here have progressed, I have found that Dickinson has fostered that kind of community for me. I have made some of the best friendships of my life here at Dickinson and have also taken the most intellectually stimulating courses, all of which have changed how I think and how I view the world.
Throughout my years here at Dickinson, I have been involved in a few different organizations. I have been a Resident Advisor for the past year and a half and will be a Housing and Apartments Manager this upcoming year. I have also been a member of Greek Life on campus and will be a member of the PanHellenic Council this year which represents all Women's Fraternities and Sororities. I will also be conducting my own research through an independent study in the history department. This project has allowed me to tie both of my majors, Italian and History, into one final study. Recently, I just returned from a semester abroad in Bologna, Italy, which was a truly unforgettable experience that allowed me to use my education differently.
I truly look forward to my final year here at Dickinson and welcome any challenges that I may encounter, in hopes that they teach me something different. I am looking forward to continuing my experience in Admissions and sharing why Dickinson means so much to me with prospective students and families. If you have any questions, please feel free to ask!
---
Cailin Walsh '15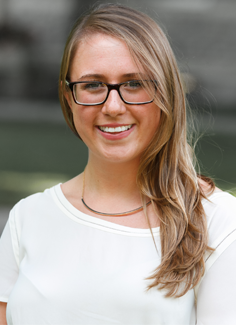 Hometown: Buffalo, NY
Major: Political Science
Activities: Member of Kappa Kappa Gamma, Liberty Cap Society
I came to Dickinson my freshman year not knowing a single person and that was very pretty scary for me, but by the end of the first week I felt more at home than I could have ever imagined. Being a student at Dickinson College has enriched my life beyond my wildest expectations.
The past three years as a Dickinsonian have contained numerous adventures and enlightening experiences for me, but by far the most memorable, and most life-changing, period of time during my college years was the semester I spent in Bologna, Italy. I will always consider the friends I made while abroad my second family and the city itself, my second home.
The classes, professors and people of Dickinson College have opened my eyes to the world and given me the knowledge and the confidence to go forward into future. However, the most invaluable thing Dickinson has given me is the security in knowing that wherever the future leads me I will always have a strong Dickinson community supporting me!
---