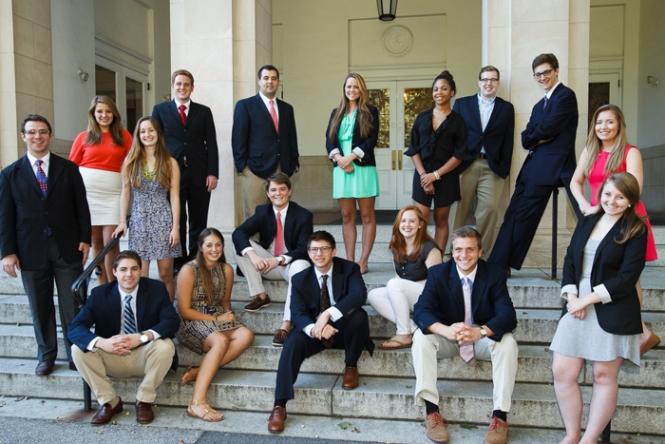 Dickinson's admissions student interviewers are a highly select group of students known for being engaged, responsible members of the campus community. They are trusted with this unique opportunity to help shape the future of the Dickinson community through the admissions process by interviewing prospective students and contributing to their applications.

From varsity athletes to Ultimate Frisbee players, a cappella singers to College Farm volunteers, Texans to Californians to native Pennsylvanians, political science and international studies majors to creative writing and French minors, these students represent all facets of the very multifaceted Dickinson community.

We invite you to meet these model Dickinsonians, learn more about their experiences and read about their most distinct Dickinson moments.

Molly Anderson '14
Hometown: Kirkland, Wash.
Academic Interests: English
Activities: Jive Turkeys Ultimate Frisbee, WDCV FM, Delta Nu, English Department Student Advisory Committee
As a West Coast Native looking for colleges on the East Coast, I knew that if I was going to make the leap across the country, it had to be for a school that would offer me a completely unique experience. Over the past three years, Dickinson has provided just that. My experience here has been a reflection of both my own extremely varied interests and the many unconventional learning opportunities Dickinson offers. I took an English class with just three other students, an experience that was both intense and extremely satisfying . I've been able to use my passion for English to venture into other interests, particularly environmental science, a pairing that has fit together seamlessly at Dickinson.
My studies have taken me all over: I've mucked through Chesapeake Bay salt marshes, explored the archives of a Smithsonian Museum, banded Saw Whet Owls, climbed one of the tallest mountains in West Africa, mingled with traditional Cameroonian Kings and Queens, and through it all, been supported by a unique community of creative, passionate and engaged students. My education at Dickinson has been an adventure, and I look forward to sharing conversations with prospective students about their own academic adventures.
Andrew Bell '14
Hometown: Latrobe, Pa.
Academic Interest: biochemistry & molecular biology
Activities: Liberty Cap Society Tour Guide, Liberty Cap Society Executive Board, Liberty Cap Society Intern, Intramural Sports, Pre-Health Society, Lifeguard
I have chosen to major in biochemistry & molecular biology and I am a part of the pre-health program as I one day hope to pursue a career in medicine. I also hope that my career in medicine will involve engaged work in shaping health-care policy. Our country is facing a gigantic health-care dilemma, and I want to be a part of the conversation to shape our policy for generations to come.
Dickinson's tremendous focus on the 'global perspective' has not only influences what courses I've taken but also how I view medicine. In America, surgeons use the most advanced medical techniques and procedures to cure and help people live better and longer lives. However we often forget that most of the world still struggles for clean water or basic vaccinations. We need to begin thinking about medicine in a global frame.
This past summer I returned to New York City to continue my research at the Mt. Sinai School of Medicine. I have worked at Mt. Sinai the last two summers conducting research on HIV disease host-pathogen interactions and APOBEC3 enzymatic activity. I can say confidently that the knowledge I acquired at Dickinson allowed me to thrive in a practical setting at my internship. I know this internship will help set me apart during the medical school application process.
If you have any questions or concerns about Dickinson or the "college process" please feel free to e-mail me at bella@dickinson.edu.
David Cochrane '14
Hometown: Scranton, Pa.
Academic Interest: Russian and Music
Activities: Liberty Cap Society, Dickinson College Choir, Collegium, Director of the Liturgical Campus Choir
My emphasis in music is a special emphasis in which I work one-on-one with a music professor to study conducting. Conducting is not an emphasis that the music department currently offers, but is a good example of the opportunities that exist here at Dickinson. The music department recognized my interested in conducting and offered me classes that would better prepare me for graduate study in conducting. The study of conducting is hard to come by at other undergraduate institutions.
This past year I spent the full year abroad in Moscow, Russia. While studying Russian at Russia State University for the Humanities, I also found many ways to study and grow as a musician as well. I continued my love for liturgical music by singing both in choirs and as a soloist in the Cathedral of the Immaculate Conception of the Blessed Virgin Mary in Moscow. During my time there I was also asked to direct their early music ensemble. During the second semester I studied conducting in the Moscow Conservatory named after Tchaikovsky. While studying in the conservatory I sang in two to three concerts a week as a member of the Moscow Conservatory Chamber Choir in both the Small and Grand Halls of the Conservatory. I also was invited to conduct the chamber choir in a concert at the conservatory for the celebration of the 140th birthday of Rachmaninoff.
I extended my stay in Moscow for the summer to work at a restaurant/bar where I was managing the kitchen and sales team and responsible for program planning and advertising. This experience gave me a good taste of how business works in Moscow.
Looking back now, I am so glad I chose Dickinson as the opportunities here are really endless. Entering my senior year I could not have asked for a better experience.
Aaron Cook '15
Hometown: Birmingham, Mich.
Academic Interests: Chemistry and Biochemistry & Molecular Biology
Activities: Tour Guide, Residential Advisor, Chemistry Club, Pre-Health Society, Alpha Lambda Delta and Emergency Medical Technician
From the very first time I stepped on campus as a visiting student, I knew Dickinson was where I belonged. I study the physical and natural sciences with the intent to attend medical school after graduation. As a first-year student at Dickinson, I had the participated in a wide variety of clubs and activities and formed lasting relationships with my peers and professors.
I began working in a research lab as a first-year student under supervision of my advisor. With no previous lab experience, I was able to synthesize a protein that is believed to cause protein aggregation if it is over-expressed. Today, I am working to purify the protein and quantify the effect is has on protein refolding activity. My research has given me invaluable experiences, and has allowed me to connect with the scientific community by presenting my findings at various research conferences.
My college experience fits no mold or predetermined path. My involvement in the community is not limited to my academic interests. I often tell prospective students that Dickinson is a movie and not a snapshot. The college community is always growing and adapting to the needs and desires of the students. Despite my many hours spent in the lab or studying for my classes, I was not shorted the opportunity to co-found our campus' paintball club or get involved in the many other wonderful aspects of campus or the local town. Dickinson is what you desire it to be. I look forward to my post-graduation career knowing that Dickinson has prepared me for the next chapters of my life.
Kendra Haven '14
Hometown: Charlotte, Vt.
Academic Interests: International studies with a focus in globalization and sustainability, English
On campus, I help to coordinate community service trips: this year alone, we will run five outgoing trips to places including Philadelphia, New Orleans and Kenya. With writing as my greatest passion, travel and service opportunities provided by Dickinson have greatly inspired me over the years.
The second semester of my junior year, I studied abroad for five months with 11 other Dickinson students in Yaoundé, Cameroon. We lived with Cameroonian host families and took courses related to our respective interests with Cameroonian professors. I also had the opportunity to attend the Francophone Catholic University for Central Africa, which greatly improved my French fluency and introduced me to youth from across Central Africa. My months in Cameroon saw me as a big sister for the first time in my life, with two host brothers and one little sister. Cultural adjustments were common and inevitable, but I learned to love my host family more than I ever thought possible. I often reflect on my months in Yaoundé as the best in my life—but I couldn't be more excited to enjoy my final year at Dickinson (otherwise known to me as liberal-arts heaven!).
Diamond McClintock '14
Hometown: Plainfield, N.J.
Academic Interest: Art History, Studio Art
Activities: RDTV President, Multicultural Recruitment Intern, Liberty Cap Society Tour Guide, Carlisle Arts Learning Center Coordinator, Pi Beta Phi Sorority member.
Throughout high school, my favorite activities were visiting museums, painting and improving my fencing abilities. My senior year in high school I took AP Art History to do what I enjoyed most in a classroom atmosphere. I was elated to see the art-history courses at Dickinson increase my art-history intellect in captivating ways.
In fall 2012, I studied abroad in England on a Dickinson program. It was my first time out of America but I was motivated by the students and faculty at Dickinson to take a risk. While studying in England, I visited a handful of other countries, including Belgium on a class field trip with British students. I met lifelong friends in London and we frequently reflect on abroad memories in the Dickinson dining hall.
In 2012, I interned at COACH Inc. in the loss-prevention department. This summer I returned to COACH Inc. in leather management where I work closely with leather manufacturers and the COACH design team.
At Dickinson, I am president of the Dickinson TV Network (RDTV); Admissions Multicultural Recruitment Intern; tour guide; coordinator at the Carlisle Arts Learning Center; and a member of a sorority. I believe that to be a true Dickinson student you must be an active student! This mentality has helped me to find passion and drive in every activity and class at Dickinson. I know that the driven attitude and growth mindset I fostered at Dickinson will lead me in a successful path.
I look forward to answering any questions you may have about Dickinson. Please do not hesitate to contact me at mcclintd@dickinson.edu to learn more about being a Dickinsonian.
Alex Mesoras '14
Hometown: Wexford, Pa.
Academic Interests: International Business & Management, Economics
Activities: President of the Kappa Sigma Fraternity, men's club lacrosse team, Student Stories Blogger, Global Economy Teaching Assistant
Hailing from just north of Pittsburgh, I enjoy Dickinson's close proximity to home as it affords me many of opportunities to cheer on the black and gold (Steelers, Penguins and Pirates). I stay active playing sports including IM flag football, IM floor hockey, squash, and golf. There are plenty of golf courses close to campus, but you can find me most frequently at the Army War College Barracks Golf Course. The greens are phenomenally kept.
I spent the fall of my junior year in Málaga, Spain, where I had the experience of a lifetime traveling throughout Andalusia and Morocco. This summer I am doing a corporate banking internship with PNC in Atlanta, but I very much look forward to coming back on campus for a senior year that will be filled with classic memories with a great group of friends and Dickinsonians.
Dana Metcalf '14
Hometown: Portland, Ore.
Academic Interests: American Studies (Mass Media and Pop Culture)
Activities: President of the Syrens; Kappa Kappa Gamma
Coming to Dickinson from the West Coast was a big leap of faith for me but I knew I had to trust my instincts, as Dickinson was exactly what I wanted in a school: a small liberal-arts college emphasizing sustainability and global education. After spending my first year exploring various departments, I discovered American studies. I look forward to writing my thesis this year, focusing on mass media and pop culture. As someone with many academic interests, my long-term goal is to continue on to graduate school and become an occupational therapist specializing in autism.
While at Dickinson, I have been involved with a cappella and Greek life. Both organizations have allowed me to get to know my peers and develop my leadership skills. I recently studied abroad in Bologna, Italy, which was an unforgettable academic and cultural experience. Not to mention the opportunity to eat fresh pasta every day! I am excited to be involved in the admissions process, as Dickinson has allowed me to explore and discover a wide array if interests I am passionate about.
Michael Meyers '14
Hometown: Warren, N.J.
Academic Interest: Political Science
Activities: Liberty Cap Society, treasurer of Kappa Sigma Fraternity, president of Class of 2014, Finance Committee and a member of Dickinson's service-based honor society Scroll & Key.
As I political-science major, I have developed the ability to think critically about the world around me. My education in the classroom has allowed me to acquire numerous internships. The summer of my sophomore year I had the opportunity to intern with Congressman Leonard Lance and the New Jersey Department of Agriculture. Like many Dickinsonians, I decided to spend the spring semester of my junior year abroad. I ultimately decided that there was no better place for a political science to be than in Washington. There I interned with the Ridge Policy Group, which was founded by former Governor of Pennsylvania and the first ever Secretary of Homeland Security, Tom Ridge. All of these experiences, coupled with a Dickinson Education, ultimately landed me with an internship in the office of President William J. Clinton.
During my time spent at Dickinson I have tried my hardest to experience as much as I can. Dickinson has inspired me to be an engaged member of not only the college community, but the global community as well. I would welcome the opportunity to share my story with you and talk about how I have benefited from a distinctly Dickinson education.
Reed Milbrath '15
Hometown: Dickerson, Md.
Academic Interests: Political Science, Security Studies, Religion
Activities: Men's Soccer
As a political science major, security studies certificate participant and a religion minor, my opportunities to learn and explore new subjects is endless. As a result, my time at Dickinson has been nothing short of amazing. From taking a 3-D sculpture class to soccer practices and games, I always find myself trying new things. In addition, I have been fortunate enough to meet and develop friendships with spectacular people. Whether it is my friends or professors who have offered counsel and guidance, all have encouraged me to take advantage of what Dickinson has to offer.
I am more than happy to answer any questions that you have about Dickinson. Please do not hesitate to contact me at millbratt@dickinson.edu.
William Nelligan '14
Hometown: Portland, Maine
Academic Interests: History and Political Science
Activities: Student Senate, Mock Trial, History and Political Science Majors Committees
I always admire the unusual path, to Dickinson or elsewhere. I came to my adopted hometown, Portland, Maine, by way of New York, Massachusetts, California, Arizona and the Netherlands. I came to Dickinson after serving as a community organizer and consultant in low-income communities up and down the East Coast, work for which I was awarded Dickinson's inaugural Public Service Fellowship.
I've tried to blaze a similar path here on campus. I have served as a resident adviser in the Office of Campus Life and joined a fraternity; founded a local chapter of Students for Barack Obama, and partnered with an ardent Republican to bring provocative speakers to campus; and I've been a vocal critic of Student Senate, but was recently elected by the student body as its president. In the classroom, you'll find me taking classes on subjects like voting rights history or comparative law, you'll also spot me in English courses (I just finished a class on letters and literature) and computer-science labs. I also always try to play the zany doctor or crazy government official on Dickinson's renowned mock trial team, roles for which I've received awards at regional and national tournaments. This past summer, I interned for a Dickinson alumna who is a venture capitalist, movie/theater producer, and winemaker. I've also interned in the United States Senate, at the New York Civil Liberties Union and for the L.L. Bean family's private foundation.
I love talking about all manner of academics, as well as politics, food, movies and television. I don't have an athletic bone in my body but try to pretend otherwise by sailing and playing tennis. Whatever you imagine yourself doing at Dickinson, in or out of the classroom, I am always happy to answer your questions or just have a conversation. You can reach me at nelligaw@dickinson.edu.
Caroline O'Neill '14
Hometown: Fairfield, Conn.
Academic Interests: English
Activities: Liberty Cap Society, The Dickinsonian, Kappa Kappa Gamma, Orientation Assistant
Although originally from Fairfield, Conn., Dickinson has felt more like home to me over my past three years, especially upon my return from a semester abroad. I was fortunate enough as an English major to study abroad in Málaga, Spain. When I was applying to Dickinson and looking into the abroad programs, I knew I wanted to participate in the Málaga program. Once I declared my English major I was nervous I would have numerous hoops to jump through if I went to Spain, but that wasn't the case! While I love everything about the English department, it was exciting to be able to take a semester off and improve my Spanish instead.
I have tried my hand at a number of clubs and activities, ranging from swing club to student senate, but have really connected with a few in particular. I have been a member of the Liberty Cap Society since my first year, at points a class senator, a staff writer for The Dickinsonian, assistant treasurer for Kappa Kappa Gamma and an Orientation Assistant. One of my favorite things about being a tour guide is connecting with prospective students and showing them why Dickinson is such an amazing place. I am looking forward to interviewing and talking with students at a more in-depth level and am available to answer any and all questions you may have!
Emily Pryor '14
Hometown: Dallas, Texas
Academic Interests: Political Science (Spanish minor)
Activities: Vice President for Student Development of Student Senate, Pi Beta Phi, Liberty Cap Society, Co-Chair of Political Science Majors Committee
Dickinson is the best second home I could have asked for. I believe that choosing a school is all about picturing the place where you'll be able to become the best version of yourself. Here at Dickinson, I've not only been able to take incredible courses within a multitude of departments and develop my love for politics and Spanish, but I've also been able to grow outside of the classroom. This has included the extracurricular activities about which I'm passionate, the friends that will forever be in my life, and my unforgettable study abroad experience. I lived in Málaga, Spain, in the spring of 2013 as a student in Dickinson's program there. What I love most about Dickinson is the communal spirit that is so very alive here every single day. Dickinson allows its students to reach their potential, and I couldn't be more grateful for it.
Karina Rabinowitz '14
Hometown: Redlands, Calif.
Academic Interest: Psychology
Activities: Global Ambassador (Norwich Humanities), Liberty Cap Society Tour Guide, Liberty Cap Society Executive Board, Pi Beta Phi, Psychology Teaching Assistant
Dickinson has provided me with more opportunities than I ever could have imagined. Coming from southern California, I knew that it would a dramatic change: new weather, new people and new challenges. But the welcoming Dickinson community quickly put my fears at bay.
Academically, Dickinson has allowed me the chance to expand and pursue my passion for psychology while also giving me the flexibility to dabble in other areas. I've taken numerous classes in art history, English and gender studies, supplementing and rounding out my psychology education.
Though my on campus experiences were vital, my year abroad was the most priceless component of my time at Dickinson. Studying in both England and Denmark during my junior year, I was able to immerse myself in two unique cultures and fully embrace global learning. I am looking forward to bringing my experiences abroad back to campus and fully embracing this final year at Dickinson.
Mical Tawney '15
Hometown: Charlottesville, Va.
Academic Interests: History and Italian Studies
Activities: Resident Advisor for Davidson-Wilson, Pi Beta Phi (vice president of member development), Liberty Cap Society, Spring Break service trips (participant and leader), History Majors Committee
My favorite Dickinson tradition is the opening of Old West's doors twice a year. I loved signing in to the college as a first-year student and look forward to walking out the doors and down the steps senior year. I think it is important to connect one's experiences gained during all four years here at Dickinson, and this tradition truly showcases the importance of those connections.
Alex Toole '14
Hometown: Brunswick, Maine
Academic Interests: Political Science and French
Activities: The Octals, The Clarke Forum for Contemporary Issues, Tour Guide, Student Senate
I came to Dickinson expecting to engage in a comprehensive education focusing on political science. I got all that and more. One of the most exciting aspects of my Dickinson education has been that I've been able to take classes in not only the political science department, but also in the English department, the Religion department, and in many of the sciences. This is what makes Dickinson special in my eyes--the ability to form a well-rounded global citizen.
My Dickinson experience has also been marked by the college's ability to spark new interests. For example, coming in my first year, I had no prior experience singing or performing. Now, I'm the president of The Octals, Dickinson's all-male a cappella group. As another example, my original intention had been to study abroad in Washington, D.C. Over my first two years, my interests changed, and the college allowed me to study abroad in Toulouse, France. I have since added a French major to my education. These examples highlight what I love most about the college: you can make your experience your own, and graduate as an experienced and versatile global citizen.
David Tretter '14
Hometown: Allentown, Pa.
Academic Interests: Political Science, French and Security-Studies Certificate
Activities: Men's Golf, Liberty Cap Society, Public Safety Student Advisory Board, College Republicans, Emergency Medical Technician
From the moment I first set foot on campus I knew that Dickinson was the place for me. Since then my feelings have not changed a bit. I came from a large high school in eastern Pennsylvania with almost 4,000 students so I was pretty confident that I wanted a smaller college with a strong sense of community. I found exactly that here at Dickinson. While at Dickinson, I have had the opportunity to study various subjects ranging from terrorism and national security to French and philosophy. Dickinson and the Carlisle area have allowed me to pursue many of my interests and even helped me discover my passion for emergency medicine. During my first year at Dickinson I began volunteering at the local ambulance company, became certified as an Emergency Medical Technician, and for the past three years I have worked part-time serving the Carlisle community.
During my four years here, I have had the privileged of being part of the admissions team as a tour guide and now as a student interviewer. I enjoy having the opportunity to share my experiences with prospective students and their families and pass on my enthusiasm for Dickinson. I would love to share more of my story with you and hear yours as well! Please feel free to contact me with any questions you may have about the Dickinson experience at tretterd@dickinson.edu.
Fallon Winters '14
Hometown: Spring Lake, N.J.
Academic Interest: Sociology, English
Activities: Field Hockey, The Dickinsonian, Liberty Cap Society
I came to Dickinson with my passion for international studies in tow, and found myself taking advantage of the academic freedom I was given by taking classes across the board in anything that seemed to catch my eye. I am now in my final months within the limestone walls with a fully developed passion for social justice and economic development that is rooted in years of studying intersecting disciplines and working closely with professors from multiple departments.
In true Dickinson form, I was able to travel with a handful of other students on last spring's Mediterranean Mosaic to study African migration into Europe and do my own research on the developmental effects of Europe's migration policies on third world countries. My friends are equally as unenthused as you are by the topic of my trip but for me it signified my classroom learning breaking through into the "real world," culminating this summer when I worked for an international nonprofit and realized that my education here at Dickinson has beyond prepared me to do what I want to with the rest of my life.
I am a Red Devil through and through and will undoubtedly take my experiences at Dickinson with me wherever I go. Look out for Dickinson field hockey at this years Centennial Championship game--we will be the team in red, holding a trophy!