Science is a way of life, a way of looking at the world and working toward understanding how it works. It's putting facts under the microscope, separating what can be proved from what can't. It's discovering beauty in what underlies everything we see every day.
Dickinson students discover it in those "ah ha!" moments in the lab, in the observatory, in a virtual environment. They find it in those moments when they take what they've learned in the classroom into the field and across the globe.
Guiding students through those experiences that lead them to a life of examination—a life in the scientific community—is what Dickinson faculty do best. Nearly 100% of our permanent faculty across the sciences have the highest degree in their fields, and it's what our alumni say made all the difference.
Where Science Majors Go From Here

Jobs

Tesla
U.S. Naval Research Laboratory
NASA Jet Propulsion Laboratory
Wellman Center for Photomedicine at Massachusetts General Hospital
Broad Institute of MIT and Harvard
Lockheed Martin
Thomas Jefferson University, Vickie & Jack Farber Institute for Neuroscience
MIT, Jacks Lab at the Koch Institute for Integrative Cancer Research
Massachusetts General Hospital
Thomas Jefferson University Department of Neurology
Google
Bloomberg LLP
Cedars-Sinai Medical Center
Mayo Clinic
Memorial Sloan-Kettering Cancer Center
Mount Sinai Medical Center
National Institutes of Health
Shire Pharmaceuticals
Twitter
Amazon
Morgan Stanley
Fetch Robotics

Grad Schools

Dartmouth College
MIT
Brown University
Villanova University
University of California, Berkley
National Defense University
Johns Hopkins University
Duke University
Teachers College, Columbia University
Georgetown University
Yale University
New York University
Vanderbilt University
Carnegie Mellon University
Stanford University
Columbia University
University of Pennsylvania
National Institutes of Health (NIH) IRTA (postbac)
NIH National Institute of Allergy and Infectious Diseases (postbac)
Duke University
University of Glasgow
St. George's University School of Veterinary Medicine
Where Science Students Have Done Research/Interned

Princeton University
Oak Ridge National Lab
Fermi National Accelerator Lab
Mayo Clinic (summer undergraduate research fellowship)
World Health Organization
Cornell Laboratory for Accelerator-based Sciences and Education
NASA/JPL
Johns Hopkins Medicine, Drug Discovery
Boston Children's Hospital
Chaotic Systems and Evolutionary Computation
Cyber Security IT Lab Junior Summer Institute, Carnegie Mellon University
Deep Mind, Google
Microsoft
Audible
ADP
US Navy
Children's Hospital of Philadelphia
National Institutes of Health's Endocrine Oncology Branch
Archipelagos Institute of Marine Conservation
Nemours/Alfred I. duPont Hospital for Children
Johns Hopkins Medicine
World Health Organization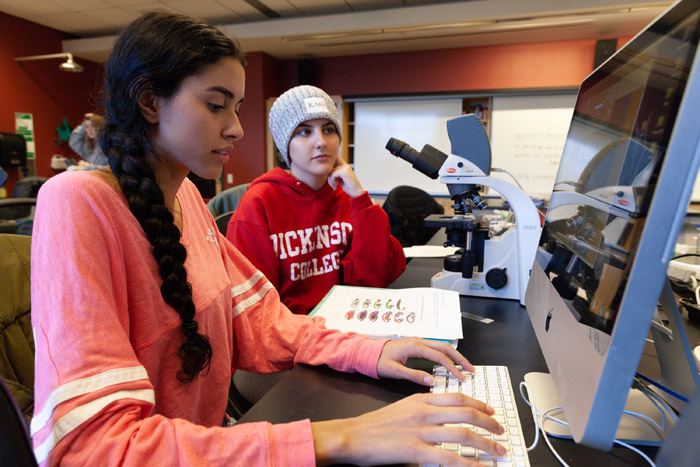 More than 40% of science majors study abroad, and Dickinson has several programs designed for science students.
"Currently, I am working on the storage of renewable energy, and although my expertise lies in the geological aspects, my Dickinson education enables me to comfortably approach my research questions from social, economic and historic perspectives." --Alexandra-Selene Jarvis '10 (geology), Ph.D. researcher at the GFZ German Research Centre for Geosciences in Potsdam
Our science faculty members have had their research published around the globe—in such publications as The New York Times, Journal of Applied Mathematics, Lancet, State of the Planet, Behavioural Brain Research, The Hill, New Scientist, National Geographic, IFLScience and Smithsonian magazine—and have appeared on MSNBC, BBC, NPR, HLN/TLC and scores of others.

They have been awarded grants from organizations such as the National Science Foundation, the Smithsonian Institution, the USDA and NASA and have won awards like Science magazine's Science Prize for Inquiry-Based Instruction and the American Association of Geographer's Harm de Blij Award for Excellence in Undergraduate Teaching.
State-of-the-Art Facilities

Our state-of-the-art science facilities provide ideal spaces for students to collaborate, experiment and conduct research. Rector Science Complex includes 90,000 square feet of professional-quality, high-tech labs, a modern design and sustainable features. Rector is home to biology, chemistry, psychology and interdisciplinary programs in biochemistry & molecular biology and neuroscience. It brings students and professors together across multiple disciplines to work and study in a variety of classroom or lab spaces. Broken into Stuart Hall and James Hall, it has achieved a LEED Gold rating from the U.S. Green Building Council's Leadership in Energy and Environmental Design (LEED) program.

Connected to Rector, Tome Hall houses its own library, a wood lab, metal lab, plasma lab, and multiple computer labs with software for a variety of courses and disciplines. Teaching labs like the modern quantum optics laboratory enable students to learn about quantum phenomena such as wave-particle duality and single-photo interference. The research laboratories provide the opportunity for engagement between students and professors in ongoing projects in astronomy, plasma physics, non-linear dynamics, ultrafast laser physics and magnetic fluid pattern formation. In addition to the classroom and laboratory spaces in Tome Hall, there are lounge areas such as the Tome reading room and the outdoor terrace.

In Kaufman, home to the Department of Earth Sciences and the Center for Sustainability Education, there are three primary teaching laboratories, one housing aquatic research tools, another with a terrestrial focus, and the third used primarily for introductory courses. There are also labs for student/faculty collaboration and workspaces for student's conducting independent research. Additionally, there are numerous specialized pieces of equipment available in the department. The building itself serves as a living laboratory. The site was a former industrial facility, which has undergone successful and thorough environmental remediation and has been renovated for teaching and research. Kaufman is now home to the Dr. Inge P. Stafford Greenhouse for Teaching and Research, which is open to the entire Dickinson community.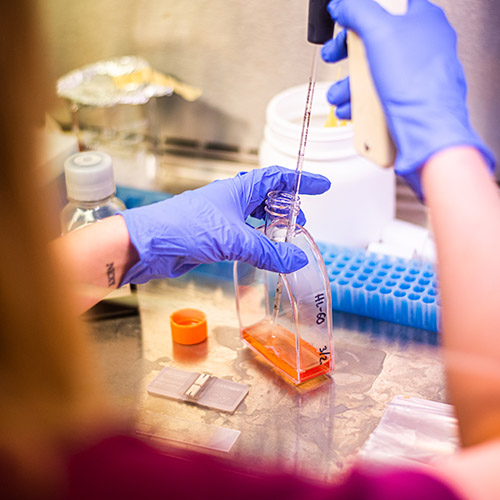 To honor a distinguished scientist whose work has contributed to the welfare of humanity, Dickinson has been awarding the Joseph Priestley Award annually since 1952. Named in memory of Joseph Priestley, the discoverer of oxygen, the award has been granted to such luminaries as Edward Teller, Linus Pauling, Margaret Meade and Carl Sagan.
"Most scientists focus intensely on science in college (oddly enough), whereas at Dickinson I was encouraged to take a broader base of classes, such as in the departments of English, history and philosophy, where I was able to develop as a reader, writer and speaker." --Peter Driscoll '03 (physics), staff scientist for Carnegie Institution for Science
"I wasn't born to be a chemist. The fact that Dickinson encouraged me to get involved with many different things, to sample many different topics, was important, because I didn't know what I wanted to do." --Chad Mirkin '86, director of Northwestern University's International Institute for Nanotechnology, winner of the prestigious Dan David Prize in the Future Time Dimension and one of the world's foremost experts in nanotechnology