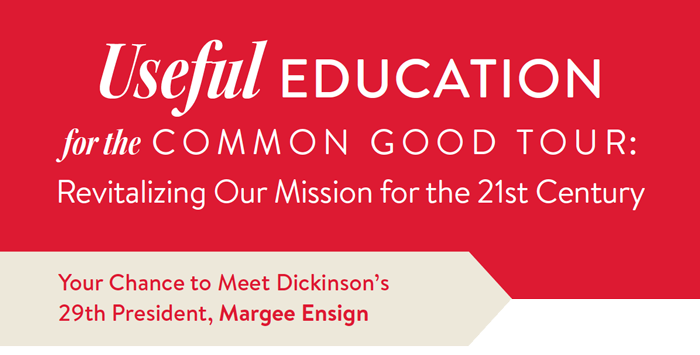 Wish you could come to Dickinson to meet President Margee Ensign but can't find the time to make the trip? Don't worry—she's coming to you!
She will continue touring the country to get to know the wider Dickinson community and discuss the college's mission of using the useful liberal arts to prepare students to work toward the common good. Each event will feature a moderated Q&A session as well as the chance to mix and mingle with the new president and your fellow Dickinsonians.
---
Spring 2018 Event Locations:
Atlanta
Saturday, Jan. 20
Woodruff Arts Center
Hosted by Chuck & Janine Musholt '88 and the Woodruff Arts Center
Naples, Florida
Tuesday, Feb. 6
Hosted by George Hager Jr. '78
West Palm Beach, Florida
Thursday, Feb. 8
Hosted by Kristen and Dave Lambert '76
Phoenix, Arizona
Friday, March 9
Home of Mary and Rick Shangraw '81
Denver
Sunday, March 11
Hosted by Gretchen Ernest Brigden '89
Denver Museum of Nature & Science
Santa Fe, New Mexico
Tuesday, March 13
Hosted by Carol Graebner '75, Ken Marvel '74 and Bob Gardner '75
LewAllen Galleries
Pittsburgh
Sunday, April 22
Home of Annie '93 and Gus Engel '93
Los Angeles
Wednesday, April 25
Hosted by Marc '65 and Eva Stern
The California Club
Please register by April 19.
San Francisco
Thursday, April 26
6-8 p.m.
One Front Street
Please register by April 19.
Richmond, Virginia
Wednesday, May 23
Hosted by Jack and Charolotte Woodfin P'20
The Country Club of Virginia
Please register by Friday, May 18
---
Fall 2017 Event Locations:
Central Pennsylvania
Saturday, Oct. 21
4–6 p.m.
West Shore Country Club
Hosted by Emily West Cocores '06 & Chris Cocores '05
Moderated by Dickinson Board of Trustees Chair John Jones '77
Philadelphia
Sunday, Oct. 22
5–7 p.m.
The Barnes Foundation
Hosted by Michael A. Bloom '69 and Mary & Bill Mueller '73
Moderated by Roz Robinson '68
New York City
Monday, Oct. 23
6:30–8:30 p.m.
Asia Society
Hosted by Cindy Stites '77 & Don Nagle '76
Moderated by Sylvia Smith '73
Baltimore
Tuesday, Oct. 24
6–8 p.m.
The Walters Art Museum
Hosted by George & Jennifer Ward Reynolds '77 and Elke & Bill Durden '71
Moderated by John Frisch '80
Washington, D.C.
Wednesday, Oct. 25
6–8 p.m.
Folger Shakespeare Library
Moderated by Brian Kamoie '93
Boston
Thursday, Oct. 26
6–8 p.m.
Boston College Club
Hosted by Lisa Matthews '83 & Andrew Byrne '82
Chicago
Monday, Nov. 13
6–8 p.m.
The Chicago Club
Hosted by Bob Crawford '60
Moderated by Rick Chesley P'13
Seattle
Tuesday, Nov. 14
6-8 p.m.
Seattle Foundation
Hosted and moderated by Tony Mestres '92
San Francisco
Wednesday, Nov. 15
6–8 p.m.
Golden Gate Club at the Presidio
Moderated by Derek Peachey '97
Los Angeles
Monday, Nov. 20
6–8 p.m.
The California Club
Hosted by Marc '65 & Eva Stern
Moderated by Mark Lehman '71