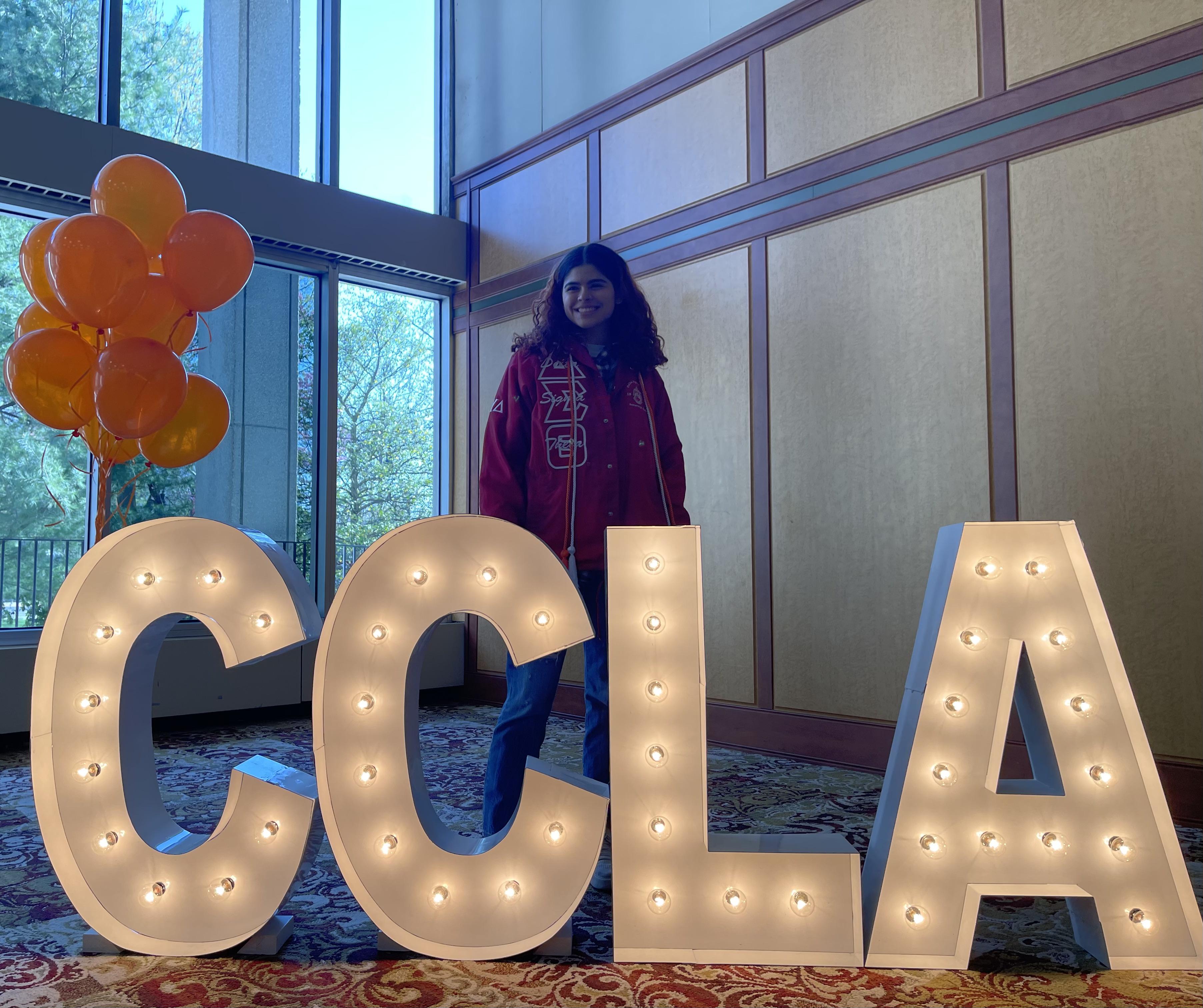 by Rosey Pasco '22

After she graduates this spring, Carmen Maria Canino '22 (biochemistry and molecular biology) hopes to use the knowledge she has gained in her major and her health studies certificate to pursue a career in nursing. Her dedication to others is apparent not only in her professional goals but in her personal background as well. Having moved to Puerto Rico when she was 4 months old, Carmen Maria has often utilized her own bilingualism to benefit those around her. For example, as a volunteer at New Life Community Church, she worked with Pastor Ryan Brown during her sophomore year to develop bilingual signage to ensure that the local Spanish-speaking community had greater access to the wealth of community resources housed at New Life. The project, which was funded by a Small Change, Better World grant through CCLA, gave Canino an opportunity to "think critically about what [her volunteerism] means to the community" and how important the community was to her own experience at Dickinson.
Canino originally became involved in community work when she participated in a Dickinson service trip with South Carolina's Sea Habitat for Humanity. This inspired her to take a position as a CCLA Service Coordinator, where she was able to organize service trips herself. In collaboration with the CCLA team, Carmen Maria planned service opportunities for Dickinson students, reached out to host organizations, advertised programs, and selected the volunteer trip leaders. She also coordinated Days of Service at CCLA, which connects local nonprofit organizations working on a variety of issues with students who are interested in contributing their time while learning from community members. She was integrally involved in service events that brought Dickinson students to work with Jessica's Closet and New Life.
Carmen Maria developed her sense of purpose and her civic skill set during the summer before her junior year of high school when she joined Amigos de las Americas, an organization that trains participants as volunteers in Latin American communities. As part of her experience, she lived with a host family in Costa Rica and helped organize and implement a project in their community. Carmen Maria recalled that this experience made clear for her the necessity of community members being able to voice what they want and volunteers responding to those needs. She added that one of the biggest learning moments for her was grappling with the concepts of "ayudar o apoyar" or "help versus support." According to Canino, a direct translation of these Spanish words does not fully capture their nuance. While ayudar concerns helping someone do something they cannot do themselves, apoyar refers to supporting an individual in working towards their own goals; Canino sees this distinction as central to her own philosophy of community work, noting that service is too often approached with a "savior mentality". She believes that when volunteers enter any community, they should be thinking about how to support that community in achieving its own goals.
Carmen Maria found this distinction incredibly relevant as she planned and then led CCLA's Fall Pause Service Trip in 2021 focused on housing affordability and homelessness. Originally worried by the possibility that the trip might not have a significant impact, she was pleasantly surprised. For Canino, the trip turned out fulfilling and impactful due in part to the excellent community partner organizations the students were able to work alongside. Among other tasks, Dickinson students came together to paint houses for low-income families, organize transitional housing furniture donations at New Life, and assist in preparation of a new family shelter for Community CARES in Shippensburg.
Carmen Maria wants to continue her work with communities after Dickinson. She says that she draws inspiration from the "Black and Brown women in history who have continually fought for their communities," and she admires people like Pastor Brown, who is "dedicated to the community and the people he serves." Canino's personal mission is to be active in the community by raising the voices of people who are not often heard, working towards equity in local communities, and continuing to practice apoyar.