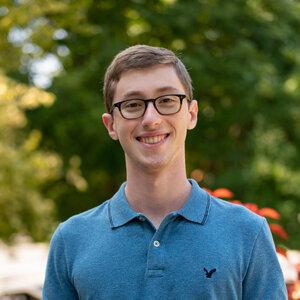 by Yeslie Barrios '23
Written Academic Year 2021-2022
As a current Research & Special Initiatives Coordinator at the Center for Civic Learning & Action (CCLA), a tour guide for Admissions, and a student leader in Jewish life, Sam Halpern '23 (Law & Policy and Political Science) has enriched his learning experience as an undergraduate student at Dickinson by exploring the impact that service can have in holding a community together. In fact, his involvement with CCLA has allowed him to find ways to give back to the community while committing to restorative practice. We recently spoke to Sam about his community engagement experiences as an undergraduate.
POWER OF SERVICE
Growing up in a politically-conscious household in his hometown of Atlanta, Georgia, Halpern shared how his upbringing shaped him in understanding how dire it is to become engaged in the community. Upon arriving at college, he was not always sure how to get civically engaged, but he soon realized there was a breadth of opportunities and extraordinary organizations to get involved in.
"Being aware of and involved with what's happening in the community is important to me. My Jewish background has influenced my way of thinking about community engagement, especially through the concept of Tikkun Olam, which translates to repair the world. I was also brought up in a politically aware household, including listening to the news on the way to school" says Halpern, who ended up contributing to numerous projects through CCLA.
Halpern is driven and intentional when it comes to community engagement, especially in his work for CCLA. This is his third year working as a student leader at the Center, where he helped with numerous projects, including an analysis of re-entry programs for previously incarcerated community members for a new initiative in Carlisle. In the summer of 2020, Sam was selected to be part of the inaugural cohort of CCLA's Civic Action Internship (CAI) program. That summer, he helped support social and economic initiatives in Carlisle focused on COVID recovery. He also undertook a project to create a brand identity for Hope Station's Professional & Educational Empowerment Center (PEEC), and he created a call for proposals for technology needs at the Cumberland County Housing and Redevelopment Authority. Additionally, Halpern worked with Maranatha Carlisle to develop a two-pronged outreach and marketing campaign designed to spread awareness of their financial management services among veterans and faith organizations.
EMPOWER
Working closely with these organizations and community members has allowed Halpern to hone his passion for civic engagement. Recently he has been a member of a student team working on a scholarly research project focused on the Carlisle Community Action Network's formation and accomplishments during the pandemic. This was a project that he started working on during his internship and devoted himself to during the school year as well. Additionally, Sam supported the creation of an asset mapping tool for the Black Economic Growth Alliance to uplift and support Black business owners and entrepreneurs in Carlisle.
Halpern said that his passion for community engagement comes effortlessly. He added, "I've seen the impact that community engagement can have. I enjoy helping others and it is fun to do, especially for college students that are trying to find a sense of belonging and making Carlisle their new home." He continues, "It is about figuring out your own interests and finding your own niche. Halpern is intentional in using his leadership skills in helping others. Whether he's working on new projects to amplify opportunities for others or listening to podcasts to become more socially conscious, he is always seeking new opportunities to grow as an individual. And, he hopes to empower other college students to do the same.
Halpern's commitment to service and community engagement has been recognized across campus. His receipt of the 2020 Wheel & Chain Leadership Award, acknowledges Sam's strong service and leadership skills. His work at CCLA and other organizations on campus give him a platform to think and act critically, in an ethically informed, meaningful, and collective way.