Academic Affairs
ROBERT WINSTON, Interim Provost and Dean of the College
Dickinson remains committed to providing a challenging academic curriculum, intended to educate citizen leaders for a global society.
Since 2005, Dickinson has had a highly successful and nationally recognized writing center, established in honor of Norman M. Eberly '24. The center offers targeted instruction in English and 10 other languages.
In the last few years, we recognized that numerical literacy was also important to our students, as they sought to make sense of vast amounts of data and statistical information. Dickinson's Quantitative Reasoning (QR) Center was born in 2015.
Like the very successful Multilingual Writing Center, the QR center is staffed by trained peer tutors. Covered topics range from geometry to conceptualizing statistics, from graphing to data visualization.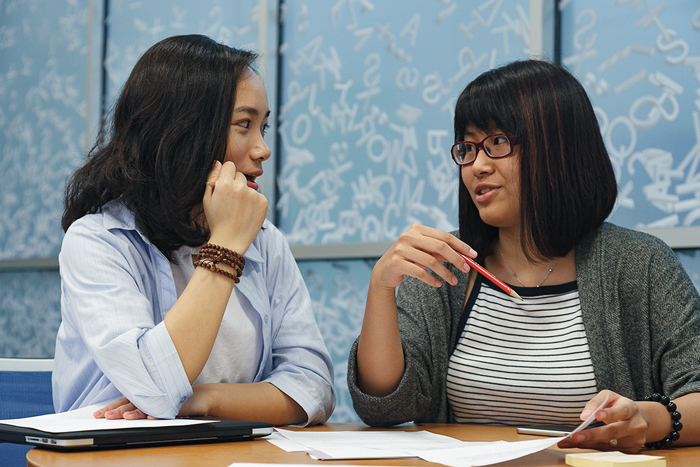 The center is in its second year of a pilot program, and it is clearly becoming an important resource for a broad range of students in science, social science and humanities courses with a QR component. In the 2015-16 academic year, there were a total of 107 student visits to the QR center; the center broke that mark at the end of October this year.
In addition to the effort to expand quantitative learning, we launched an effort to broaden civic learning as well.
Dickinson received a $650,000 award from the Andrew W. Mellon Foundation to launch a four-year initiative to enhance civic learning and engagement on campus and in the global community. The initiative seeks to help faculty members identify critical civic issues within their own fields, undertake investigation of these issues and develop innovative teaching methods and course materials to engage students. A complementary goal is developing more sustained connections between the college and its community partners.
A new faculty position in practical ethics will be created to provide expanded course offerings on moral and ethical reasoning as a key dimension of meaningful civic engagement. All faculty members, and especially those in the arts and humanities, will be encouraged to incorporate civic learning and engagement into their courses and to ensure that their programs advance Dickinson's character as an inclusive community.
Academic Affairs also has worked closely with members of the Student Life staff on the development of the Dickinson Four, a four-year roadmap for making the most of the undergraduate opportunity.
We continue to work to increase the diversity of our faculty. Last year Dickinson hired seven tenure-track assistant and associate professors; 71 percent (5 of 7) were women and 71 percent were faculty from underrepresented groups. Of the 17 visiting assistant professors, instructors and international scholars hired, 65 percent (11 of 17) were women and 41 percent (7 of 17) were faculty from underrepresented groups. We also continued our longstanding relationship with the Consortium for Faculty Diversity by bringing five postdoctoral fellows to the college for the year, all of whom are people of color.