Red Alert and LiveSafe
Dickinson College communicates accurate, timely information to members of the campus community in the event of a crisis, serious crime, emergency or other situation which may impact the safety of the community by utilizing the Red Alert Emergency Notification System. In the event that a disaster or crisis arises, either on or off campus, that, in the judgment of the Chief of the Department of Public Safety or his/her designee, in consultation with other administrators, constitutes an ongoing or immediate threat, a campus wide alert will be issued. In less urgent situations, other forms of communication, such as the college email system, may be utilized.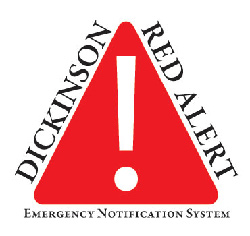 What the Red Alert System Means to You
The college's alert system enables emergency response team members to communicate with students, staff and faculty in minutes by sending a message via a number of contact methods-including e-mail, text messaging, and cell phones. Red Alert will only be used during emergencies and for system testing.
Your Help Is Critical
The success of this service relies on you to provide accurate contact information. To receive emergency alerts from Dickinson Red Alert, please sign up by following these instructions:
Log into the Dickinson Gateway on the Web at https://www.dickinson.edu/gateway
Follow the instructions in the Dickinson Red Alert channel to enter your contact information and contact path preferences.
Please register as soon as possible. Having your latest contact information in our notification system is the only way to ensure that we can quickly communicate with you in an emergency. Thank you for your participation in this important program.
LiveSafe
The app allows users to send messages—called Tips—through a system monitored at the DPS dispatch office. Tips can be sent on noise complaints, a suspicious person, crimes or similar incidents, and they can be sent anonymously.
The LiveSafe app will also allow the college to send mass notifications, similar to what Red Alert does now, while also providing access to college and local resources—e.g., information on local hospitals, police departments and the confidential Dickinson Sexual Violence hotline.
The app includes SafeWalk, a feature that allows students to have a friend virtually follow them to a selected destination, and the SafetyMap provides the location of each campus building, blue light phones and automated external defibrillators (AEDs). DPS will use the SafetyMap to mark alert locations and other safety information that may be of use to students.
The app is free to use:
You can read about the full suite of features in each app store.