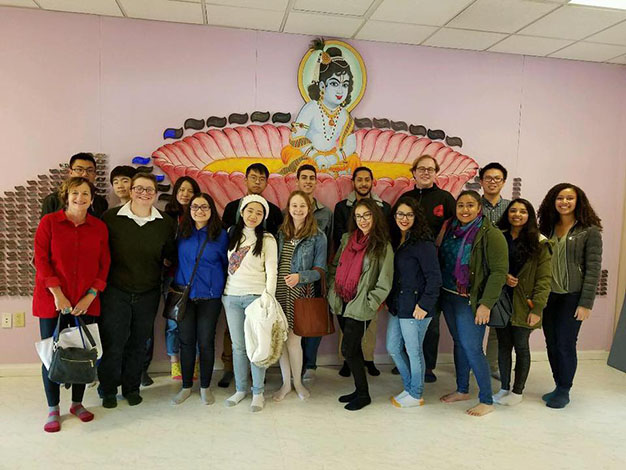 Students visit the largest Hindu Temple in North America during the Exploring Religions @ Dickinson series.
Understanding other religious traditions is essential to a supportive campus experience. CSSJ aims to increase religious literacy on campus and to promote cooperation between students from various backgrounds. There are three main goals to interfaith work at Dickinson:
Promoting understanding
Promoting service through interfaith initiatives
Increasing religious literacy
ANNUAL SERIES
Exploring Religions at Dickinson
The Explore Religions at Dickinson series takes groups of students to learn about different religions at their place of worship. Students who participate in this series will general hear from members of the faith community that they are visiting and then join a worship service. Last year, students learned about Hindu, Muslim, Jewish, and Eastern Orthodox faith at various locations in Pennsylvania.
Did You Know Poster Series
The "Did You Know?" poster series, started in Spring 2016 to promote literacy in Islam, has expanded to provide information about religious holidays from many different faith traditions. From Sukkot to Diwali and Hanukkah to Ash Wednesday, posters with important information about each holiday are displayed in the HUB before and during religious holidays. We hope these posters will promote a warm and inclusive environment for students from all religious backgrounds and encourage students to be curious about religious faiths different from their own.
ANNUAL EVENTS
Interfaith Service Trip
Over fall pause, students travel on an Interfaith Service Trip to explore community service through the perspective of interfaith cooperation. Typically, students travel to Philadelphia, where they participate in community service such as organizing the warehouse at Rise Against Hunger, gardening at an arboretum and serving at a soup kitchen. They also participate in several faith communities, which have typically included a Jewish synagogue, an African American Methodist Episcopal Church and a Buddhist temple.
Around the World Festival
Each year, students host a festival celebrating religious traditions from Around the World
Eboo Patel
On October 24, 2018, Eboo Patel, a leading voice in the movement for interfaith cooperation and the founder and president of Interfaith Youth Core (IFYC) visited Dickinson to lead workshops and present his lecture titled, Out of Many Faiths: Religious Diversity and the American Promise. Find more information about Eboo Patel, his workshops and lecture here.