"The best way to find yourself is to lose yourself in the service of others"
—Mahatma Ghandi
Service in college is about engaging our community to learn about the community, our neighbors, and ourselves. At Dickinson we intentionally take time to hit the pause button and reflect. We pause to take time to think about our service and make connections with current class work, future vocations and larger social justice issues within the community.
Service Trip Reflections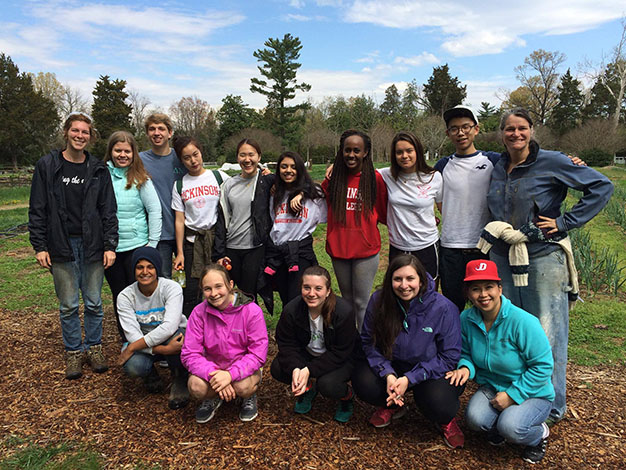 Students on a weekend service trip to Washington D.C.
Service trips are an intense time of service, bonding with teammates and engaging a new community. While on service trips, our ideals and values are tested, our comfort zones are stretched and our teams wrestle with privilege, power and inequities within the host communities.
Each service trip has two types of reflections. Nightly, the teams participate in a verbal reflection, sharing their perspectives about how they saw the day, what they experienced and issues of challenge. Additionally, team members write twice in the team journal. These writings help us take a step back and personally remember and reflect on the day, sharing moments that touched or challenged the author. At the end of the trip, these journals are complied and given to each team member.
We find ourselves when we serve others in neighborhoods far from Carlisle. These neighborhoods help us see what a new Carlisle or home communities could be. One day, one weekend, one week can change us.
2018 Service Trip Journals
2017 Service Trip Journals
2016 Service Trip Journals
2015 Service Trip Journals
2014 Service Trip Journals
2013 Service Trip Journals
2012 Service Trip Journals
2011 Service Trip Journals
2010 Service Trip Journals