Quality Control (QA/QC)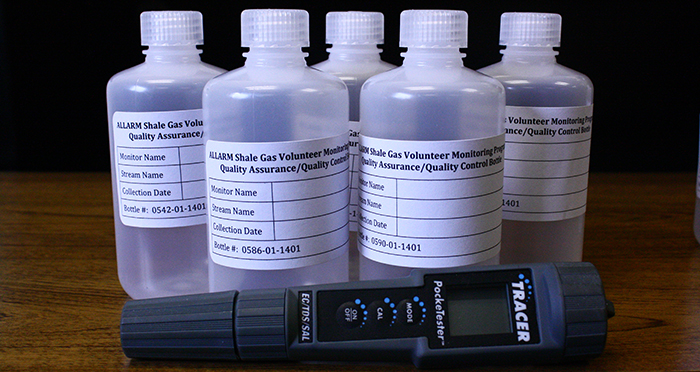 Monitors participate in a variety of steps in ALLARM's Quality Assurance/Quality Control Program. ALLARM's quality assurance/quality control (QA/QC) measures involve split sample analysis, care and calibration of equipment, procedure documentation and training including monitoring best practices.
Monitoring Best Practices: Volunteers are taught to use these best practices to further ensure accurate data collection and a uniform study model across all monitoring groups.
Training Requirements: each volunteer monitor who undergoes an ALLARM training will be taught the proper protocol for performing effective stream monitoring.
Care/Calibration of Equipment: part of ALLARM trainings is the proper maintenance and dual calibration routine for monitors' equipment.
Replicates: volunteer monitors are instructed to perform replicates of their chemical monitoring. A percent relative difference between the results of the replicates is then taken to ensure that the results are within the acceptable range.
Split Sample Analysis: each monitor is asked to send in their results as well as a water sample twice a year so that ALLARM can repeat the tests in our lab to ensure that the monitors are using their equipment correctly and obtaining the best data possible (New York monitors send samples to a New York certified lab).
Documentation of Procedures: consistency is a key aspect of volunteer monitoring. ALLARM suggests that monitors and their groups should have written documentation detailing their protocols as well as their QA/QC measures. This ensures that all monitors are continually using the same methods and techniques.