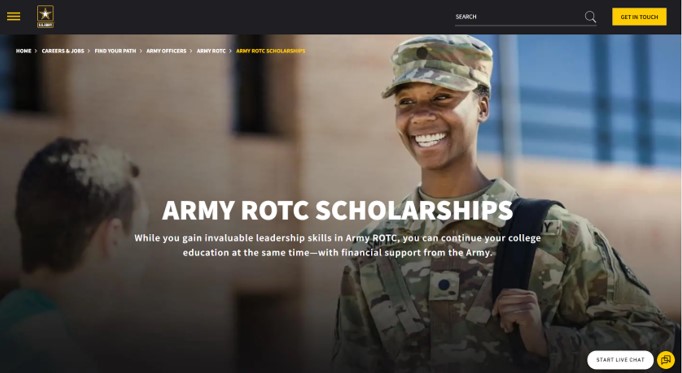 The following are some tips on how to best prepare for entrance into the Army's ROTC program.
Visit the Army ROTC website and start your ROTC Scholarship application as early as June 11 after your junior year. The deadline to start an ROTC Scholarship application is Jan. 10 of your senior year. Scholarship Selection Boards meet in Oct./Jan./March.
On the application, list at least seven colleges you want to attend, in order of preference. Be realistic. Call the ROTC departments and speak with the recruiting officer. Find out the general academic quality of those who are accepted to the school. Match your profile against both the ROTC scholarship winners and those being accepted for admission by the admissions office.
If you are considering applying to a college that doesn't have its own ROTC program but has an agreement with a host program, realize that the host campus is where the majority of training and classes takes place. You might have to drive to the host several times a week.
Besides the four-year scholarship, many programs offer scholarships during the freshman or sophomore year. Ask! Also ask about college-provided incentives, which vary from none to free room and board and Critical Language Incentive Pay.
Make an appointment to visit with your regional admissions counselor in the admissions office of each school you list. At the same time, make an appointment to visit the ROTC recruiting officer (called the "ROO") or ROTC director (called PMS, professor of military science). Bring your parent(s) to this meeting if possible, but be sure it comes across that YOU (not your parents) want to become an Army Officer and compete for a scholarship. Give good reasons why you want to serve (NOT just for the money).
If you have a preference for serving in the Army National Guard or Army Reserves, ask your local Army National Guard or Army Reserve recruiters about the availability of Minuteman ROTC scholarships. These scholarship pay the same benefits as listed below, but you are mandated to serve your eight-year commitment in the component that offers you the scholarship.
Google the Army Combat Fitness Test and start working on these events before you come to school.
Coordinate an overnight visit with a Cadet on campus by contacting the ROTC recruiting officer and offer to go to physical training (PT) on a morning with the ROTC Cadets, if your schedule permits.
If you are offered an ROTC scholarship, you will be sent instructions to schedule and take a DODMERB physical. For most applicants, becoming medically qualified is the hardest step. Ensure that you follow up on any remedial medical issues right away! Pursue relentlessly a waiver for any medical condition that might initially disqualify you. Asthma as well as mental and heart issues are hard to impossible to overcome. Just about everything else is waiverable.
Stay engaged with the ROTC department and the admissions office; things can change with both ROTC scholarships and college admissions decisions right up until the start of school. If, for instance, an applicant drops out, the next one on the list gets the call.
SCHOLARSHIP CADETS
Army ROTC Scholarships are valuable in many ways and provide a wide variety of options to fit your educational needs:
Two-, three- and four-year scholarship options based on the time remaining to complete your degree.
Scholarships cover full tuition and fees or room and board at $5,000 per semester or $10,000 for the year.
$600 per semester book allowance.
$420 per month stipend for living expenses.
Some schools also offer additional grants that help cover costs.
Non-scholarship Cadets receive only the $420 per month stipend once they are contracted and may still compete for campus-based scholarship that offer the same benefits as above.
ROTC BASIC CAMP
If you don't want to commit as a first-year student in college, it's OK to sign on later. Between your sophomore and junior year, you can attend ROTC Basic Camp:
Four-week course that serves as a makeup for the first two years of ROTC.
Currently ROTC offers a $5,000 bonus for students who attend and pass Basic Camp and contract into ROTC in the fall semester.
The best qualified Cadets can earn a two-year scholarship after successful completion of Basic Camp.
Even if you decide to not continue with ROTC, Basic Camp is a valuable experience that will stay with you for a lifetime.
Additional Incentives
There are a number of programs which you may qualify for:
Critical Language Incentive Pay (CLIP) is a program for Cadets studying a variety of languages valuable to the Army. You can earn up to $800 per semester in addition to your monthly stipend for attaining a B average or better.
You can compete to attend Airborne School, Air Assault School, Mountain Warfare School, Cadet Troop Leadership Training (CTLT) or other Army internships.