Honoring Our Cadets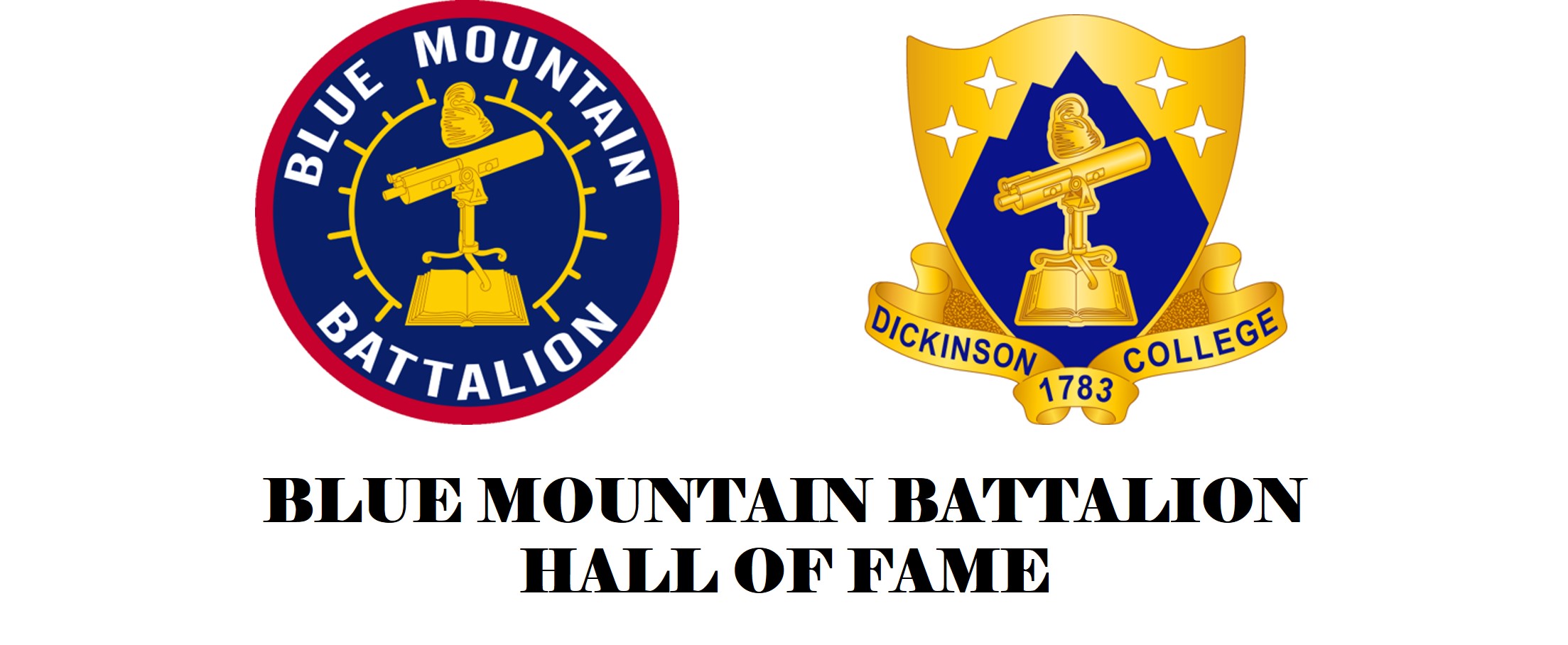 The Blue Mountain Battalion ROTC Hall of Fame recognizes those associated with the Dickinson College ROTC program who have contributed in a significant way to the program, the nation or both. The Hall of Fame also serves as a reminder to those Cadets currently participating in the BMB ROTC program that they are the future leaders of tomorrow's Army and the nation. The Hall of Fame highlights that ROTC instruction develops officers of character for the United States Army as well as leaders committed to a lifetime of service to the nation. It also serves as an inspiration and source of pride for Blue Mountain Battalion ROTC Cadets and alumni.
The following are the criteria for induction to the Blue Mountain Battalion ROTC Hall of Fame. Nominees must meet both criteria for consideration by the committee:
Nominees must be graduates of one of the Blue Mountain Battalion colleges/universities and either received a commission from the Dickinson ROTC program or contributed to the Dickinson ROTC program in a significant way, regardless of whether they are a Dickinson graduate. Exceptions to this criteria are for individuals who attended Dickinson College prior to the ROTC program establishment and for individuals who attended Dickinson while serving in the armed services. While not all inclusive, "contributed" may include service as a Cadre member, contributions that significantly benefited the program as a member of the college/university faculty or staff or other actions that benefitted Cadets in the Dickinson ROTC program. Nominees should also have an exemplary military record and have excelled in public or private careers.
Nominees must live a life of service to the nation, whether through the military or civilian life, embodying the Army values of loyalty, duty, respect, selfless service, honor, integrity and personal courage. This service may be over a significant period of time or through an exceptional single act, such as those recognized by awards for military or civilian valor or heroism.
Use this link to download the BMB ROTC Hall of Fame Nomination Form. Submissions are due to annually no later than October 24.
Members of the Blue Mountain Battalion ROTC Hall of Fame