MEST Alumnae/i News
Zachary Steinborn '12 is hired by the RAND Corporation
After working for 5-6 months as a temporary employee with the RAND corporation, Zachary (a MEST/INST double major) reported in October 2014 that he has been hired as a permanent employee, working as an Administrative Assistant supporting researchers focused mainly on National Security issues.
From Washington, D.C., to Jordan and Lebanon
Katie Kiraly '11 dedicates herself to study of the Middle East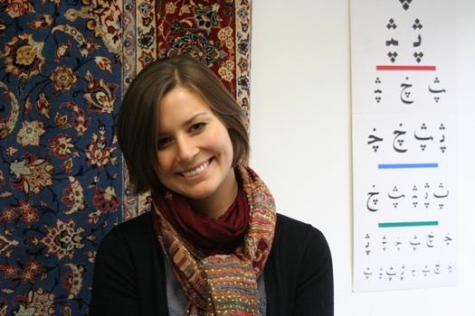 Katie Kiraly '11
Katie Kiraly '11 describes herself as "a little nutty for grammar and language," and so she began taking Spanish and French in high school, dabbling in some Japanese and Welsh in her free time. She also got interested in Middle Eastern studies and Arabic during this period and became fascinated with studying various religions. So, she says, "Going into college, I figured I should combine my two main interests by studying Islam and Arabic, and it turned out to be a perfect marriage."
That perfect marriage has led her to a research assistant position with the Program on Arab Politics at the Washington Institute for Near East Policy (WINEP), a foreign-policy think tank in Washington, D.C., where she works closely with a number of senior scholars ("fellows"), and providing them research support in English and Arabic.
---
Fulbright Fellowship Awarded to Anum Khan '11
Anum Khan '11, a Middle East studies major, was awarded a Fulbright Research Grant for Egypt where she will study how nongovernmental women's rights organizations operate in Cairo and how they collaborate with law enforcement in dealing with sexual violence. Anum received master's in gender and women's studies in the Middle East/North Africa at the American University in Cairo (AUC).