Internships and English Majors
Here's a look at some of the internships Dickinson English majors have taken up as they research and prepare for their future.
Graham Klimley, Class of 2019 (Internship at IBM)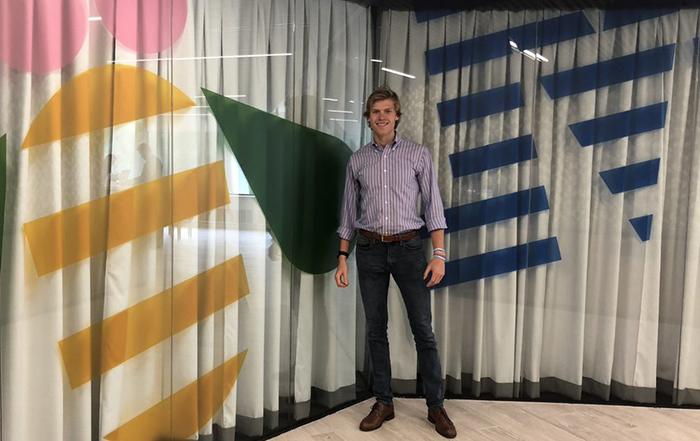 Graham Klimley '19, English intern
The Internship: First, I worked in external communications, focusing on IBM's competitors, such as Accenture, Oracle, Amazon, Google and Microsoft. By utiziling an application called Zignal, I track tweets and stories about these companies to follow their current activity and analyze how IBM is staying in the race with them competitively. Second, I work in critical communications, transcribing videos from multiple news sties when IBM is mentioned in the story. In the summer of 2017, I interned at MSNBC for First Look Morning Joe, and in the summer of 2016, I interned at NBC Sports.

Elaine Hang, Class of 2019 (Internship at the office of Congresswoman Judy Chu - CA27)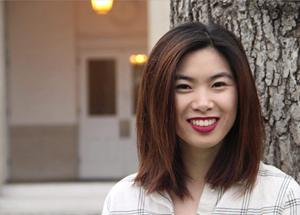 Elaine Hang '19, English intern
The Internship: I interned at the office of Congresswoman Judy Chu (CA-27), so I could better understand her role in [California's] Greater San Gabriel Valley. I care about my local community, and I want to serve it as best as I can. Through this internship, I learned a lot about issues surrounding voter engagement and the immigrant community. I also connected with new mentors and friends.
"I love social media, nerd culture and cats," says Elaine Hang '19, a bilingual Californian with a strong sense of justice and a desire to effect positive change in her community. She discusses her internship in a California congresswoman's office, her love of comics and the legendary activist who inspires her.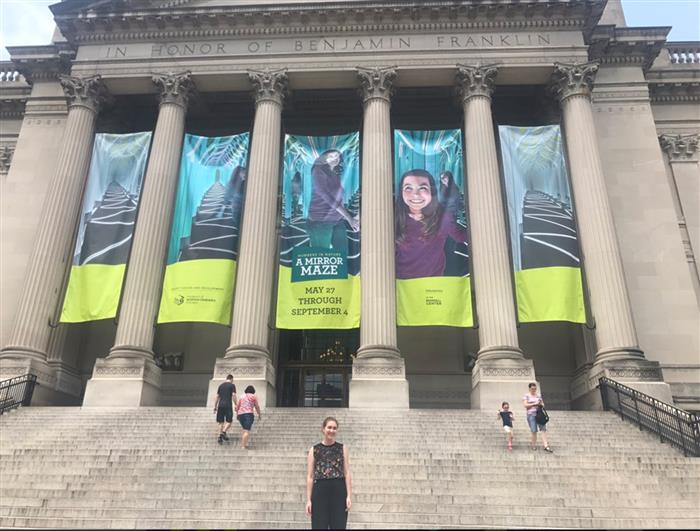 Molly Gorelick '19, English intern
Molly Gorelick, Class of 2019 (The Franklin Institute)
The Internship: Usually I'll draft posts for Facebook, Instagram and Twitter and comment on museum visitors' posts. It's really cool because in creating content for the museum, I've been learning so much about everything from Benjamin Franklin to the history of dog treadmills (I'm pretty sure The Franklin Institute has one in the archives). There isn't really a typical day, but I've gotten to taste-test astronaut ice cream and try out one of The Franklin Institute's new escape rooms!
Last summer I was both the advertising intern and arts administration intern at The International Sculpture Center/Sculpture Magazine in Hamilton, New Jersey. I plan to find another internship next summer, but ideally I'd like to try my hand at being a production assistant on a television show.
Kelsie McNett, Class of 2012 (Internship at United States Military Academy)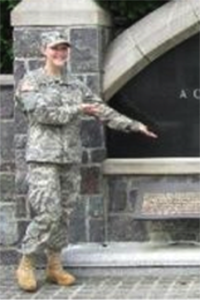 Kelsie McNett '12, English intern
The Internship: While an intern, Kelsie created a website for Margaret Corbin Forum, researched and coordinated some of the events for the coming academic year, and did a study on the training for the freshmen and sophomore classes. She also observed a court martial. When reflecting on the experience, Kelsie says, "my favorite part, by far, was putting together the website. I really enjoyed researching the ways that women have become integrated in the military and how they have met success. It was very inspiring to research all the courageous women who serve in the military, especially those who were trail blazers and made it possible for other women to follow in their footsteps."

The Preparation: "I think that my liberal arts focus helped me a lot, as well as my experiences in ROTC. I was able to apply feminist theory and knowledge to my research, while having an understanding of military etiquette and policies from military science."

The Future: "The biggest impression that the internship left on me was simply being surrounded by all of the successful and intelligent women who work for and with the military. It was inspiring and motivating to see these women and all they have done in their careers, while still striving to create a better environment for the integration of women into the military. Oftentimes, women in the military are stereotyped in negative, one-dimensional ways. The women that I worked with provided role models that I can work to shape my style of leadership off of. They also helped me further solidify and understand my goals in the military, and how to be successful and happy even if I don't get the branch, post, or position that is my first choice."

Tips from Kelsie: "I would recommend finding something where you are given the opportunity to hone your interests and aspirations so you have a clearer picture of what you want in your career."
James Riley, Class of 2011 (Internship for the David Letterman Show)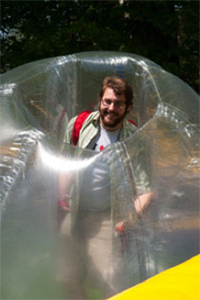 James Riley '11, English intern
In the spring of 2010, I interned for the Late Show with David Letterman. While interviewing the internship, I heard possibly the most reassuring sentence I could have hoped for: "Oh, awesome, you're an English major." I had originally applied because I was interested in the writing internship but I interviewed for multiple positions. I ended up with an internship with the research department, in no small part due to the research skills I developed in the English department. I also think that I fit the department very well. I got along well with my bosses, who joked around with me during my interview and ranted about how embarrassing having a hotmail account was. I, luckily, had a gmail account and was praised for it.

The office environment was relaxed and fun and part of what helped me get the job, and do well with it, was my ability to be affable but serious. Interns with the Late Show have become indispensable in the work that they do, work that is not extremely specialized but nevertheless is essential to the show, so hard work was a must. My research duties included reading all kinds of media and looking for interesting stories that might be good to talk about on air. Again, I credit my ability to digest a large volume of information and pick out a few salient moments to skills taken directly from the classroom. I was thrilled to see the few things that I found make it on air. They made the day's worth of dead ends seem somehow more satisfying. I am lucky to have had such an experience and I would advise anyone interested in any internship to apply. Someone needs to get it, it might as well be you.

To find out more about how to get an internship, make an appointment with a career counselor. Call the
Career Center
at 717-245-1740 or stop by Biddle House.