The College Seal
The college seal dates back to the early years of the college and is one of the most important statements of its founding principles.
The seal contains a telescope (representing science), a book (representing knowledge), a liberty cap (worn by freed slaves in imperial Rome, symbolizing liberty) and the founding date of the college. The founding date was added to the seal in the 1930s.
The text in the outer ring translates as, "The seal of Dickinson College." The text inside the ring is the official college motto, which translate as "Freedom is made safe through character and learning." Dickinson's founders, Benjamin Rush and John Dickinson, believed that the role of the college was to provide a solid, practical education combined with a firm spiritual grounding to educate the guardians of the new nation.
The college seal:
is used on materials associated with official and ceremonial occasions, such as diplomas and graduation announcements
is best employed whenever the history, founding principles or core messages of the college are being stressed
may be displayed on memorabilia sold by the Dickinson College Bookstore or approved by Design Services
should not be reproduced on objects (such as trash cans) or in contexts that demean the seal
is not interchangeable with the wordmark and should not be used alone for marketing purposes because the name of the institution is not prominent
may be used in addition to the wordmark on printed or electronic communications, but should not be substituted for it
may be reproduced in black or red (Pantone 186)
and should not be reproduced smaller than one inch in diameter or 100 pixels for electronic media.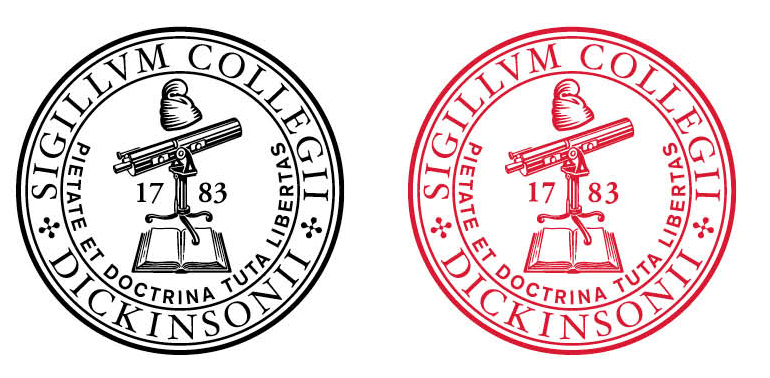 DOWNLOAD
For more information on using the seal or other elements of the college's graphic identity, refer to the Graphic-Identity Guidelines.
Note: If you are working on a print publication targeting external, off-campus audiences, please use the design project request form to work with the Office of Marketing & Communications.