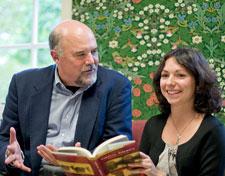 Dickinson's faculty members are committed to providing students with one-on-one attention in the classroom and through advising sessions.
As a home-schooled student you have no doubt played an active role in the shaping of your educational experience. At Dickinson College we recognize that this requires independent, creative thought, self-discipline and leadership.
A Dickinson education offers students the opportunity to engage passionately in the pursuit of knowledge, the development of character and the full realization of their talents. Dickinson's living/learning community, with its distinctive focus on student initiative and global education, frequently appeals to home-school students and can be great for your continued academic journey.
Dickinson College is a great fit for the home-schooled student.
Students who have prepared for college through a rigorous program of home-school courses often have acquired the recommended credentials that make them attractive candidates for admission to Dickinson. We understand that each home-school student's experience is unique, and each application for admissions is evaluated with that thought in mind.
Explore our Web site and then get in touch to let us know how we can help. Our aim is to facilitate the admissions process for you.
Jesse McDonald
Assistant Director of Admissions
Dickinson College
mcdonaje@dickinson.edu
More Information