2001-present Alumni
Alana Richards '20
After graduating in the spring of 2020 with a double major in Sociology and Spanish, I accepted a job as a Bilingual Advocate for Domestic Violence Survivors in Washington DC, Everyday, I provide direct services to survivors of domestic violence by safety planning and assisting them in navigating the civil and criminal justice system. I help write court documents, assist in lock changes, and, in more extreme cases, help find shelter for those who need it in both English and Spanish. Not only did my time at Dickinson help prepare me for this job linguistically as my Spanish flourished during my four years with the department but Dickinson also gave me the foundation for providing cultural interpretation. During my one year abroad in South America, I gained a deeper appreciation and understanding for the nuances of Latinx communities. Spanish speaking survivors of Domestic Violence face not only linguistic barriers to finding help but also cultural barriers. Without my time abroad and the emphasis Spanish classes at Dickinson placed on learning about Spanish speaking cultures, I would not have the sensitivity or knowledge on how to help my Spanish- speaking clients find empowerment in their situations.
Kitson Smyth '17
Since graduating Dickinson in 2017 with a Bachelors in Psychology and dual minor in English and Spanish, I've had the chance to use the skills I learned at Dickinson both personally and professionally. After I graduated, I completed an AmeriCorps term in a family health clinic in Ossining, NY. I led bilingual services such as nutrition classes for children aged 4-6 and safe exercise to do while pregnant to new mothers. I then did a graduate program in social work at New York University. During my first-year field placement I translated agency documents into Spanish with a great team of fellow clinicians. At a clinic in the Bronx with the Visiting Nurse Services of New York, I worked with children and adolescents, and my Spanish came in handy on a daily basis! Recently I joined Cayuga Centers as a Clinician for their Undocumented Minors (UC) program. I will continue working with children and adolescents during the acculturation process to the United States and the reunification process with their families. I remain grateful to the wonderful professors and learning experiences I had at Dickinson as my formation in Spanish, especially my time studying in Spain and Cuba.
Sara Fowler '12

After a year abroad in Málaga and a summer internship at a non-profit helping recently-immigrated residents of the Annapolis area, I returned to Dickinson my senior year to complete a double major in Spanish and Political Science. For after graduation, I accepted a job as a paralegal at a Baltimore law firm specializing in immigration law, which I felt was the perfect way to combine my love of language and my love of political science. I eventually hope to return to graduate school in International Relations or Latin American Studies, and I definitely want to go back to Spain someday!
Christie Wetzel '10

After studying abroad for a semester in Málaga, I was left with a strong desire to return. The desire was so strong that after graduation in May of 2010, I decided to move there and pursue a Masters in Business Administration at the University of Málaga. As a double major in Spanish and International Business and Management, it has proven to be the perfect way to combine what I learned at Dickinson while continuing to improve my Spanish skills.
Julia Chandler '09

During my senior year at Dickinson I completed the student teacher program and received my certification to teach Spanish. Since graduating I have returned to Maryland and begun working for Montgomery County Public Schools. I am currently the Spanish teacher and Foreign Language Department Chair at a middle school in Gaithersburg, Maryland.
Marciel Gonzalez '09

After graduation, I accepted a position as the Special Assistant to the Deputy of Student Support Services in The School District of Philadelphia. After a year of supporting her with special projects and assignments, I was promoted to my current position as Grant Manager within the Office of Academic Support. I am managing a $2 million dollar budget that is being utilized to provide 200 of our District school's with opportunities and resources to increase nutritional education to help our students make healthier food options and to increase physical activity opportunities. It is a very ambitious yet very rewarding project and I have been fortunate to build great working relationships with partner organizations; including The Philadelphia Department of Public Health. In addition to my full time job, I am attending Drexel University to obtain my Master's Degree in Higher Education with a concentration on Student Development & Affairs. In the near future, I want to be able to transition into the world of higher education and be able to provide undergraduate students the same level of support that Dickinson provided me during my time as a student there. So I have a pretty full plate and but, I am making the best out of each opportunity that has been granted to me!
Clayelle Wolf '09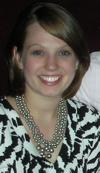 I moved to Boston in September 2009. After working as a Sales Coordinator for OwnerIQ (http://www.owneriq.com/) for the past year, I was recently promoted to Digital Sales Planner. I'm really enjoying the city, doing lots of yoga and looking forward to a trip back to Spain this coming September!
Will Robinson '09

Will Robinson ('09) returned to Dallas, TX following graduation where he went to work for a large health care company as a systems analyst. As part of the IT department designing workflows and process maps, Will spent the larger part of the past two years with Conifer Health Solutions. However, while the job was a positive experience, it was not an industry where he saw himself being long term and has decided to return to his true passion of Spanish. He is attending Georgetown University in the fall to pursue a Masters in Spanish Literature and Culture. Will plans to continue his education in the field and hopes to return to academia as a Spanish professor in order to provide the same experiences he enjoyed so much at Dickinson and during his year abroad in Málaga, Spain.
Laura DeCerchio '07
Since graduating from Dickinson in 2007, I worked in Adult Education, teaching GED class for 2 years. I went back to school get my teaching certificate from Susquehanna University and I am currently teaching seventh and eighth grade Spanish in Carlisle Area School District.
Carrie Roush '07

After graduation in 2007, I moved to DC to pursue a job in politics. (Political Science was my other major, in addition to Spanish.) I found a job working at a small Democratic fundraising and consulting firm, where I worked in development and communications on a number of 2008 campaigns; I was responsible for the fundraising efforts for a media messaging project and a major ballot initiative (among others). During my tenure there, I had some great experiences, including attending the Democratic National Convention in Denver, as well as working with major party organizations to plan events around the Presidential Inauguration in 2009. In September 2009, I joined USAction--a progressive grassroots community organizing and advocacy organization--in their development department. My current responsibilities include devising and carrying out all of the organization's foundation and labor union fundraising strategies. Now, I'm heading back to graduate school; I just accepted an offer from Vanderbilt University to pursue my Ph.D. in Political Science (in American politics) and I'll be heading there in the fall.
Selina Carter '06

Upon graduation in 2006, Selina Carter became a Peace Corps Volunteer in Ecuador, designing after-school educational activities for youth in a coastal banana-plantation village. She was then a Fulbright English Teaching Assistant (ETA) to Portugal, where she formed a theater group and learned about Portuguese language and culture. Selina is now pursuing a triple masters degree in Public Administration, Economics, and International Relations at the Maxwell School, Syracuse University. She is also learning Turkish. Selina hopes to pursue a career assisting developing countries through macroeconomic tools and public-private sector engagement.
Joanna Eaton '03

I graduated in 2003 and since then I worked as a research assistant for Memorial Sloan Kettering Cancer Hospital in NYC for one year. From there I returned to study pre-med courses at Duquesne University in Pittsburgh. During that time I met my now husband Nick, who is from Australia. Eventually we decided to return to Perth, Australia in 2007 and I went back to school for nursing. I have been working as a registered nurse for the past two years and currently split my time between working in Women's Health and as a research nurse in Alzheimer's disease.
Wendi Springer '02

I am a co-founder and teacher at the Communicate School of English in Málaga, Spain. The most gratifying part of my job is seeing my students learn and improve their language skills month to month, and year to year. However, what I love the most is hearing their success stories of how they put the language to use in real life situations and seeing how proud they are when they realize first hand that language opens doors for them. I'm really pleased with the success and reputation of my academy, which is growing steadily from year to year. It's a place where students learn to embrace language as a communication tool and where they are free to express themselves while increasing their global cultural knowledge.
Dickinson helped me to see the underlying connections between seemingly disconnected ideas, work collaboratively with others to reach a common goal and appreciate how enriching linguistic and cultural knowledge can be on both personal and professional levels. Without a doubt, my favorite and most influential professor was Grace Jarvis. If our paths hadn't crossed during my first year in Spanish 116, I never would have come to Málaga for a summer course, participated in the full-year program or returned after graduation to call this city home.
Joe Randel '01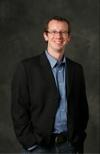 Since 2006, Joe Randel has served as the Director of ArtesAméricas, a program of Texas Performing Arts at The University of Texas at Austin. In this capacity, he curates an annual performance series of Latin American and Latino music, theater, and dance, as well as related educational and cultural exchange programs at The University of Texas at Austin. A fluent Spanish and Portuguese speaker, Joe has extensive experience living, working, and studying throughout Latin America. Prior to assuming his current role, Joe worked as the Event Manager at Texas Performing Arts for three years. Before moving to Austin in 2002, he worked as a Production Coordinator during four seasons with the Wolf Trap Foundation for the Performing Arts near Washington D.C.
Currently, Joe serves as a member of the Board of Directors of the International Society for the Performing Arts (ISPA), as well as sitting on ISPA's Programming Committee. Additionally, he works extensively as a private consult and advisor to a variety of cultural institutions in the U.S. and Latin America, including the Secretariat of Culture of São Paulo State (Brazil), The Western Arts Alliance (USA), and the Adrienne Arsht Center for the Performing Arts of Miami-Dade County (USA).
He received his Bachelor's Degree in Spanish from Dickinson College in 2001 and is currently pursuing a Masters in Business Administration at the McCombs School of Business at The University of Texas at Austin.
ArtesAméricas is a program of Texas Performing Arts, in partnership with The University of Texas at Austin's Teresa Lozano Long Institute of Latin American Studies. The program promotes cultural dialogue in the Americas through the performing arts. In addition to presenting the best performing artists from throughout the hemisphere, ArtesAméricas supports events and programs that serve as catalysts to broaden the understanding, appreciation, and support for the performing arts in the Americas.