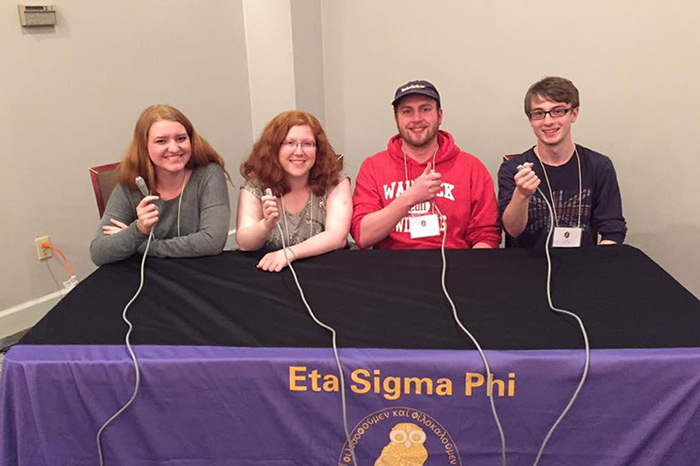 The Classics House
The Classics House is a home and social place for any students interested in Greco-Roman studies. It hosts parties and movie nights, and every April members of Eta Sigma Phi gather there to judge the projects made by local high school students for the Classics Festival. Find the Classics House on Facebook.
Eta Sigma Phi Honor Society
"Lovers of Wisdom and Beauty are We . . . "
Eta Sigma Phi is the national honor society for students of Greek, Latin, and Classical Studies. The society was founded in 1914 at the University of Chicago under the name Phi Sigma, and became a national society in 1924 under its current name. The purposes of Eta Sigma Phi are to encourage classical scholarship, enhance the appreciation of our Greek and Roman cultural heritage, and to promote good will and friendship among students of the classics.
One of Dickinson's first departmental honor societies, The Delta Theta chapter of Eta Sigma Phi was chartered on April 22, 1964.
Officers 2016-2017:
Tyler Richey-Yowell, President
Henry Rincavage, Vice President
Alexia Orengo Green, Secretary
Tim Flaherty, Social
Zach Benalayat, Historian
Cadence Doyle, Treasurer
In 2000 the Dickinson Classics Department hosted the national Eta Sigma Phi convention. Professor Francese and Classics major David Krug put on a Gladiator spectacle which was captured on video. In 2010 Professor Meghan Reedy escorted 7 students to the Eta Sigma Phi convention at Virginia Tech, Blacksburg, VA.: Brendan Boston, Alice Ettling, Louise Feder, Adam Krosnick, James Martin, Laura Takakjy, and Lilah Terwilliger. Mr. Boston was elected to a national office.
To learn more about the Delta Theta chapter, or about Eta Sigma Phi as a whole, contact Classical Studies chapter adviser, Professor Scott Farrington (farrings@dickinson.edu).
The Dickinson Archaeology Club
More information coming soon.