An arranged marriage between prince Igor and Olga put Pskov on the map (or so the legend goes). Since then, for more than a millennia, Pskov has been an important crossroads between Russia and the rest of Europe. Pskov withstood countless attacks and sieges, all while facilitating trade and commerce. Today its biggest challenge is integrating itself with the wider world, while still preserving its historic past.

Pskov lies in the northwest of Russia, near the border with Estonia, between St. Petersburg and Riga, Latvia. According to archaeological data, the first settlement appeared on a rocky promontory at the confluence of two rivers, the Velikaya and the Pskova, from which the town received its name. The name probably derives either from the Finnish word pihkava, meaning "resin", or from the Estonian word pickva, which means "sticky mass". The suffix –va means "water", so the name of the river means "resinous water".

Pskov is also called St. Olga's city. Olga was born nearby Pskov, moved to Kiev and became Princess Olga. She was the first woman to rule the vast Kievan state after her husband's death. She was baptized in Byzantine Constantinople and became the first Christian in the Slavic Princely clan. She is credited with bringing Christianity to Russia. Her grandson, prince Vladimir, converted all of Russia to Christianity in 988. (adapted from "Ancient Pskov" by A.Bogdanova)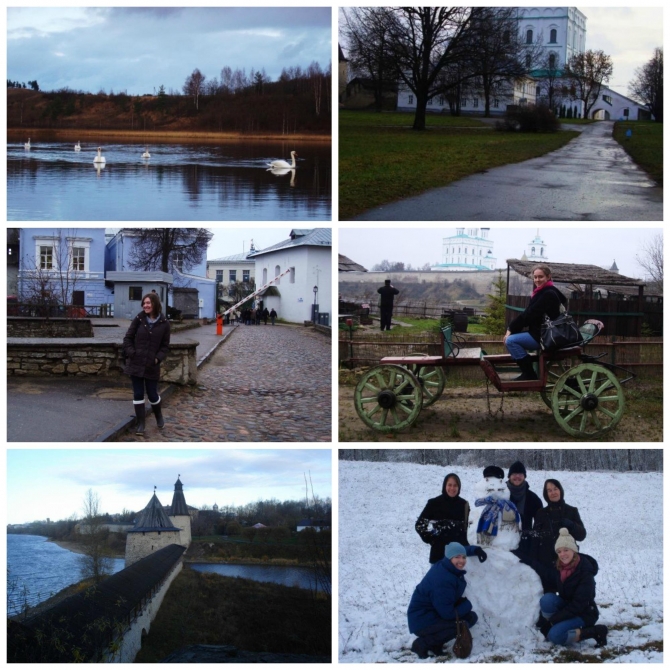 If you are in Pskov you have to visit Mikhailovskoye. It is the famous country estate of Pushkin, Russian's most beloved poet who wrote many poems in the Pskov province.

The village of Izborsk is one of the most ancient and impressive fortresses of Western Russia. It lies about thirty kilometres along a highway to the west from Pskov. The fortress Izborsk defended western boundaries of Russia in centuries-old battles.
Another nearby 'treasure' is the Pechorsky Monastery. It is located about 50 kilometers west of Pskov, in the direction of the Estonian border.
More information about Pushkin