April 4, 2018
An exhibition of artwork by the 2018 artist-in-residence, Sif Ankergard.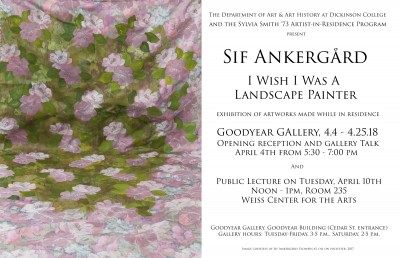 This exhibition is the culmination of a month long residency with the Department of Art & Art History. The annual artist-in-residence program is made possible with generous support from the Sylvia J. Smith '73 Fund. Exhibition runs through April 25, 2018.
Gallery Hours: Tuesday-Friday, 3-5 p.m.; Saturday, 2-5 p.m.
Further information
Location: Goodyear Gallery, Goodyear Building (Cedar Street entrance)
Time: 5:30 pm - 7:00 pm
Cost: Free