January 26, 2016 (Every day)
Explore the 2016 MLK Radical Youth theme via a multimedia exhibit featuring representations of a range of youth led social movements including Dickinson's student activism.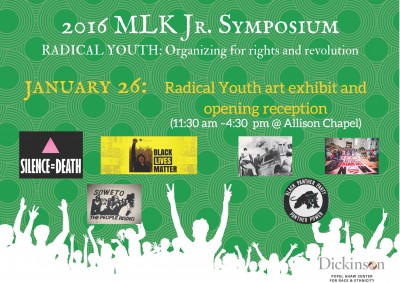 The Exhibit, located in Allison Chapel, is open daily from 11:30 am-4:30 pm through Thursday, January 28. The Exhibit's contents include the following: -"Radical Youth" advocacy groups display: From SNCC to #BlackLivesMatter timeline -Dickinson Student Activism: Archival images of anti-war protests, divestment, racial equity, sexual assault advocacy and more -Multimedia viewing stations including: -The Digital Museum project: The May Crisis: Voices of Protest at Dickinson College in 1970 -Interviews and oral histories with Dickinsonians about the Vietnam War era -2015 Race and Education Mosaic (Dickinson Mosaic in South Africa) -Clips from the documentary Keeping Time: The story of music in the apartheid jails If you would like to arrange a group visit please email the PSC staff at psc@dickinson.edu.
Further information