May 8, 2023 (Every day)
Get ready for exams at the Trout Gallery. Enjoy free snacks and coffee, free printing and quiet study spaces.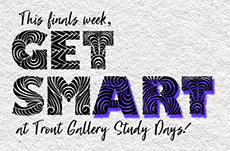 The Trout Gallery will be providing quiet study spaces during Study Day, May 8-12, 10-4. There will also be free snacks and drinks in the Mumper-Stuart Education Center located in the basement of Weiss Center for the Arts, along with art therapy activities and free printing.
Further information
Location: Weiss Center for the Arts- Trout Gallery, Mumper Stuart Education Center
Time: 10:00 am - 4:00 pm
Cost: Free