April 2, 2023
The Department of Theatre & Dance is excited to welcome The HawtPlates to Dickinson as part of a six-week artistic residency.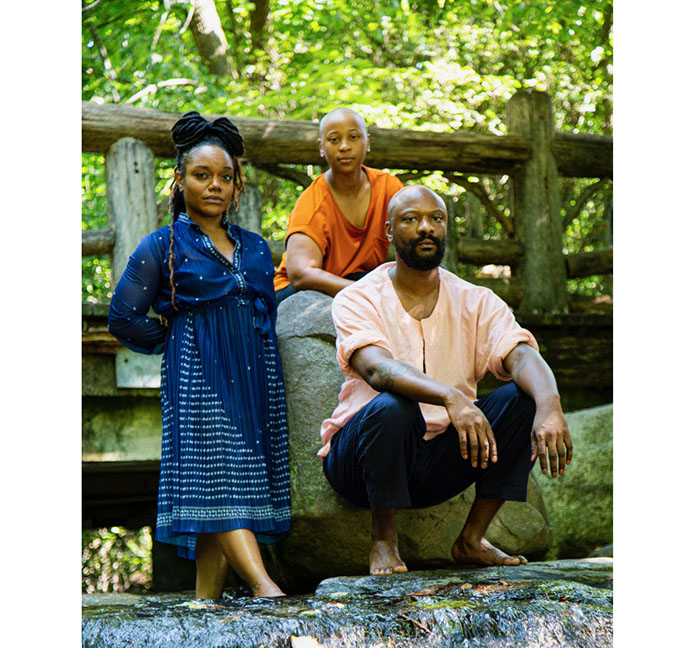 The family singing group The HawtPlates (Justin Hicks, Jade Hicks and Kenita Miller-Hicks) formed in a one-bedroom apartment in The South Bronx. While living together, they found ways of addressing many of the issues unfolding around them in their neighborhood, in the city, in the world and in their work lives. All three have worked in music, theater and art but mostly take refuge in the sound of each other's voices in perpetual jibe and in the synch of bodies in proximity as they play.
As part of their residency, The HawtPlates will work with students on a new piece, Dream Feed, which will serve as Dickinson's main spring theatrical production. Dream Feed is an electro-acoustic work that drops The HawtPlates and the audience into an extended dream sequence, steeping us in the humor, terror, beauty and allure of an active mind within a slumbering body. Using found sound, electronics and vocals, the work will hover in a state of innovatory sound and motion. Along with creative producer/choreographer Jennifer Newman and dramaturg Sunder Ganglani, The HawtPlates will devise a kinetic vocal performance that resides in the portal between question and answer. This work does not aim to answer questions so much as it aims to live in the journey of a dream as a radical state of solving, taking cues from dream sequences from avant garde cinema and from the Afro-surrealist works of artists like Aaron Gilbert, Cauleen Smith, Charles White and Bob Kaufman.
Performance location: Mathers Theatre
Tickets are free; reservations are required.
Further information
Location: Mathers Theatre
Time: 2:00 pm - 3:00 pm
Cost: Tickets are free. Reservations are required.