September 17, 2020
Get vital information on completing the Census, registering to vote, and using mail-in ballots. Special guests include Governor Wolf, President Ensign, & Mayor Ronald Filippelli (State College).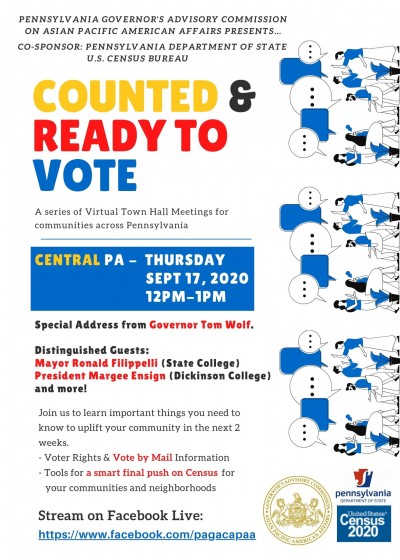 This Virtual Town Hall, hosted by Governor Wolf's Advisory Commission on Asian Pacific American Affairs, will feature:
- Targeted, localized information from representatives of the Census Bureau and the PA Department of State.
- Fast facts on how to effectively complete the Census, register to vote, and use mail-in ballots.
- An opening address from Governor Tom Wolf.
- Distinguished guests Mayor Ronald Filippelli (State College) & President Margee Ensign (Dickinson College), among others.
- A Q&A session to address participants' questions and concerns.
The goal is to provide attendees with accurate information and action items on the Census and voting, and empower them to share that information with their communities. It is vital that Central PA residents get counted by Sept. 30 and register to vote by Oct. 19.
Please RSVP and click here to stream the event live from .
Further information