June 3, 2020
Intended for middle school-age students.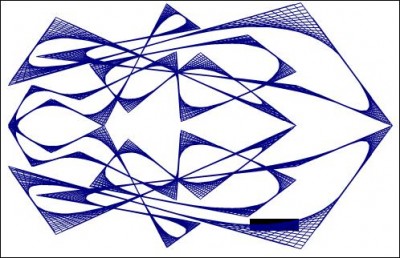 This spring, Dickinson presents three hands-on, virtual string-art workshops that invite students to have fun creating intricate artwork while also learning more about mathematical concepts. The first of the three webinars is for elementary school-age students. Stephen Erfle (professor, INBM) and Katherine Erfle (class of 2021, math and computer science double major) will lead three hands-on electronic string art workshops based on their recently accepted workshop article in Bridges 2020. These webinars are accessible to a wide variety of grade levels since many of the worksheets are controlled by just three numbers. Students of all ages can create intricate artwork while learning more about mathematical concepts. The Aestheometry Excel file was originally created to allow middle schoolers the opportunity to creatively explore the (x, y) coordinate system. In addition to learning about the three parameters that control images discussed in Webinar 1, students will learn how to use linked vertices to create images that adjust as an x or y coordinate changes. We will consider issues like symmetry and perspective as well as provide attendees the opportunity to create images with vertices they have chosen. For example, as you fly over a pyramid, how would its image change? Or, how could you create a logo using your initials?
Please register by Tuesday, June 2. The access link and the required Excel file will be emailed to registrants the morning of the webinar.
Further information