June 1, 2020
Intended for elementary school-age students.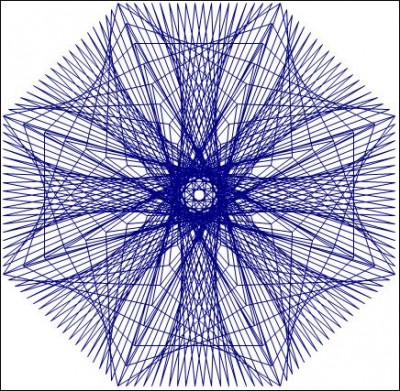 This spring, Dickinson presents three hands-on, virtual string-art workshops that invite students to have fun creating intricate artwork while also learning more about mathematical concepts. The first of the three webinars is for elementary school-age students. Stephen Erfle (professor, INBM) and Katherine Erfle (class of 2021, math and computer science double major) will lead three hands-on electronic string art workshops based on their recently accepted workshop article in Bridges 2020. These webinars are accessible to a wide variety of grade levels since many of the worksheets are controlled by just three numbers. Students of all ages can create intricate artwork while learning more about mathematical concepts. This workshop will explore how to create electronic string art images from underlying regular shapes such as squares, hexagons, and octagons. Attendees will learn how to move between top row and bottom row images by changing one number. Throughout the process of creating these designs, attendees will be able to connect math concepts they have learned in school—shapes, fractions, symmetry, etc.—with art.
Please register by Friday, May 29. The access link and the required Excel file will be emailed to registrants the morning of the webinar.
Further information