Public Opinion Problems
by David O'Connell, assistant professor of political science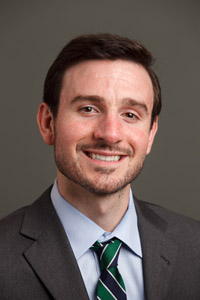 Donald Trump's first 100 days will be less impactful than some might expect because Trump will not benefit from the advantages that typically line up for a new president.
Incoming presidents normally start their terms popular with the public. In Gallup's first poll of Barack Obama's presidency, he received the support of 68 percent of Americans. According to ABC News/Washington Post polling, Trump is the most unpopular of the last seven incoming presidents.
The new president and the press typically form an alliance. Reporters and the administration agree on what should be covered, they resolve to work well together, and the media tends to generate more favorable coverage. It is not until the end of his first year that the president is, in the words of John Kennedy, "reading more and enjoying it less." Trump is already at that point. The press' opposition to Trump has no modern parallel. According to the American Presidency Project, just two of the country's 100 largest newspapers endorsed him. We only need to watch the footage of his Jan. 11 press conference, highlighted by a shouting match between the President-elect and a CNN reporter, for proof that this relationship has not improved since the election.
Finally, new presidents should benefit from a good working relationship with Congress. Statistically, just over 80 percent of the time a majority of members of Congress will vote with the president's position in his first year. Again, though, it is hard to see Trump performing this well. His ties to the Republican Party are tenuous, and splits are already emerging between his and the leadership's approach to repealing the Affordable Care Act. On the other side of the aisle, more than 50 Democrats are boycotting his inauguration.
Under normal circumstances, a new president should be in an excellent leadership position. This time, I think a rocky first 100 days is more likely.