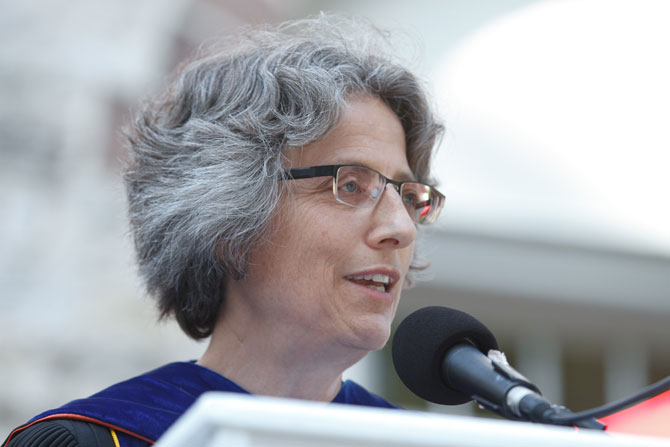 The Convocation Address
Delivered by President Nancy A. Roseman
August 25, 2013
Welcome, everyone, to the official opening of the 231st academic year for Dickinson College. I know we have students, faculty, staff, alumni, trustees, family and friends here today. You honor us, and the college, by your presence.
However, today, our attention is properly focused on our students. First, I want to welcome our seniors back to campus, many returning to us after studying abroad. I know you return to us a very different version of yourself as a result of your time away. I will be looking to you seniors for help and guidance as I get to know Dickinson this year. You can help me by sharing your thoughts about Dickinson because I very much want to see this place through your eyes, through your experience. I have already met a number of you, and I so appreciate the warm welcome I've received—thank you for that. In fact, I've shared a few custards with some of you at Massey's, a new Dickinson tradition I hope we continue into the future! I have to say you are an impressive bunch and I will be proud to share my first Dickinson graduation with the class of 2014 nine months from now when we meet again, right here, on a beautiful day just like today.
A warm welcome to our transfer and community college students. We are very happy to have you join our community, and we're glad that you decided that this is where you want to complete your education. In my travels to visit our alumni I have already met a few of your predecessors; proud Dickinsonians who tell me that coming here mid-stream was the best decision they had ever made. Welcome.
Finally, the class of 2017. You are my first class in that you and I, we are starting this journey together. We are both new, doing something we have never done before, and I sincerely hope you are as excited and ready to get to work as I am. However, I want you to know how deeply envious I am of you as you sit here at this point in your life. I want you to know how incredibly fortunate you are and the enormous opportunity that awaits you.
The thing that I want all students here to appreciate, and to take some time to think about, is that Dickinson, as an institution, a college, exists for you. That is its purpose. It doesn't exist to turn a profit, it doesn't exist to manufacture a product you can hold in your hand, it exists for people, for students, for every single one of you. It exists to educate you, to embrace you, to challenge you, to place high expectations on you, to support you, to confuse you, and to ultimately transform you through the power of ideas and to provide you with the tools to intelligently wield those ideas.
Everything around you, every piece of the college, comes together each and every day, and works on your behalf. After all, this is not a Monday to Friday, 9 to 5 enterprise, it operates every hour of every day. From your very first moments on campus, you all get a taste of this joint effort during move-in day. Each day, the perpetually cheerful dining services staff feeds over 2,000 people at each meal, the house keeping staff keeps the miles of buildings clean, the grounds crew keeps this gorgeous campus, well, absolutely gorgeous and in some sections, actually edible. Public safety officers look out for you, admissions officers counseled and admitted you, the student development staff is going to be there for you, and maybe has already been a help to you during your short time here. I think you get the point. There are literally hundreds of people working on your behalf, many behind the scenes.
Then, decidedly in front of the scene, are our talented faculty. Scholars, educators, innovators—dedicated to teaching and constantly assessing how and what they teach in order to improve it, for you. This isn't a static curriculum, it is organic and current, and interlocking in ways that are wonderful and challenging and unsettling and is wholly designed and constructed for you. Here is a body of incredibly talented people with outstanding credentials and accomplishments who are here for you. To teach you. Study abroad with you. Do research with you. Publish an article, wade a stream collecting samples, curate a show, take a hike, analyze a novel, build a database, write a short story, discuss politics, paintings, economics, sustainability, the irrationality of penalty kicks to end a tied soccer game, globalization, your favorite author, team, philosopher, airport…with you. And, because this is Dickinson, they may do these things in a foreign language, with you.
Why? Because, remember as I told you on your first day, you are the fun part. You inspire us to be our best selves while we work to transform you into your best selves.
As you can see, we put a lot into you. But for that investment on our part to work out as it should, you have to do your part. Ultimately, this is a call for you to participate fully in this college that is devoted to you, and for you to be devoted fully to Dickinson. That devotion takes many forms. It means being a good student. It means being a good citizen, here, within this community, and without in the larger world. It means, as the years stretch behind you and you find yourself reflecting on how well Dickinson prepared you for life's journey, you act as a loyal and engaged alumnus, and give back to the college so that future generations of Dickinsonians can follow your path, as others have done for you. Never forget that you stand on the shoulders and generosity of the Dickinsonians who came before you, and invested in you. Ultimately, that investment is an investment in the future of society.
Our alumni invest in us because they believe, as many of us do, that Dickinson's approach to a liberal-arts education makes it uniquely well positioned for an increasingly complex and interdependent world. By making the campus into a living laboratory, the region into a living laboratory, and the world into a living laboratory, students are provided the opportunity to live and learn and engage across the spectrum of intellectual disciplines.
Our curriculum is purposefully constructed to cause you to see across disciplines, make connections, and to consider multiple points of view.
This kind of engagement builds a broadly educated, capable and confident global citizen. A 21st-century version of the Dickinson graduate that our founder, Benjamin Rush, had in mind. A 21st-century version of usefulness. Citizens of tomorrow need the intellectual flexibility, cultural fluency and critical reasoning skills that Dickinson cultivates in order to negotiate a world full of uncertainty and rapid change. They need to have the tools to be able to mine the truth from the masses of information being thrown at them.
In addition, to properly prepare you for life in a global society, we build a class as diverse as possible so that it best represents the world our graduates will eventually enter. We bring the world to Dickinson and send Dickinsonians out into the world.
You are not here in order to walk these steps in 2017 as simply an older version of this same self. You are here to be transformed, to build a base that will sustain and nourish and inspire and give you strength and confidence for whatever life brings.
Here, you will develop relationships with people who will be your friends for the rest of your life, but also a relationship with an institution, Dickinson, that will become part of you and will stand with you as your journey unfolds.
During your four years here, I can guarantee there will be events that sweep this campus and sweep the world. There will be a U.S. presidential election, with all that that brings with it. There will be wars, natural disasters, acts of terrorism, and economic news, good and bad. There will be fantastic discoveries and medical breakthroughs, at least four more versions of the iPhone, great works of art and music, and transcendent moments of joy. You, each of you, will have tremendous successes, and each of you will have tremendous failures. Through it all, always remember, you are now part of a larger family of Dickinsonians. We are here, for you, that is our purpose, that is our mission. That is why you came here, to Dickinson College.
Thank you.