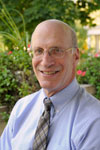 My tenure at Dickinson began in the fall of 1989 and I spent my first 13 years here as men's basketball coach. In May 2002, our eldest daughter graduated from Dickinson. A Judaic studies major, she had a wonderful experience and is doing amazingly well in her chosen career. Our youngest daughter applied Early Decision to Dickinson and graduated in 2012. She majored in psychology and is pursuing a career in elementary education. She spent the 2011 spring semester studying in Dickinson's partner program at the University of Hyderabad, India. For summer 2011, she had an internship conducting research and doing data analysis with a wellness group in Carlisle. And, our middle daughter is Associate Director of the Dickinson Fund.

From 2004-2008, I was regional admissions' representative for New England. In July 2008 I began my current position as Director of Admissions Volunteers. DAVS administrative assistant Patty Zink and I are excited and gratified to be working with our wonderful alumni and parent admissions volunteers throughout the United States and around the world who are part of the Dickinson Admissions Volunteer Society (DAVS). DAVS members conduct off-campus interviews, represent Dickinson at college fairs, attend off-campus events and reach out in various other ways to prospective students and their families.
Prospective students interested in an off-campus interview may find information on arranging one on the visit options page. Alumni and current Dickinson parents interested in volunteering are encouraged to inquire about next steps at davs@dickinson.edu.
I'm here when you need me and am happy to help. I look forward to getting to know you.
All the best!
David Frohman P'02, P'12
Director of Admissions Volunteers