Green Your Move In
A Message from Dickinson's Center for Sustainability Education
Dickinson is committed to educating for a sustainable world, reducing our ecological footprint, cutting our net emissions greenhouse gases to zero, and advancing sustainability goals globally, nationally and in the communities in which we reside, work and study. Our commitment follows from our long-standing mission—to prepare young people, by means of a useful education in the liberal arts and sciences, for engaged lives of citizenship and leadership in the service of society.
For the class of 2022, this begins at move in!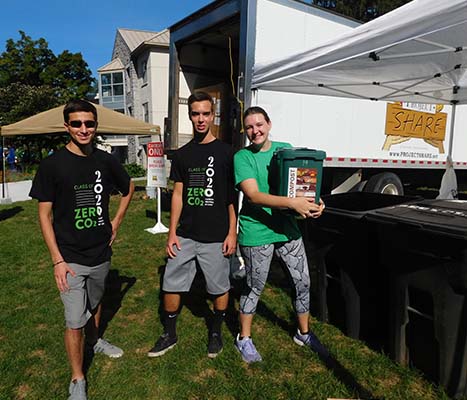 Committed student volunteers will be stationed outside Adams Hall, Drayer Hall and the Quads area during first-year move in on Sunday, August 20, and Wednesday, August 23, from 7:30 a.m. to 2 p.m. Waste-sorting stations will be set up at these locations to help new Dickinson students and their families identify items that can be reused, recycled or composted in an attempt to divert as much as waste as possible from our landfills.
Remember, it is better to buy used rather than new.
Check out our online, Dickinson-only, Buy/Sell/Swap/Share site.
Try to purchase items with reduced packaging, or those made from recycled content.
If you do have to buy new items that generate waste during your move in process, recycle what you can.
Reduce purchases by sharing with your roommate.
Check out our Green Packing List.
Our Waste Reduction Stations will help to divert waste in the following ways:
Corrugated cardboard, will be broken down, bundled and sold to generate funds for Project SHARE, a local cooperative program that provides essential basic assistance to more than 1,000 local families each month.
Plastic bags will be collected to be recycled into alternative-wood lumber and made into park benches in partnership with a local grocer.
Packing materials (peanuts, bubble wrap, etc.), will be used to stuff floor pillows made by our Dickinson Eco-Reps.
Plastics #1-7 will be recycled.
Paper products will be recycled.
Glass will be recycled.
Food waste will be composted.
Look for the tents filled with fun and helpful students in green #Dsonsustainability T-shirts.