Profile of Prof. Paul F.M. Angiolillo, Charles A. Dana Professor Emeritus of Romance Languages and Literatures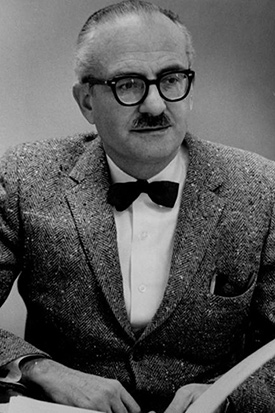 Prof. Angiolillo was born on July 1, 1917 in New York City. He earned an A.B. in 1938 from Columbia College, an M.A. in 1939 and a Ph.D. in 1946, all from Columbia University. He conducted post-doctoral studies from 1946-47 through the Albert Gallatin Fellowship at the University of Geneva. He was later awarded a Fulbright scholarship to study in France from 1956-57. Prof. Angiolillo was a member of several honorary societies including Omicron Delta Kappa, Kappa Delta Pi, Phi Kappa Phi and Pi Delta Phi.
Prof. Angiolillo began his career in education as a secondary school teacher in Long Island, NJ and New York City from 1939-46. After concluding his post-doctoral work at the University of Geneva, he was a professor of American studies at Ecole Internationale de Geneva from 1947-48. He then returned stateside and began to work his way through the faculty ranks ultimately becoming professor of modern languages at the University of Louisville, where he taught from 1948-62. While at the University of Louisville, he also served as the director of research at the Ford Foundation from 1952-53. Additionally, he was a visiting professor of French at the Teachers College, Columbia University during summer sessions from 1949-52.
Upon his arrival at Dickinson in 1962, Prof. Angiolillo was appointed the chair of the modern languages department, which he held until 1974, and was a professor of French and Italian from 1962-81. From 1968-69, he was a visiting professor and chair of the department of modern languages at the American College of Switzerland. In addition to his teaching duties at Dickinson, he was also the campus coordinator for the Harrisburg Urban Semester, the Woodrow Wilson Visiting Scholar coordinator, and he co-directed the Dickinson in Nantes summer program. He was named the Charles A. Dana Professor of Romance Languages and Literatures in 1979 and was given emeritus status upon his retirement in 1981. He continued his service to the college on a part-time basis teaching French and Italian classes and as the faculty internship coordinator until 1986.
Prof. Angiolillo was a very dedicated member of the faculty here at Dickinson and served on various committees. He was also appointed assistant marshal in 1966 and was elected faculty secretary from 1973-75. Outside of the classroom in both Louisville and Carlisle, Prof. Angiolillo was also a committed member of many professional organizations and often served in leadership positions. Additionally, he was the director of the Italian Cultural Council from 1961-73 and was a consulting faculty member to the Distinguished Faculty Awards Program for the Association of Pennsylvania State College and University Faculties from 1978-80. He was also enlisted to serve as an evaluator of programs in modern languages at other institutions through the Pennsylvania Department of Education and the Middle States Association.
For his exceptional work, Prof. Angiolillo received many prestigious awards and honors. In 1956, the French government awarded him Officier d'académie, and later in 1961, also awarded him Officier des Palmes Académiques. He was also the recipient of the Lindback Award for Distinguished Teaching in 1965, the Italian Government Award for Study at the University of Siena in 1966, the Ganoe Award for Inspirational Teaching in 1975, and Educator of the Year in 1975.