Dickinson Russian scholars participate in a small and intimate program. Because of the small size of the department, students and professors develop close relationships and peers forge friendships through their shared experience of mastering a difficult language and being immersed in Russian culture. Outside of the classroom, students participate in exciting activities through the Russian Club, such as Revolution Reenactments and Easter Egg Painting. They also watch Russian films, eat meals with peers and faculty during weekly Russian Table gatherings, and take field trips to New York, Baltimore or Washington to attend Russian exhibits or eat at Russian restaurants. Many of our students live in the Russian Special Interest House, a cozy home-like dormitory where they can practice Russian with an exchange student from Moscow and cook borsch and bliny together.
Allison Stroyan '18
I originally chose Russian because I wanted to become an astronaut, but as I grew older, I came to like Russian more. Languages are incredibly interesting and important to me, and I can't wait to see where else Russian takes me.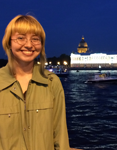 Joseph Galla '18
I decided to take Russian because I have always found their culture interesting. I took Spanish between 1st and 11th grade and left high school hating language classes. When I came to Dickinson I figured that I would take Russian to fulfill the language requirement and be done with it, but I ended up loving the language and saw that it would be a really good compliment with my International Relations major. Russian's a small department and not an easy language but it is definitely a worthwhile choice. УРА!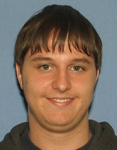 Fiona Burke '18
My name is Fiona Burke; I'm a Sophomore from Houston, TX, with a double major in Russian and Philosophy. Next semester I'll be studying in Moscow and I could not be more excited! I'm not yet sure what I want to be when I grow up, but I'm confidant that the Russian department will help me figure it out. Всё будет хорошо!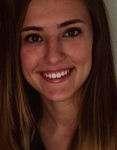 Miray Kaplangi '18
Hi! I chose to peruse a Russian major at Dickinson College because the department opens a window to an international community. I grew up in Moscow so I love that department makes me feel right at home through cultural classes! I am glad I joined, as there is always something new to learn in and outside of class. Надеюсь увидеть вас на русском столе!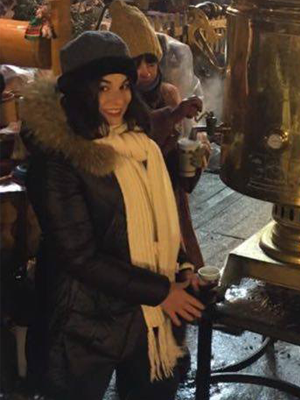 Julia Isacson '19
Hi! Меня зовут Юля и я учусь на первом курсе в университете! Я учусь на русском факультете, и я учу русский язык 5 лет. I decided to study russian because of my love and involvement in classical ballet. I think that the russian culture and language is beautiful and I cant wait to study abroad in Moscow in two years! I dont know what I want to become yet when I grow up but I hope to use my russian language skills that I learned here at Dickinson!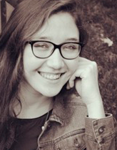 Laura Celedon '19
всем привет! Меня зовут Лаура. мои родители родом из Колумбию, но я живу в Питтсбурге. I am an Italian and French double major, so you may be asking yourself why I am on this page. In my German high-school class, one of my teachers had been a Russian teacher for many years and created a Russian Club after not being able to bring Russian back into the curriculum. After learning the basics and the Cyrillic alphabet, I instantly fell in love with the language. I chose Russian, because it was a non-Romance language and knew that it would be fun, yet challenging. I have also always loved learning languages and had heard a lot about our Russian department, so I decided to give it a try. Ever since coming to Dickinson, I have taken Russian every semester and have been amazed by how supportive and welcoming the department faculty and students are. I have seen strides in my improvement in Russian and hope to study-abroad in a Russian-speaking country next summer to put all of my Russian to use.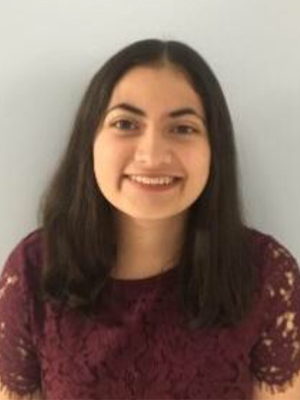 Dana Damenova '19
I moved to the US from Kazakhstan when I was five years old, so I am a heritage speaker. I've always known the basics of verbal communication in Russian, but never formally learned the language. The department at Dickinson taught me sentence structure and grammar skills that have developed my understanding of Russian. I have also learned so much about the culture and history of Russia, as well as many other Post-Soviet countries. The department is pretty small and tight-knit, and I feel that the faculty truly cares that I get the most out of my experience.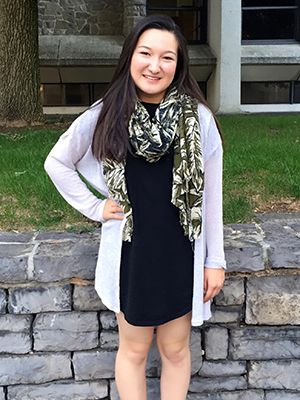 William Irving '19
Привет! меня зовут Билли Ирвинг. I'm currently a sophomore here at Dickinson, and so far I'm loving the Russian Department. I took French all through High School, but when I placed into French 101 my sophomore year, I decided a needed a change. I know I made the right choice, because the small size of the department, and the nurturing faculty has made me feel right at home. What started as an attempt to complete the language requirement has blossomed into a possible double major with Earth Science. Next year I will most likely be studying abroad in Moscow, and I can't wait.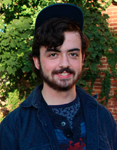 Curtis Martin '19
My name is Curtis Martin and I am Russian major. The Russian department at Dickinson is great! I originally decided to study Russian in High School because my Fathers side of the family is from Russian and Slovakia. I quickly fell in love with the language and decided that I wanted to pursue it further in college. I am looking forward to studying abroad for my whole junior year!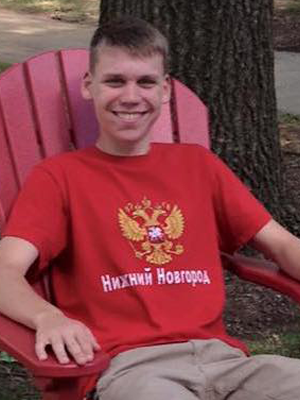 Lilly Middleton '19
Hi! My name is Lilly and I am an Art History Major and Russian Minor. I started Russian at Dickinson to pick up a new language and try something totally new to me! I have always been fascinated with the history and culture of Russia and learning the language has let me explore those more. I plan to study abroad this summer (2017) in Moscow and St. Petersburg. I hope I get the opportunity in the future to go again!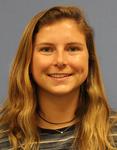 Anne Mothershead '20
Привет, меня зовут Аня! I knew I wanted to study Russian in college after the summer before my junior year of high school. I spent that summer living in Chisinau, Moldova on a foreign language scholarship called NSLI-Y. The program is sponsored by the U.S. Department of State and sends high school students overseas to learn critical needs languages in immersion settings. When applying to colleges, Russian was the main deciding factor I considered. I chose Dickinson for the well-known Russian department, the small classes, and the amazing study abroad programs it offers. I can tell the Russian department here will treat me well!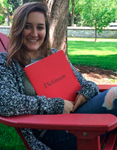 Haifeng Qiu '20
Всё привет! Меня завут Гарик. My English name is Harry. I come from China and I believe I am the first Chinese student to take Russian major in Dickinson. I first encountered Russian during middle school, when one of my best friend recommended the song <Давай за> to me. Thus, I take Russian as a shot in college, and I find I fall in love with it. I really enjoy studying in the small but strong Russian department, and I feel very welcomed in this family. I sincerely hope to see more international students (especially from China) to study Russia in the following years!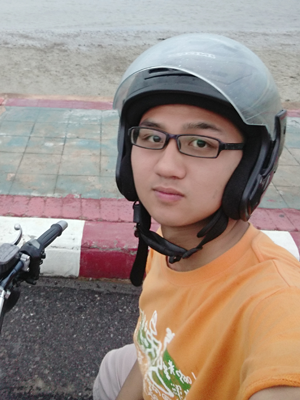 Natalia Tackett '20
My name is Natalia Tackett and I am a sophomore from Philadelphia, PA. I am an International Studies and Russian double major and I decided to take Russian for several reasons. The most important reason being that I was adopted from Moscow, Russia at a young age and have always held a deep connection to Russian. Studying the language has helped me pursue this connection. Secondly, I am member of the Blue Mountain Battalion Army ROTC program at Dickinson. Studying a strategic language like Russian can only improve my capabilities and opportunities as a future Army officer. I plan on studying in Moscow, Russia next fall to pursue my studies, and hope to have more opportunities to study Russian in that focused environment in the future.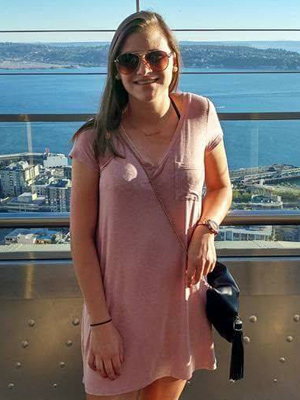 Grace Ingle '20
My name is Grace, and I am a Middle Eastern Studies major with a Security Studies certificate. When I arrived at Dickinson, I knew I wanted to study Arabic, though I had considered pursuing Russian as well. I started studying Arabic freshman year, and I decided to take up Russian sophomore year. The small classes for both languages make every session very engaging. Furthermore, professors in the Russian Department provide opportunities for us to practice the language and learn about the culture beyond the classroom. I chose Russian as a compliment to my major and certificate with hopes of exploring connections between the Middle East and Russia throughout history, and I know I made the right choice! I am looking forward to studying abroad with Dickinson in Russia program later this year.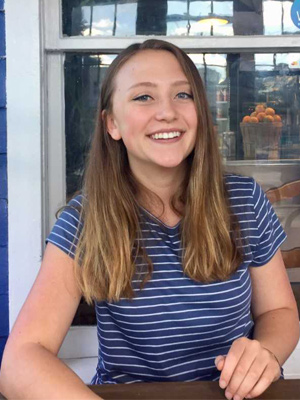 Nga Duong '20
Привет всем!
Я студентка Дикинсона, Нга. Я родом из Вьетнама, но прожила очень долгоe время в России.
My name is Nga. I am from Vietnam and I grew up with Russian culture, so I am quite attached to it. It was hard for me to decide to study abroad in US, since I was afraid that I wouldn't have chance to speak Russian and mingle with folks that are into Russian culture. Fortunately, I found Dickinson College, which has great Russian Department and a lot of lovely people that share my passion for Russian.