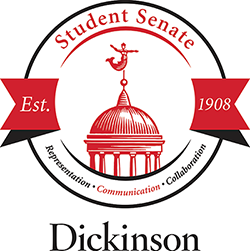 The Dickinson College Student Senate consists of 38 voting members of all years and involvement. The Student Senate is organized with two aims: to support student clubs and organizations and to promote shared governance. Shared governance is a way for the students to work closely with the administration to inflict actual change and impact life at Dickinson. Through our core values of communication, collaboration and representation, the Student Senate works to serve the student body and encourage social, cultural, and academic initiatives to create a more active and engaged student community. The Student Senate is a valuable resource and voice for the student body.
Led by Student Body President, Kevin Ssonko '20, the Senate meets collectively once a week in the Holland Union Building Social Hall to discuss current matters, update the Community on Senate initiatives, and vote on resolutions.
Additionally, located in the lower level of the Holland Union Building behind the student mailboxes, the Student Senate Office serves as a place for students to interact and discuss issues with their elected leaders. Please come by our office anytime – get involved and make the most of your time on campus!