MASTER'S DEGREE REQUIRED (R) & ELECTIVE (E) COURSES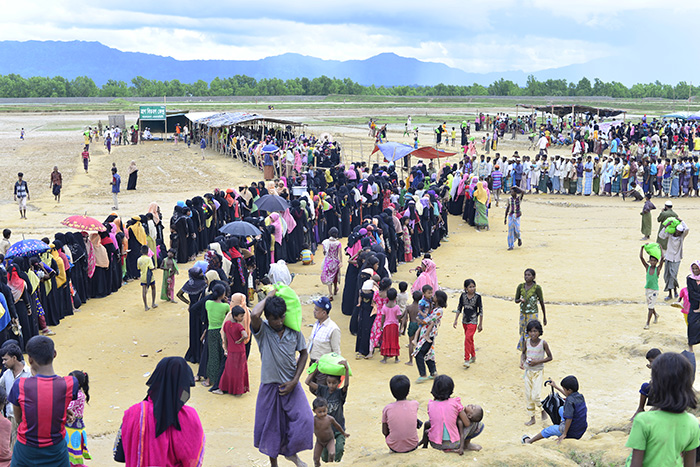 MR1 - Managing Complex Disasters (R)
MR2 - Mixed Methods in Disaster & Complex Emergency Research (R)
MR3 - Capstone Seminar (R)
ME1 - Environmental Disasters: Science, Response & Mitigation (E)
ME2 - Global Environmental Change and Human Security (E)
ME3 - The Arctic (E)
ME4 - Food Security in a Rapidly Changing World (E)
ME5 - Economics of Disaster Recovery (E)
ME6 - Influence Operations in the Age of Networks (E)
ME7 - Intercultural Relations
ME8 - Theory and Practice in Humanitarian Response and Human Rights Protection (E)
ME9 - Women, Peace & Security (E)
ME10 - Combatting Developing World's Health Challenges (E)
ME11 - Disasters and Diseases: How Do the Poor in Developing Countries Cope with Public Health Crises? (E)
ME12 - The Media in Humanitarian Disasters (E)
TERM II COURSES (March 25 - April 29)
Public Health and Disasters
Taught by
Professor William Bertrand
Description
From the standpoint of public health, a disaster is defined on the basis of its consequences on population health and health services. The recent experience of COVID-19 has demonstrated how important public health is to the security of all populations. This course focuses on the role of public health throughout the disaster cycle (preparedness, response, recovery, and mitigation) to help minimize the effects of disasters on communities.
Disasters impact different people and places differently. Traditionally disasters have been defined as acute natural events (earthquakes, floods, storms) and disaster studies have focused on response. In the last 2 decades we have come to understand that vulnerable populations always suffer the most in disasters and that building community resilience impacts outcomes greatly. This broader approach involving preparedness and prevention is the credo of public health approaches particularly those involving behavior change.
This course will tackle the complexities of confronting disease-impacted communities, with the goal of providing an understanding of how central the public health approach is to maintaining the fabric of a community. We will examine concrete tools to analyze impacts, design solutions and assess results.
This course will focus on community public health and sustainable development principles and practices with a focus on prevention using the current COVID-19 epidemic, the 1918 Spanish Flu, and the 2008 SARS epidemic as the primary examples.
TERM III COURSES (April 28 - June 2)
Psychosocial Dimensions of Disaster
Taught by
Professor Regardt Ferreira
Description
Disasters are part of everyday life. Human behavior within a pre- or post-disaster context are deciding factors in determining an individual, family/household or community's disaster resilience when faced with catastrophe. Evidence based knowledge gained with this course will result in an enhanced understanding of psychosocial and behavioral sciences within a disaster context. This course aims to provide students with the tools to understand and critically appraise human behavior within an environment of change and disaster context through the principles of disaster research and evidence-based practice application. Students will consider and apply knowledge gained through this course to promote disaster resilience using an ecological systems perspective. Students are expected to acquire the academic knowledge and relevant applied skills through the educational activities presented with this course.
Theory and Practice in Humanitarian Response and Human Rights Protection
Taught by
Professors Phuong Pham and William Bertrand
Description
This course will provide an introduction to the foundational concepts essential for understanding and engaging in humanitarian and human rights research and action. Some of the questions this course will address are: What is the difference between humanitarian and human rights approaches and legal frameworks? What does it mean to describe an intervention as "rights-based"? What are the main legal concepts and institutions that govern humanitarian and human rights interventions? What are the public health consequences of conflict or disaster? What strategies do human rights and humanitarian actors use to strengthen the rights of vulnerable populations such as stigmatized minorities or children?
Influence Operations in the Age of Networks
Taught by
Professor Jacob Udo-Udo Jacob
Description
This course explores the theories, capabilities, functions, tools, and techniques for influencing the attitudes and behaviors of targeted foreign audiences. Working through various case studies and scenarios, students will develop the knowledge and skills necessary to plan and analyze influence operations and counter their threats. Among the topics that will be addressed in this course are information as an element of national power ("the I in the DIME"), theories of influence, and elements of influence operations. Students will also develop a framework for countering foreign malign influence operations.
Upcoming Terms
Fall 2021 semester: August 30 – December 17, 2021
Spring 2022 semester: January 24 – May 13, 2022
CONTACT US