2017 Finalists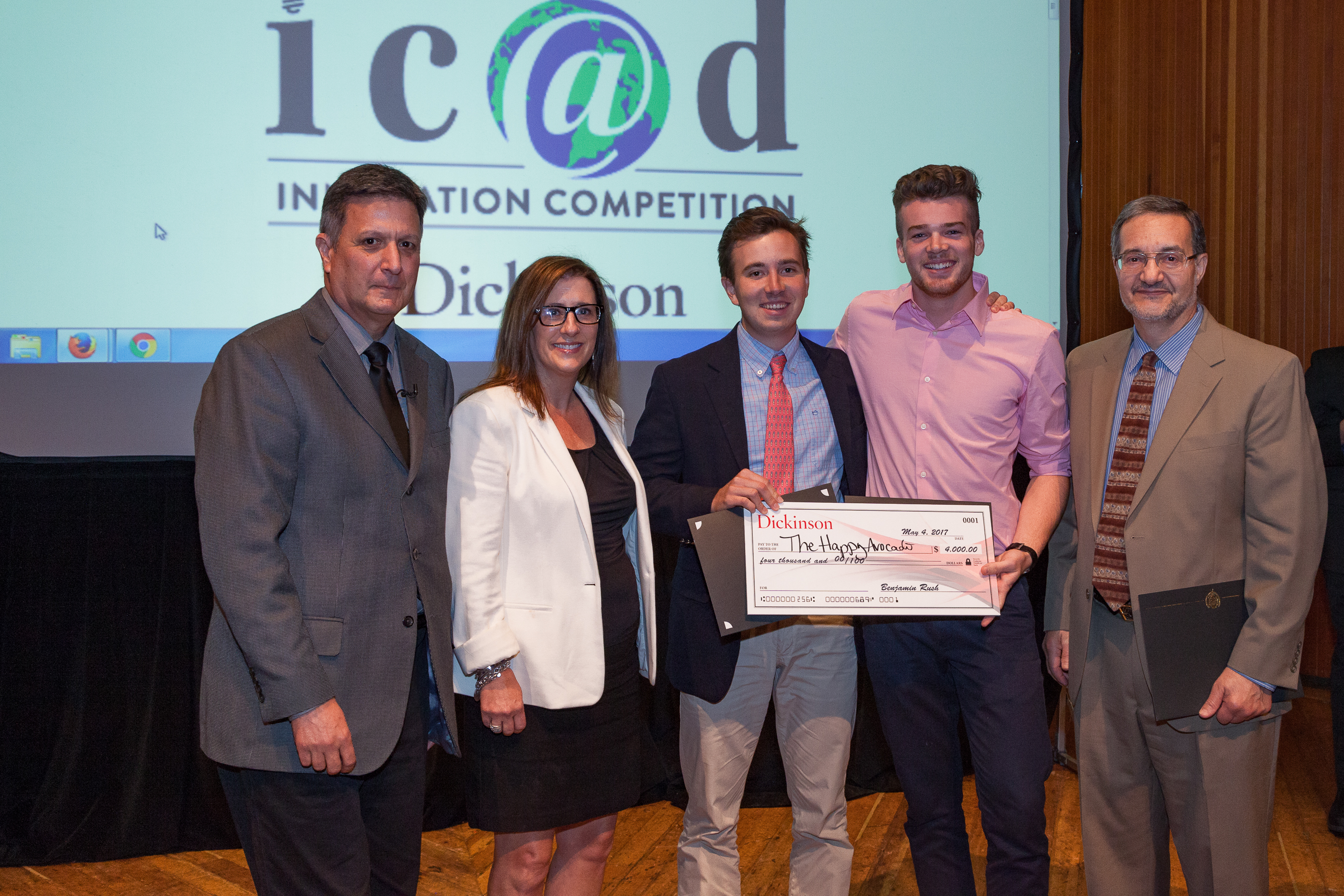 First Place:
The Happy Avocado
Vaughn Gooding '17 | Stephen Hoefer '17 | Rinaldys Castillo '17
The Happy Avocado is a start-up that began with friends who were frustrated with seriously bad guacamole sold in grocery stores. With a passion for experimenting with creative guacamole combinations, we spent months perfecting our recipes, speaking with experts like the head of R&D at PepsiCo, and bringing the products to farmers' markets, which allowed us to create something never seen before. We have introduced fresh, high-quality ingredients and bright flavors like mango guac, fresh crab & lime guac, and roasted corn & cherry tomato guac. We use a unique preservation method that retains the chunkiness of the guacamole but lasts up to two weeks before browning. We are revolutionizing the way people buy guacamole.
Mentor: David Carlson '99
Second Place:
Art House
Eric Palermo '20 | Jinglei "Lesly" Liu '20 | Shiyi "Shirley" Chen '20
Art House is a fine art rental service that connects artists and art owners looking to rent art with those looking for an affordable and convenient way to incorporate art into their lifestyle. Art House revolves around the idea that art should be available to anyone and that price should not be a barrier to those looking to buy it. By avoiding commission costs of galleries and the expensive costs of buying art, Art House directly connects the consumer to the producer, bringing all of the benefits a sharing-economy to the field of art.
Mentor: Nick Hunter '98
Third Place:
OurStory
Bryce Haver '20 | Alexander Haver '20 | ChangSu Nam '20
OurStory is a company that sells a service and a product, but even more than that, it sells emotion. What we do is we interview someone (normally at a retirement home or a gated community) and ask about either a story or brief description of their life. Then after they tell the story, the interviewer (normally a college student) writes it down and sends them a book in the mail. That person not only has the opportunity to spend time and talk about their life with someone, but they also have a personalized heirloom that can be passed down from generation to generation.
Mentor: Bree Goldstein '05