Our Commitment
Waidner-Sphar Library is committed to building a welcoming and inclusive environment where all members of the Dickinson College community have equitable opportunities to thrive. This ongoing work seeks to build trust, promote wellbeing, and uplift diverse and marginalized voices. We identify and challenge the ways in which existing structures, policies, services, and norms uphold oppression and inequity.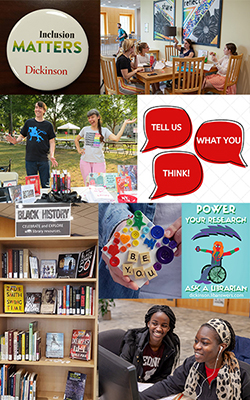 What does the pursuit of inclusivity look like at Waidner-Spahr Library?
staff development programs for library employees that support continuous learning and cultivate organizational values grounded in social justice
student-led focus groups and other feedback mechanisms to understand student experiences and inform library decision-making
collaboration with campus and community partners to provide events, programs, and exhibits that promote cultural awareness and dialogue
educational programs and instruction that cultivate critical information literacy including an awareness of inequities in information access and organization
collection development and sharing of historical and information resources that represent diverse voices and experiences
The Library Inclusivity Team, comprised of staff from across library units, provides accountability and strategic direction for library-wide inclusivity initiatives.
Questions or comments? E-mail us at ask@dickinson.libanswers.com.
Last updated March 2023.