Upper Level

East Asian Studies Reading Room
East Asian Studies Reading Room
The East Asian Studies Room is a classroom evocative of East Asian culture and a special library that features works of literature written in Chinese and Japanese. With its beautiful design, this room is one of the best places on campus to read.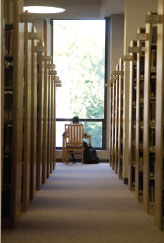 Aisle in the stacks.
The Nest
Equipped with a fireplace, the nest is a comfortable spot to curl up with some schoolwork, chat with friends or even take a nap.
Stacks (main and upper levels)
The library's book collection contains more than 510,000 printed volumes. In addition to the items located in the Waidner-Spahr Library, there is a small science library in Tome.