Ann Conser Curley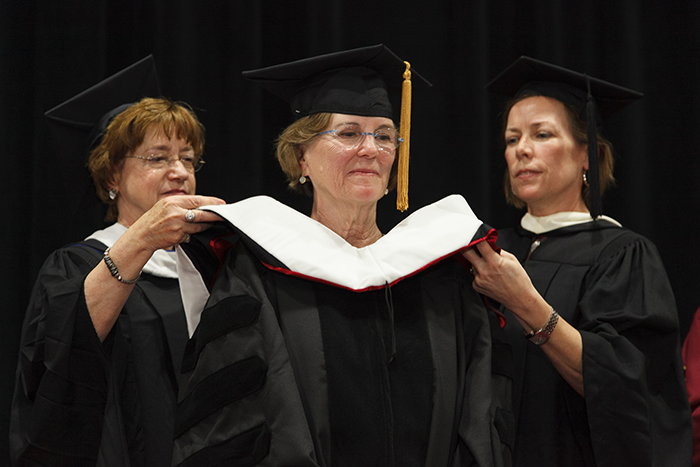 COMMENCEMENT EXERCISES, MAY 17, 2015
Citation presented by Amy E. Farrell
John J. Curley '60 and Ann C. Curley '63 Chair of
Liberal Arts, Professor of American Studies and
Women's and Gender Studies
Conferring of the degree by Nancy A. Roseman, President
Ann Conser Curley, in 1990 you wrote a fascinating article in the Dickinson Magazine, entitled "A Quiet Woman of Substance." Focusing on the little-known life of Mary Dickinson, your article reminds us of the fortitude, the strength of character, and the ideals of the female half of the pair whose resources founded our college. Like Mary Dickinson, you too are a "woman of substance," whose dedication to the college and to the centrality of the liberal arts has profoundly sustained and enriched our institution, the lives of countless young people, and the world of ideas and creativity.
As a Dickinson student, you dove into the life of the college. An English major, you honed your analytic and communication skills, earning both membership in the Wheel and Chain Senior Women's Honorary Society and the prestigious Phi Beta Kappa award. As one of the Mermaid Players, you performed in, managed, and produced plays such as "Crime and Punishment," "A Thurber Carnival," and "Arsenic and Old Lace." From your early days as a staff writer for the Dickinsonian, when you wrote about the inauguration of Rubendall to his new post as president of Dickinson, to your later days as assistant news editor and managing editor, you demonstrated what would become a lifelong commitment to the importance of journalism and free speech. Indeed, as one person remarked when I described the connections I saw between you and Mary Dickinson, the adjective "quiet" does not quite fit, as you always express yourself "passionately, eloquently, and knowledgeably" about what you love.
Dickinson has benefitted greatly from those gifts of expression. For over five decades you have dedicated yourself to the life of the college, serving as president of the Alumni Council, as a member of the Board of Advisors, as admissions volunteer, and as co-chair of a Capital Campaign Major Donor Committee. As one of the Senior Staff remarked, you are one of the "kindest people" that she has ever known, one who works to make a personal connection between the alumni and the college. For instance, as the "heart and soul" of the class of 1963, you reached out to every member of the class, urging them to attend their 45th reunion and to support the class gift. With your husband John (one person described you both as a "tremendous team"), you have sustained and grown the college in countless ways, from endowed chairs for faculty and scholarships for students to support for ALLARM, the Waidner-Spahr Library, and athletics.
In a note to me, you described your gratitude for this college: "I am sure that when I received my diploma from Dickinson (in our "gym"—now the Weiss Center)," you wrote, "I could not have imagined how the support, enthusiasm, and scholarship of our professors would continue to inspire my interest in learning through the rest of my life [including, you noted, her master's degree in 2001 in English from Georgetown University] … Nor could I have imagined the continuing importance of my college friendships in the years after graduation. … Having had a scholarship that made my Dickinson education possible, I am so glad that John and I can help give other students that educational experience and can support the good work of the professors and all who provide that experience."
At this point, we would like to express our gratitude to you, Ann Conser Curley. Amidst a full life, raising two sons, working as a freelance writer and as a columnist for the Associated Press, active in your community in countless ways, you have continually carved out Dickinson College as a crucial commitment.
Today, surrounded by your family, your husband John, your two sons and daughters in law, your five grandchildren, your sister and her husband, your friends, the faculty, administrators, alums, and students who are so grateful for your presence, I hope you are justly proud of the work that you have done and continue to do for the college and for the world of thinking and creativity.
President Roseman, for her demonstration of philanthropy and generosity, for serving as a model extraordinaire—for myself, for the class of 2015, for our entire community—of a life fully informed and enriched by the liberal arts, I am honored to present to you Ann Conser Curley, class of 1963, for the honorary degree of Doctor of Liberal Arts.
*****************
Ann Conser Curley, upon the recommendation of the Faculty to the Board of Trustees, and by its mandamus, I confer upon you the Degree of Doctor of Liberal Arts, honoris causa, with all the rights, privileges, and distinction thereunto appertaining, in token of which I present you with this diploma and cause you to be invested with the hood of Dickinson College appropriate to the degree.
---
Honorary Degree Recipients
---