Recap Story
'Countless Ways to Serve'
Friends and family—including a few of the furry, four-legged kind—joined the Dickinson community and several honorees to celebrate the 548 graduating members of the class of 2012. Under perfect blue skies, Commencement was held on Sunday, May 20, on the John Dickinson campus at Old West.

"The education you received here and the Dickinson values of global engagement and citizenship will serve you well," said *CIA Director David Petraeus* in his Commencement remarks to the class of 2012. "Ours is a time with no shortage of pressing issues, and our country and our world need thoughtful, dedicated and talented people like you.

"Whether you follow in the footsteps of soldiers, diplomats, intelligence officers, educators, environmentalists, health-care professionals, legal advocates, political figures, titans of industry or exemplary citizen volunteers," he continued, "there are countless ways to serve the public good and numerous issues that stand to benefit from the principles and values at the core of a Dickinson education." [Story continued below.]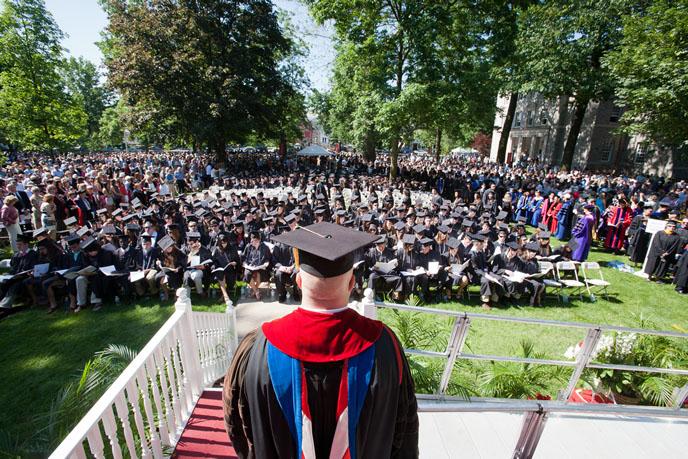 In addition to Petraeus, Dickinson awarded honorary degrees to Nobel Prize-recipient *Herta Müller*, National Public Radio legal-affairs correspondent *Nina Totenberg* and Natural Resources Defense Council co-founder *John Adams*.
After receiving his doctor of public service degree, Adams remained on the dais to greet Bill McKibben, the inaugural recipient of
The Sam Rose '58 and Julie Walters Prize at Dickinson College for Global Environmental Activism
.
"In our opinion, the most important issue of today is not politics, is not jobs, is not Wall Street, is not Facebook. It's the planet, stupid," said Rose, explaining his and wife Julie's environmental advocacy and the impetus for the prize. "We've established this prize to honor John [Adams], because the environment needs defenders like him. We'd love to see someone in this graduating class achieve this award in the future."
For high academic achievement, Peter Bruland, (psychology major and philosophy minor) received the James Fowler Rusling Prize, and Shelly Hwang (biochemistry & molecular biology major) received the John Patton Memorial Prize. Kim Starfield (international-studies major and Spanish minor) and Austin Farneth (international-studies major, Spanish minor and certificate in security studies) were awarded the William F. Hufstader Senior Prizes for leadership.
Dan Cozort, associate professor of religion, earned the Constance and Rose Ganoe Memorial Award for Inspirational Teaching, an honor given by the senior class. In 2011 Cozort was
severely injured in a biking accident
; after months of rehabilitation, he returned to teach this spring. Regina Sweeney, associate professor of history, received the Distinguished Teaching Award.
Thirty-four percent of the class graduated with Latin honors. Two
graduates received Fulbrights
, six have accepted positions with Teach for America and 13 received their commission into the U.S. Army as 2nd lieutenants.
By Michelle Simmons
Photos by Carl Socolow '77