Dickinson College's Distinctions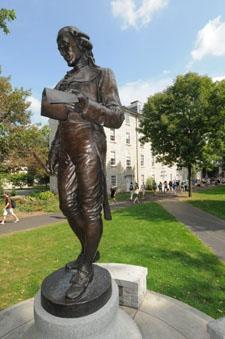 The distinctive elements of a Dickinson education—a campuswide global awareness, commitment to sustainability, emphasis on hands-on, experiential learning and a useful, 21st-century skill set that goes beyond graduation—are features that make the college unique among other liberal-arts institutions.
Dickinsonian Achievements
During the last five years, Dickinson students have been awarded the following major fellowships and awards:
Carnegie Junior Fellowship
George J. Mitchell Scholarship
Gilman International Scholarships
Barry M. Goldwater Scholarships
Humanity in Action
Kathryn Wasserman Davis Projects for Peace Grants
Morris K. Udall Scholarships
Rotary Ambassadorial Scholarships
Leading Producer of Fulbright Awards
Dickinson is among the top 10 liberal-arts institutions producing Fulbright recipients. To date, 92 alumni and 56 faculty or staff have received at least one Fulbright Award. A record eight members of the class of 2008 earned the prestigious award. Directly following his graduation from Dickinson, President William G. Durden '71 was a Fulbright Scholar at the University of Basel, Switzerland.
Recent Stories of Dickinson's Fulbright Success
Graduate, Law and Medical School Placement
Dickinson provides the ideal preparation for anyone considering advanced education. Recent Dickinson graduates have pursued professional and graduate study at some of the finest research universities in the world.
More than 90 percent of Dickinsonians are either employed or accepted into a graduate program one year after graduation.
Graduate school acceptance rates are strong: 83 percent for law school and 85 percent (of those recommended) for medical school.
Dickinsonians in Business
According to the most recent alumni survey, a number of Dickinson graduates are CEOs, company presidents or top-level corporate managers. Some examples include:
Retired chairman and CEO of Wyeth, first editor of USA Today and chairman and CEO of Gannett Co. Inc., head of Barclays Wealth Management, assistant general manager of the New York Jets, co-head of William Morris Independent and senior vice president of the motion pictures department, founding president of the National Constitution Center in Philadelphia
A recent issue of Dickinson Magazine highlighted 14 impressive entrepreneurial young alumni under 40. They are just a few of the entrepreneurs that Dickinson has produced.
Dickinsonians in Service
Community engagement, volunteering and engaging with the world are key components of the Dickinson experience. Our alumni use the habits of mind formed while at Dickinson to find a variety of ways to be of service.
205 Dickinson grads have served in Peace Corps since 1961.
Since 1991, more than 35 Dickinson alumni have gone on to participate in Teach for America.
Students devote more than 30,000 hours of community service to the Carlisle area each year.
Dickinson has been consistently named to the President's Higher Education Community Service Honor Roll, with distinction.
According to a 2009 survey, nearly 90 percent of Dickinson College alumni participated in volunteer work, and in 2008—a year marked by global recession—95 percent of the respondents said they made a financial contribution to a nonprofit organization.
Stories of Alumni in Service
Global Alumni Network
More than 1,800 Dickinson alumni worldwide are active participants in Dickinson Works, a program that connects students with alumni for career advice, internships and job opportunities. The stories of alumni going above and beyond to help their fellow Dickinsonians are widespread, and the impact is visible.
Alumni Engaged With Dickinson
Examples of the variety of paths a Dickinson liberal-arts education can create are visible right here on campus. A number of faculty, administrators and trustees are Dickinson graduates, including:
Julie Johnson '82 (biology), Dickinson trustee; program manager, National Science Foundation
Ken Shultes '89 (political science), associate vice president for campus operations
Howard Lalli '90 (history), Dickinson trustee; president of Ecological Strategy
R. David Wechsler '93 (policy management) Dickinson trustee; vice president for Energy Hub Inc.
Alumni Testimonials
Not only do our alumni share their professional successes with us, they share their reflections on how their Dickinson education prepared, guided and influenced them. Following are some testimonials gathered through the alumni surveys sent to the classes of 2000, 2005 and 2009.
Kirstin Berg '05 (political science and sociology), director for The Advisory Board Co.
"My speaking and writing skills have been tremendously helpful in my line of work. I even had a senior exec at my company (most of whom are Ivy folks) comment when he asked where I went to school, 'Oh, Dickinson, they produce great writers ... a solid education.' I think that's a great vote of confidence."
"Dickinson provided me with a valuable education in the sciences. While I benefited greatly from the small class sizes and extensive knowledge of professor, my Dickinson education allowed me to compete and succeed in the ever changing job market after graduation. Thanks to Dickinson I was able to get my foot in the door in the research field I was interested in."
Justin Gold '00, environmental studies, CEO of Justin's Nut Butter
"Dickinson provided the tools I needed to clearly research, evaluate and form my own thoughts on almost any topic. With the confidence on how to use libraries, professors and mentors for guidance, I was able to start my own business with limited knowledge about my industry and still excel."
Michael M. Meagher '00, English, vice president at Deutsche Bank
"I believe a classical liberal-arts education is a differentiating advantage in the business world, specifically with respect to critical thinking, willingness to challenge convention, and written and verbal communication skills. And I have a tight-knit group of friends from my time at Dickinson that are truly like family to me."
Sam Meller '09, political science, Nova Scotia Legal Aid Commission
"My ability to engage and immerse myself in foreign cultures and cities is undoubtedly based on my education as a global citizen, a distinctive Dickinsonian feature."
Ashly Smolyn '05 (biology and English), scientist with Medarex, Inc.
"Because of the liberal-arts nature of my degree, I was able to pursue both of my interests, which are quite disparate in terms of strict college class subject matter. However, having a decent background in both has helped me immensely in my jobs and in my graduate program."
Brian Sylvester '05 (English), teacher at the Landmark School
"At Dickinson, I was exposed to many different subjects, ideas, and perspectives, and this is has given me a very broad knowledge base. I also learned how to write thoughtfully and read analytically and help others learn to do the same. Today, I need to work with so many different people, each with a different perspective and feelings. I learned how to listen to and accept the opinions of others so I could work in a group at Dickinson."
Norah Turnham '05 (theatre arts), general manager for Small Pond Entertainment
"The liberal arts have served me in many ways throughout my life and career. Learning to use information from all areas of study and apply it in creative ways to practical life experience has often given me a leg up as a professional, artist, educator and citizen of the world."
Lisa Hsu Treat '00 (French and physics) research assistant at Brigham and Women's Hospital
"Small classes and personalized attention from my professors had a huge impact on my subsequent education and career. Because my professors knew me on a personal level, my letters of recommendation were one of the strongest components of my graduate application to the Harvard-MIT Division of Health Sciences and Technology, where I completed my Ph.D. in medical engineering and medical physics."
Additional Resources
Dig in to additional data from the last several years on the institutional research site. The Alumni in Action section of our site includes a variety of profiles and testimonials that illustrate the value of a Dickinson education.