Goodyear Apartments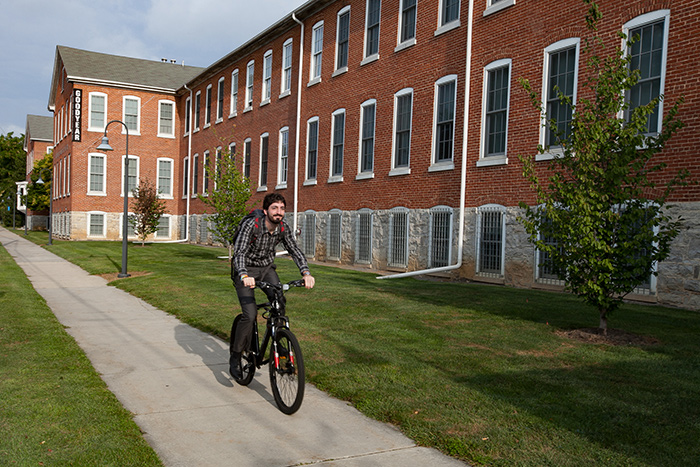 Goodyear is a mixed-class year residence hall with apartment-style housing that is home to about 120 students. Options include two, three, four, and five person apartments with an assortment of single and double rooms. Each apartment has a private bathroom and kitchen. Shared laundry facilities are in the basement, and there is limited parking behind the building. This facility also houses many art studio spaces including an art gallery space.
Building Information
Walls: Drywall and exposed stone/brick (painted and unpainted), exposed wood beams and HVAC duct work
Floors: Hardwood hallways/bedrooms/living rooms; vinyl tile/sheet vinyl in bathrooms
Furniture: Bunk-able beds, standard College dressers, soft seating in common areas; table and chairs in kitchen spaces. No outdoor furniture provided for units with porches/patios
A/C: Central
Kitchen Facilities: Each apartment has its own kitchen, including a sink, refrigerator/freezer, & oven/stove
Cleaning: Goodyear Apartments are self-cleaning; Bathrooms cleaned by Housekeeping at Fall Pause, Winter Break, & Spring Break.
Additional Cleaning Information: Trash bags and toilet paper can be requested through the work order system
Laundry Facilities: Laundry room is located in the basement of the building
Trash & Recycling Collection: Dumpsters and toters located outside to the rear of the building
Goodyear Apartments History
Goodyear was built in 1891 by John Lindner, owner of the Lindner Shoe Company, to house his shoe factory. To keep up with rapid changes in women's shoes, the Lindner Shoe Company was sold in November 1922 to the Bedford Shoe Company, also of Carlisle. The G. R. Kinney Corporation, another shoe manufacturer, purchased the factory in 1963. They renamed the building the Goodyear Warehouse, and used it as extra storage and rental space. Dickinson College acquired the Goodyear Warehouse in 1979 housing the offices of the Physical Plant, as well as for storage of extra supplies and library books. Eventually the Physical Plant moved into a newer building and Goodyear was remodeled for student housing.