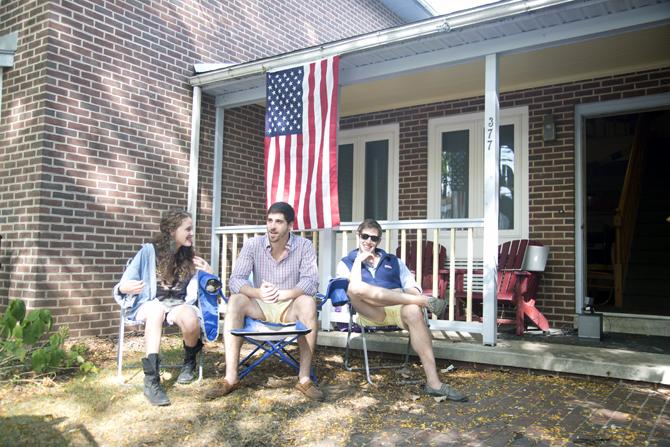 Small Houses & Apartments offer a variety of unique facilities for Dickinson students, typically in their senior year. This ranges from row apartments and houses for three to eight students to larger apartment buildings with two, three, four, and five person apartments.
Floor Plans & Photos
In the spring of 2013, Student Senate asked Residence Life & Housing to provide access to general floor plans for students studying abroad. Since that time we have made great efforts to ensure we are updating these floor plans so all students can access them to better understand the spaces in this area. The general floor plans for Goodyear, Factory, Denny, Townhouses, and other upper-class spaces can be found here.
Also, we have been working to collect photos so students can see some of these unique spaces and how they are set up. We are currently working to collect more photos but you can find the ones that we currently have here.
Laundry Locations for Small Houses & Apartments
| | |
| --- | --- |
| Location | Closest Laundry Facility |
| 100 South West Street | In the building |
| 133, 135, 139 North College Street | HUB |
| 141 West High Street (White Elephant) | Denny Apt./171 West High Street |
| 155, 159, 163, 165, 169, 171 West High Street (Denny) | Denny Apt./171 West High Street |
| 170 West Louther Street (Pi Beta Phi) | In the building |
| 2 Conway Street | High St. Residences |
| 230 & 236 West North Street (Factory) | In the building/230 W. North Street Side |
| 25-27 West High Street | In the building |
| 34 Sout West Street (Kappa Alpha Theta) | Reed |
| 362 West North Street | HUB |
| 417 & 425 West Louther Street | Cherry Street |
| 49 & 51 South College Street (Music Society House) | Todd |
| 500 Block of West Louther Street | Goodyear |
| 532 West Louther Street (Treehouse) | In the building |
| Cherry Street Houses | Cherry Street |
| Goodyear | Goodyear |
| Matthews (Outdoor Education House) | In the building |
| Reed (Romance Language House) | In the building |
| Reed Street Houses | Cherry Street |
| Strayer (Human Cultures House) | In the building |
| Stuart (Social Justice House) | In the building |
| Todd (Global Community House) | Todd |
| Townhouses | HUB |
| Vincett (Kappa Kappa Gamma) | HUB |
Trash Locations for Small Houses & Apartments
| | |
| --- | --- |
| Location | Closest Trash Recepticles: |
| Reed Street, Cherry Street, 505, 507, 509, 515, 519, 521, 527, 529, 531 West Louther Street | Dumpster located behind Reed Street houses in the parking lot |
| Townhouses | Dumpster located behind townhouses in the parking lot |
| 25/27 West High Street | Toters located behind properties. |
| 141 West High Street (White Elephant) | Dumpster located behind 165 West High Street |
| 155, 159, 163, 165, 169, 171 West High Street (Denny) | Dumpster located behind properties in the parking lot |
| Goodyear | Dumpser located behind the property in the parking lot |
| All other small houses & apartments | Large green "toter" trash containers located to the rear of their houses |