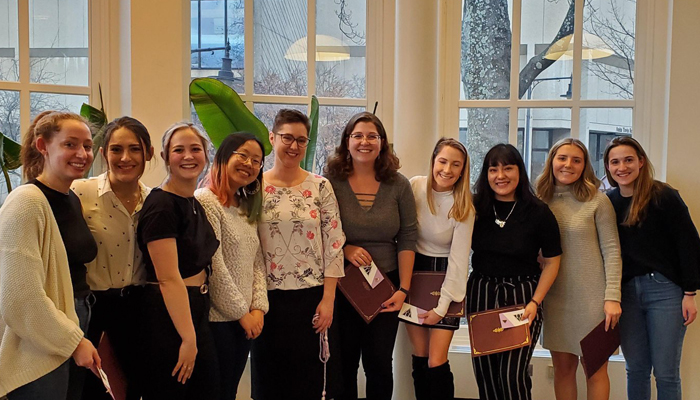 Iota Iota Iota, commonly known as Triota, is a national academic honor society for the field of women's studies that was started at the Metropolitan State University of Denver in 1985. In 2019, the WGSS department at Dickinson chartered a new chapter of Iota Iota Iota, the Epsilon Delta chapter. The purpose of this organization is to encourage and support scholarship and excellence in women's, gender and sexuality studies, as well as to foster community among organizations with shared objectives at Dickinson. Iota Iota Iota is named for the ancient goddesses Inanna, Ishtar and Isis.
Epsilon Zeta chapter membership is open to majors or minors in women's, gender and sexuality studies and minors in sexuality studies who have completed at least two core WGSS/SXST courses with a GPA of at least 3.5 in those courses.
Eligible students are identified once fall grades are posted in January and are contacted by the Triota advisor with an invitation to participate in the honor society. Members are generally inducted in a public ceremony in early spring semester, and graduating seniors are presented with Triota graduation cords at the end of their senior year.
Members serve as the WGSS majors committee and also are encouraged to create one event per semester, with the assistance of the Triota advisor as needed.
2021 Inductees
Sophie Ackert
Kathryn Baker
Gabbi Brault
Claire Ishiyama
Sivan Komatsu
Nhi Ly
Anika Moralis
Emily Pineo
Sagun Sharma
Maddy Smith
Alex Tapia
2020 Inductees
Shantel Hernandez
Pauly Lafferty
Rose Lang Zalph
Hannah Posencheg
Audrey Schlimm
Morgan Silverman
Leah Struzenski
Sara Ursini
Lexie Wiggins
2019 Inductees
Maia Baker
Lindsay Carey
Courtney Gistaro
Ellie Lemberg
Olivia Lyman
Angelica Mishra
Alanis Perez
Whitney Polich
Lauren Toneatto
Chenyi Zhu