Educational studies majors at Dickinson complete internships in various educational settings, depending on their interests and future goals. The Internship Transcript Notation Program allows them to receive official college recognition of their internships. This requirement allows students to gain firsthand experience in the education field as they consider career paths, hone critical skills and establish networks outside the college environment.
The Career Center supervises and approves the internship notation, but we are happy to provide help in finding appropriate internships. Students with questions about the Internship Notation Program should contact Amity Fox in the Career Center.
Examples of educational studies internships
The internship sites listed below represent a sampling of placements secured by educational studies majors. Many students choose to complete internships in public schools or local nonprofit settings as well.
Academic Affairs-Institutional Effectiveness & Inclusivity, Dickinson
Breakthrough Collaborative
Center for Talented Youth-John Hopkins
Children's Creativity Museum
Children's Defense Fund
Dickinson College Children's Center
Earth Day Network
EXPLO at Yale
Franklin Institute
Germantown Academy
Illinois Holocaust Museum & Education Center
Jumpstart for Young Children
Loomis Chaffee Summer Program
Oregon State Senate
Owl's Hill Nature Sanctuary
Theraplay, Inc.
Trout Gallery, Dickinson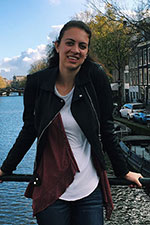 I served as a faculty intern at the Loomis Chaffee Summer Program in Windsor, Connecticut. As an intern, I had many roles, including co-teaching two classes, coaching sports, living in a dorm with students and supervising afternoon and weekend activities. Loomis really valued professional development for their interns, so we met frequently with each other and with our mentors to learn about pedagogy and the independent school experience. The work I did was eye-opening in terms of how I'm considering my professional goals, and I've learned so much in the five short weeks. —Andrea Barrows '19
I interned at the Children's Defense Fund in Washington D.C. as an education program and policy intern with their Beat the Odds and Freedom School teams. During my time at CDF, I had a multitude of projects. I created a financial literacy workshop for BTO's Create Ready for College program. I created a financial aid FAQ, financial aid vocabulary worksheet, a budget worksheet and a college visit vocabulary worksheet and participated in a panel. One of my favorite projects was creating a new CDF intern recruitment list to build diversity and inclusion in the office. Lastly, I visited two Freedom School sites as well as attended a school trip to the museum. After I graduate, I hope to teach overseas in China or join the College Advising Corps to help students like myself. I want to directly serve students in my community. During my experience at CDF, I noticed I enjoy bringing knowledge and opportunity to students. In the future, I hope to continue my goal to become a principal, a mentor and a member of the school board in my district. —Aisha Johnson '20