Art & Artifact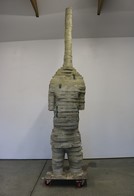 Exhibition: Sept. 8 to Oct. 2, 2021
Opening Reception: Sept. 8, 5:30-7 p.m.; Artist Talk at 6 p.m.
Michael Grothusen, an artist and professor of sculpture at Philadelphia's University of the Arts, will exhibit a group of sculptures at Dickinson College's Goodyear Gallery from Sept. 8 through Oct. 2.
Grothusen's exhibition, "Art & Artifact," touches on themes such as modernism, digital technology, African masks and Greek and Cycladic art, among other archaeological forms. Scans of the artist's body serve as a point of departure for works that Grothusen describes as "feel(ing) exceedingly familiar, but are hard to pin down."
Goodyear Gallery hours: Tuesday-Friday, 3-5 p.m.; Saturday 2-5 p.m. For more information, call 717-254-8705.
COVID-19 information: Dickinson College requires face masks to be worn inside all college buildings.
All events are subject to change.